Murphy beds are an excellent solution for maximizing space in tiny or container homes. These innovative bed designs offer a perfect blend of functionality and style that can transform any limited living area into a comfortable bedroom within seconds when your living quarters have limited space.

In this blog post, we will dive into the benefits of choosing a bed for a shipping container home or a tiny home.. We'll discuss how these popular bed styles provide comfort levels comparable to conventional beds while saving precious floor space with their unique design.

Most people can not imagine a bedroom space in a tiny room. It is possible, my friends. I have seen hundreds of small rooms that utilize the area so well it is surprising.
Table of Contents
Disclosure: This post may contain affiliate links, meaning I can earn commissions. If you decide to purchase through my links, it is at no cost to you.
How to Choose the Best Bed for a Shipping Container Home or Tiny Home
When choosing a bed for your space, planning the layout is crucial. If you get it wrong, it could be costly. A Shipping Container Home or Tiny Home may have limited headspace but usually has limited wall space.

Consider drawing your space out in chalk and using cardboard to understand how the area will function. Space planning is an essential part of tiny living.
The Benefits of Murphy Beds in small spaces
In tiny homes or small shipping container homes, every square foot counts. Typically, headroom is also limited, and wall space is limited.

This is where a Murphy Bed shines as an ideal solution for maximizing space without compromising comfort. After all, you don't live in a traditional house, so why have a traditional bed?

A Murphy Bed, also known as a wall bed, provides the same level of comfort as conventional stationary beds but with one key difference – it can be stored away when not in use. This feature can significantly make your tiny space suddenly feel larger.

One of the struggles with a tiny home is climbing a ladder to the bed in a loft. With a wall bed, you can have your bed on the main floor in the living area or in a downstairs bedroom.
Comfort Level Comparable to Conventional Beds
Murphy Beds are designed with standard mattresses offering the support and comfort you expect from any high-quality bed. They don't require unique bedding or thin mattresses like some sofa beds do.
You get to enjoy your beauty sleep on a full-size mattress that folds neatly into a cabinet during the day. I would put the Murphy bed against other popular bed styles any day.
Space-Saving Designs for Small Living Spaces
The genius behind the design of Murphy Beds lies in their ability to transform your room within seconds. They take up minimal floor space when folded up, making them perfect for tiny houses and shipping container homes.
Pull it down for the night and put it back up for the morning. Easy Peasy.
Ease of Use: Modern designs have made these beds incredibly easy to operate using pistons calibrated according to weight, which makes opening and closing effortless.
Versatility: These cleverly designed pieces can double up as shelves, desks, or sofas during daylight hours, providing additional functionality beyond sleeping arrangements.
Aesthetics: With various styles available, from traditional wood finishes to sleek modern designs, there's something suitable for every taste and interior decor theme.
Investing in a quality wall bed could prove invaluable if you're considering moving into a smaller home or looking at ways to maximize existing spaces. It's time we rethink our bedroom furniture choices, especially if living large isn't about how much space you have but what you do with it.
Construction and Setup of Murphy Beds
Unlike traditional beds, Murphy Beds designs don't require box springs. Instead, they use a system of wooden slats that prevent mattress sagging and take up less space in small homes or studio apartments.
Easy Setup Mechanism
Setting up a Murphy Bed is as easy as 1-2-3. Their piston lift mechanism is calibrated to your mattress's weight, ensuring a smooth transition between sleeping and stowed positions. Plus, it's designed to prevent sudden drops or closures that could cause injury.
Don't worry if you're not a DIY expert – most Murphy Bed models come with step-by-step instructions and all the necessary hardware for installation. And if you'd instead leave it to the pros, some manufacturers offer professional installation services.
Murphy Beds offers an excellent, practical way to save space while providing cozy comfort.
For more information on Murphy Beds, check out this DIY guide on building your own. A DIY bed could allow you to play with bed designs to match your functionality need for your tiny space.
Versatility Offered by Different Types of Murphy Bed Cabinets
If you need a bed that can do it all, then the Murphy bed is your ideal solution with its customizable and functional cabinet designs.
These versatile beds come in various cabinet designs that allow you to customize your living space while maintaining functionality. Let's explore some popular options:
Plain Cabinet
A plain cabinet Murphy bed offers a clean, minimalist look and gives you more freedom regarding furniture selection. This option is perfect for those who prefer customizing their living space with unique pieces that reflect their style.
Built-in Sofa Option
Want a bed that won't interrupt your daytime activities? Consider a model with an attached sofa. When the bed is folded, you can use the couch without moving any furniture around – ideal for uninterrupted daytime use.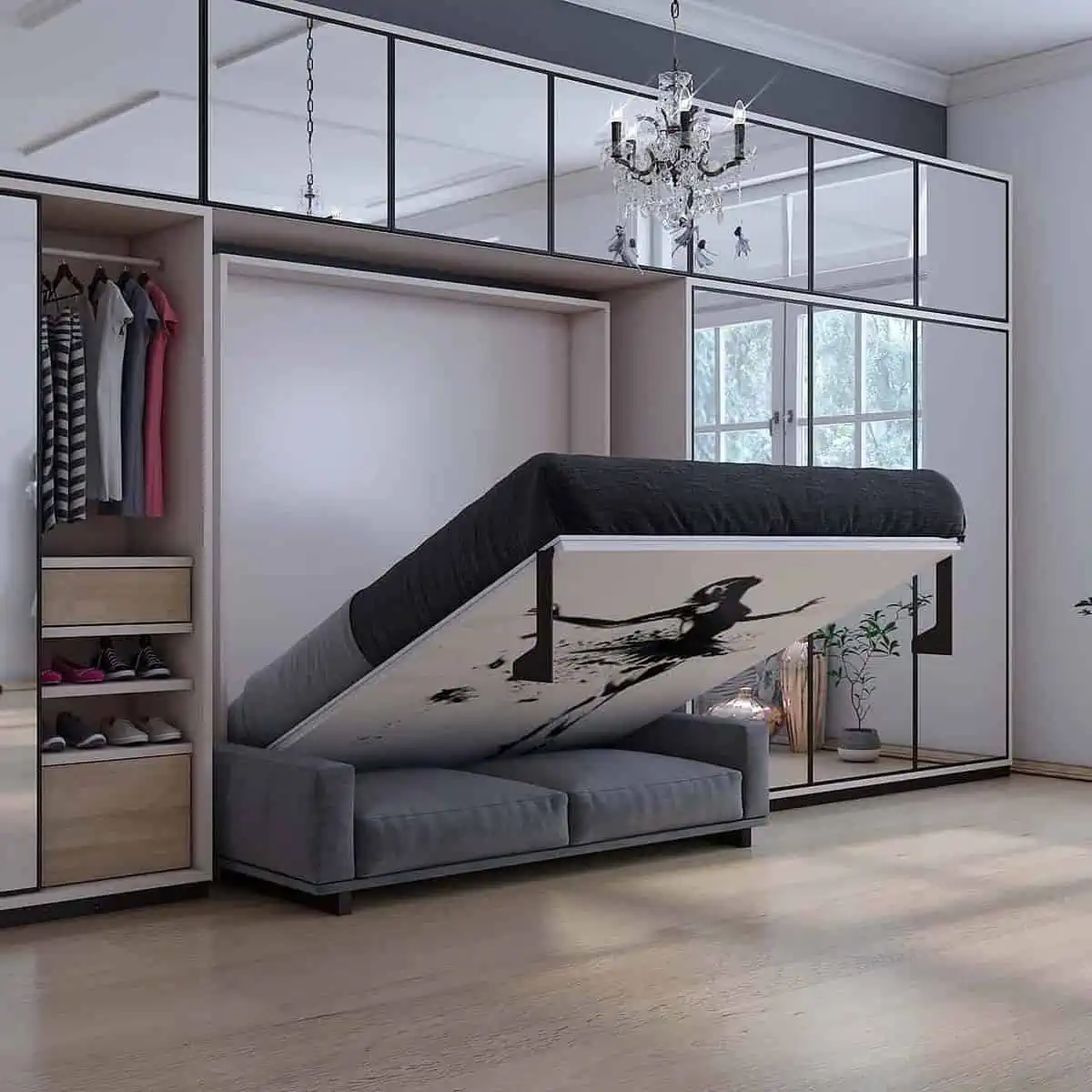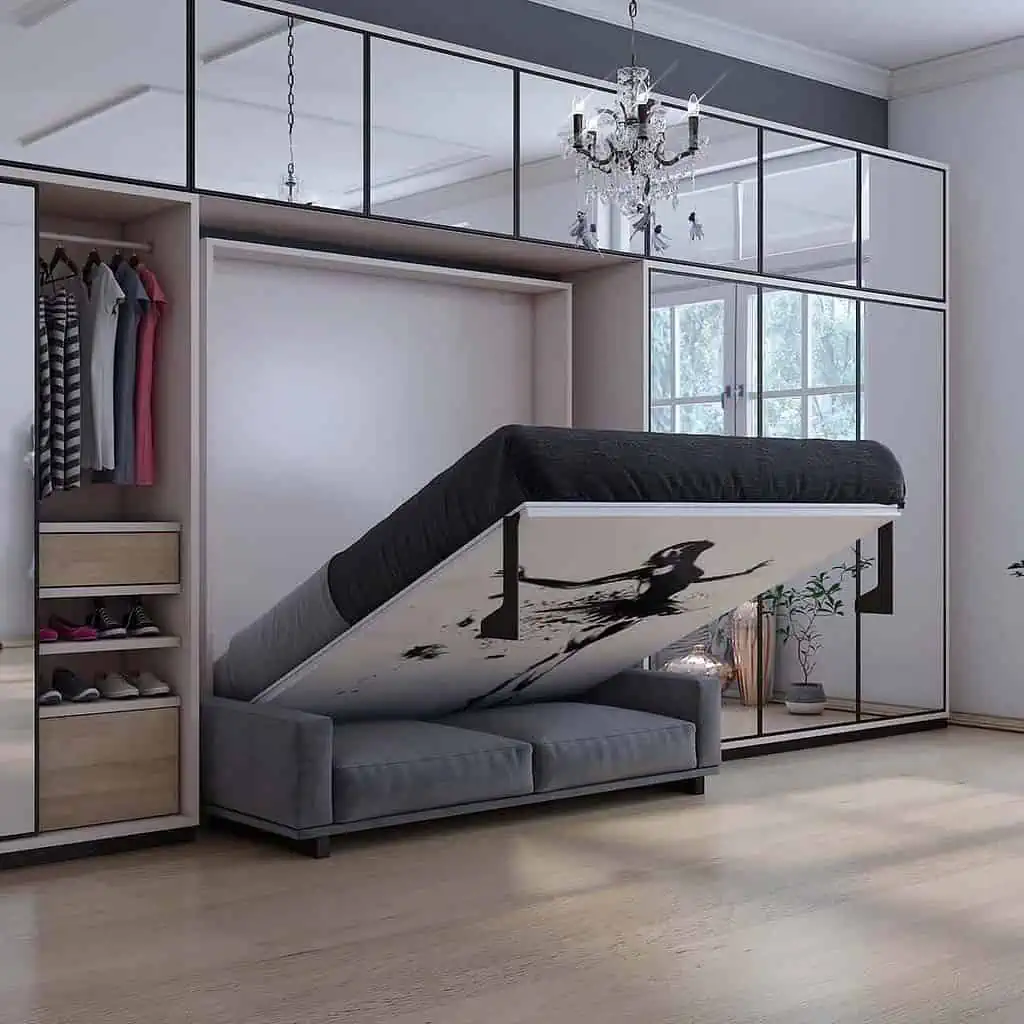 Desk Attached Model
In today's work-from-home era, a dedicated workspace is a must. A desk-attached Murphy bed can convert your bedroom into an office during the day and back into a comfortable sleeping area at night – all within seconds.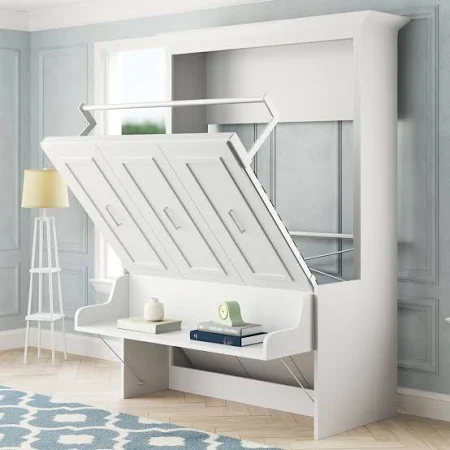 Side Shelves Addition for Extra Storage
For extra storage, look for models with side shelves or cabinets – ideal for stowing away books, decorations, and bedding when not in use.
The right choice will depend on various factors such as available floor space and individual needs, but remember: no matter which type of Murphy Bed cabinet design suits your preference, they all offer one thing in common – optimal utilization of limited living spaces.
Practical Considerations When Choosing a Bed
Choosing the right bed for your tiny space might seem easy but it requires careful consideration. From cost comparisons to assessing available floor space and bedding storage solutions, several factors must be considered before making your choice.
Cost Comparisons Between Different Models
The price of a Murphy bed can vary greatly depending on its design and features. A simple wall-mounted model may be more affordable than one with built-in furniture or high-end materials. Considering your budget and needs, comparing prices from different Murphy bed retailers is essential. Plan to spend about $1000-$2000 on a basic model.
Assessing Available Floor Space Before Purchase
You likely have limited space, so measuring accurately before purchasing large furniture items like a bed is crucial. Ensure that there is enough room for the closed cabinet and that the bed is fully extended into the room. Also, consider if models with additional shelving would fit comfortably within your living area without causing clutter or obstruction.
Bedding Storage Solutions
A common question among potential buyers is where to store their bedding when folded up during daytime use. Some models come with built-in storage, such as drawers or shelves, which can keep bedding when the bed is folded up. I have even seen a few people hide their bedding in the space between the mattress and the frame.
Frequently Asked Questions
How big should a bed be in a tiny house?
You want to be comfortable, so get a bed to serve your needs. You do not need a bed the size of a blow-up pool toy just to save space.
Can you put a Murphy bed in a tiny house?
Absolutely! It's a good idea even. A lot of tiny house owners use the Murphy bed to save space.
What is an elevator bed?
An elevator bed is on a platform that raises out of the way when not in use freeing up the space under the bed for other needs.
Are Murphy beds good for small rooms?
Murphy beds are an excellent choice for small rooms like tiny houses or container homes, thanks to their space-saving design. 
What is the difference between a wall bed and a Murphy bed?
The terms 'wall bed' and 'Murphy bed' are often used interchangeably, but the original Murphy Bed refers specifically to a patented design by William L. Murphy.
What is the point of a Murphy bed?
Murphy beds maximize floor space, offering flexibility in multi-purpose rooms by folding into cabinetry when not in use.
What is the minimum room size for a Queen Murphy bed?
A  basic vertical queen-size Murphy bed typically requires about 90 inches at minimum in height. Opting for a horizontal bed may be an option if you have a low ceiling. 
Conclusion
Murphy Beds for Tiny Houses are a game-changer for maximizing living space, and they're surprisingly comfy too!
When choosing a Murphy bed, consider practical factors like cost, available floor space, and storage solutions for bedding. But don't sacrifice style for function – Murphy beds come in various cabinet designs to fit any aesthetic.
Plus, with the rise of remote work, a Murphy bed can quickly transform your home into a multi-functional workspace. So say goodbye to cramped quarters and hello to a cozy, versatile living space with a Murphy bed!