As an interior designer and remote worker, I've learned many tricks for maximizing spaces. This includes alternative solutions for the furniture item that often takes up the most room in a home: the bed. I have some clever space saving beds to help maximize your small space.
We all need to sleep somewhere and sometimes may have guests, but how do we do it comfortably in a limited space?
A space saving bed provides more flexibility in usage in a smaller footprint, bringing two benefits in one!
Here is my list of clever space saving beds for your small space. With each solution, I include factors worth remembering to ensure you have a product that truly works for you.
At the end, I include additional tips for maximizing space and how to find the best mattress. After all, what good is a bed if it isn't comfortable?
Key Takeaways
Get Creative with Your Space: Dive into a world of inventive bed alternatives that let you turn any nook and cranny into a comfy spot, so you can have both a cozy bed and a living area.
Beds for Your Unique Lifestyle: Whether you're in a small bedroom, a hip studio, or even a tiny house, we've got just the right bed solutions to fit your style and needs.
Sleep Well, Live Better: Don't worry about sacrificing comfort for space. These beds are designed to make your daily life easier while still being comfy enough for sweet dreams.
Table of Contents
Disclosure: This post may contain affiliate links, meaning I can earn commissions. If you decide to purchase through my links, it is at no cost to you.
What are Space Saving Beds?
Space Saving Beds are different from conventional mattresses and frames. They allow you to get creative to help transform your small space.
They are innovative solutions that offer flexibility in functionality, compact usage, and, in some cases, storage. We all know you can never have enough storage.
14 Space Saving BedS
Here is my go-to list of space saving beds. I provide a range of options to fit most needs, even multiple!
1. Sofa
A sofa without the cushions removed works much like a twin bed while providing more comfortable upright sitting during the day.
This type of bed alternative is perfect for small apartments where floor space is at a premium. Some options include storage underneath for bed linens and other go-to items, helping you utilize your space efficiently.
One element to consider is the gap placement between cushions. It may affect your sleeping comfort. You will benefit most with one long cushion.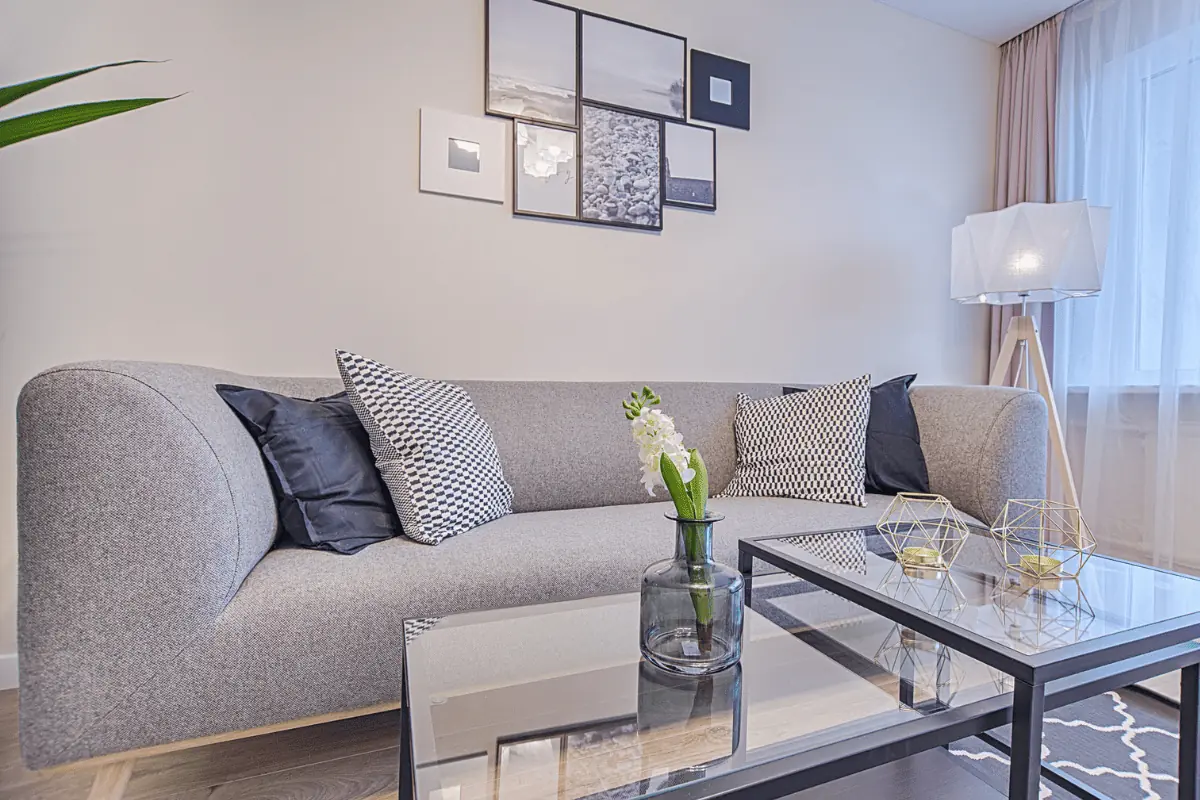 2. Sleeper Sofa
A sleeper sofa is both a sofa and a fold-out sleeping mattress.
It's an excellent bed alternative if you need more sleeping room than a sofa, and it can also be more comfortable. The key to owning the right one is ensuring a comfortable mattress for a good night's sleep.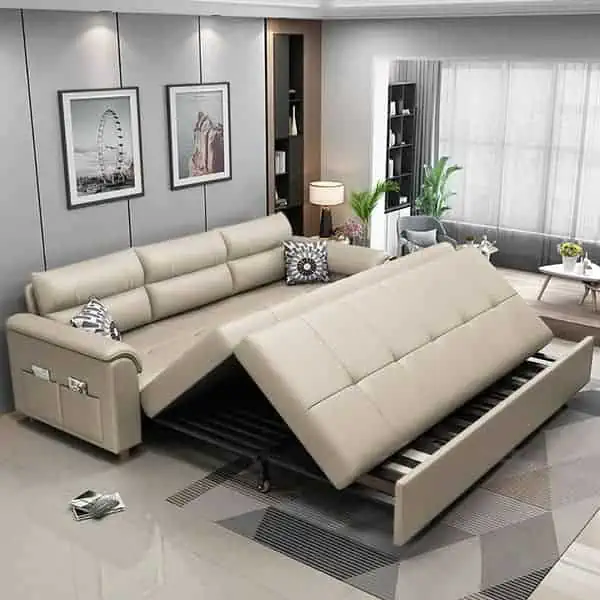 3. Futon
Japan introduced the world to futons, and it's a country that knows a thing or two about compact spaces.
The versatile bed alternative folds out flat, so the cushion works as a bed. Pull it back up to create a sofa. It's a great way to gain more sleeping space than a traditional couch, and the cushion has no gaps.
When buying a futon, consider the cushion thickness and the material. A thicker futon provides better support and comfort.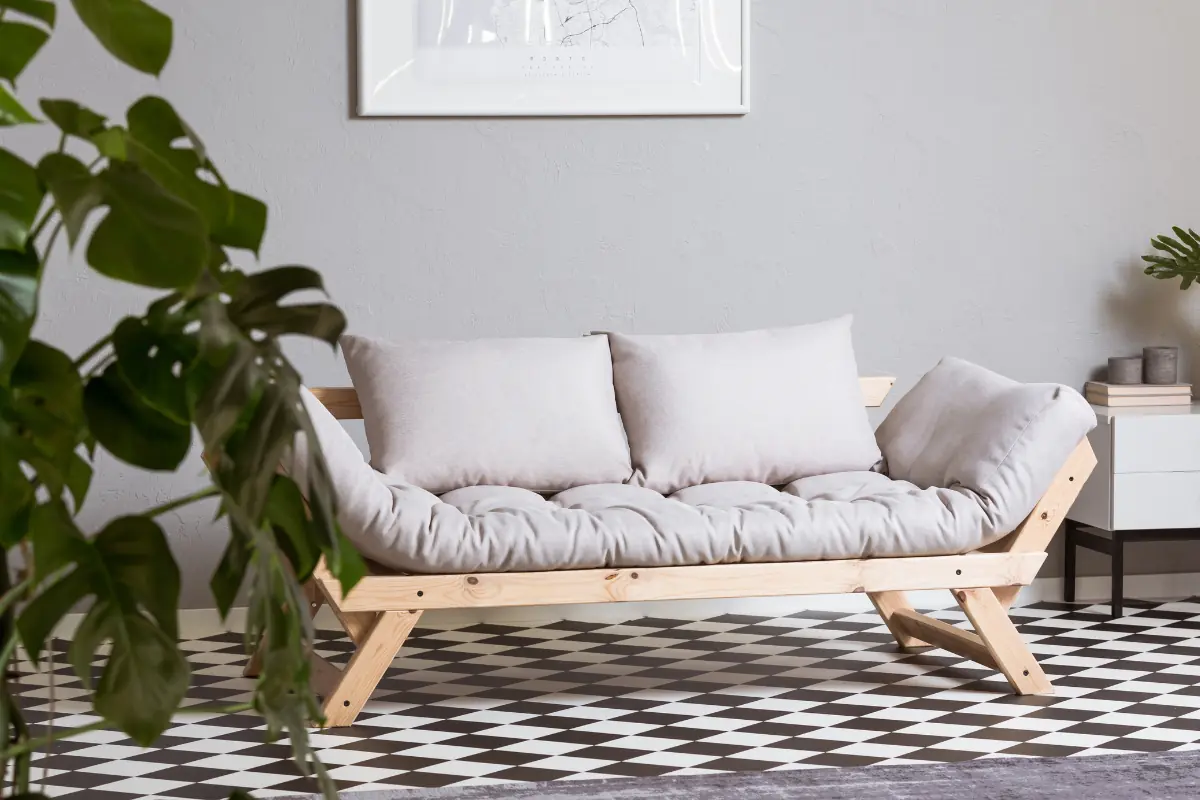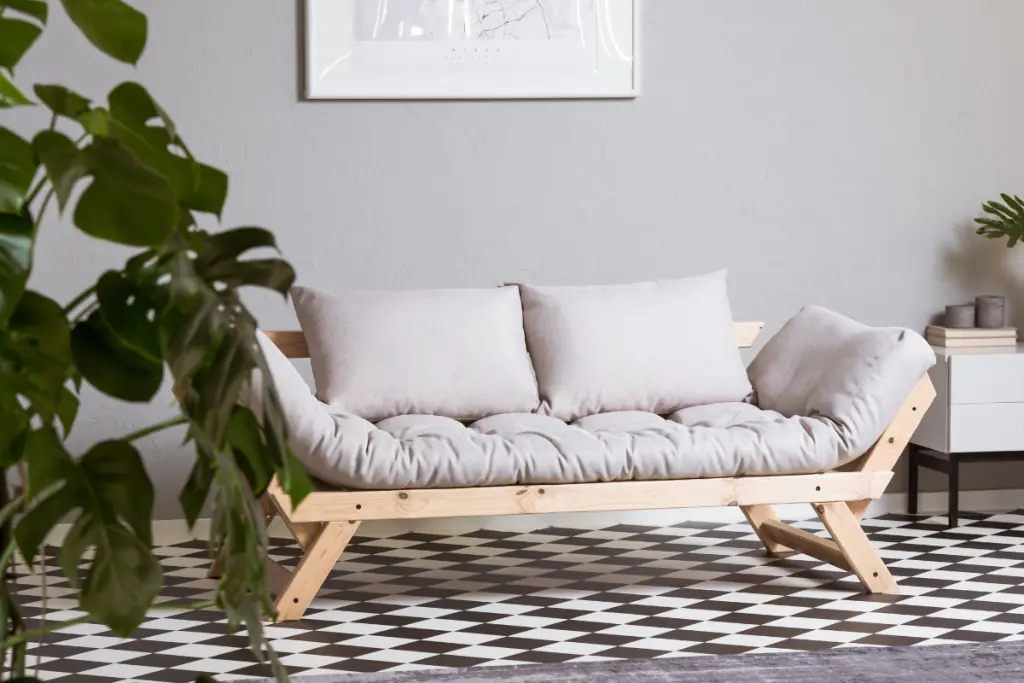 4. Chaise
A chaise is a sofa without a full back and arms.
The design has many variations, but the unconventional shapes let you stretch your legs out with more room for sleeping and allow for effortless movement in and out of the couch in tight spaces.
The unique design can also add a touch of elegance to your living space. Look for a chaise with durable upholstery and a sturdy frame. And like a traditional sofa, keep the gaps between cushions in mind to determine your best sleeping comfort.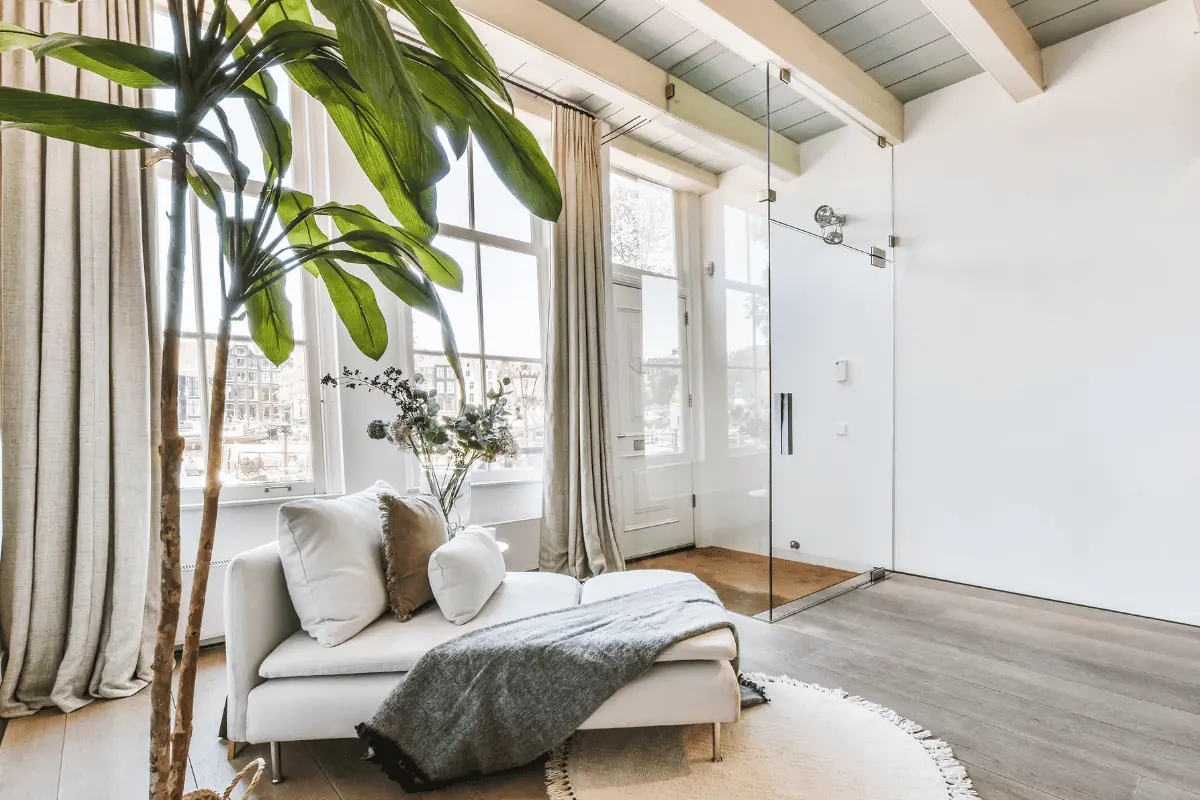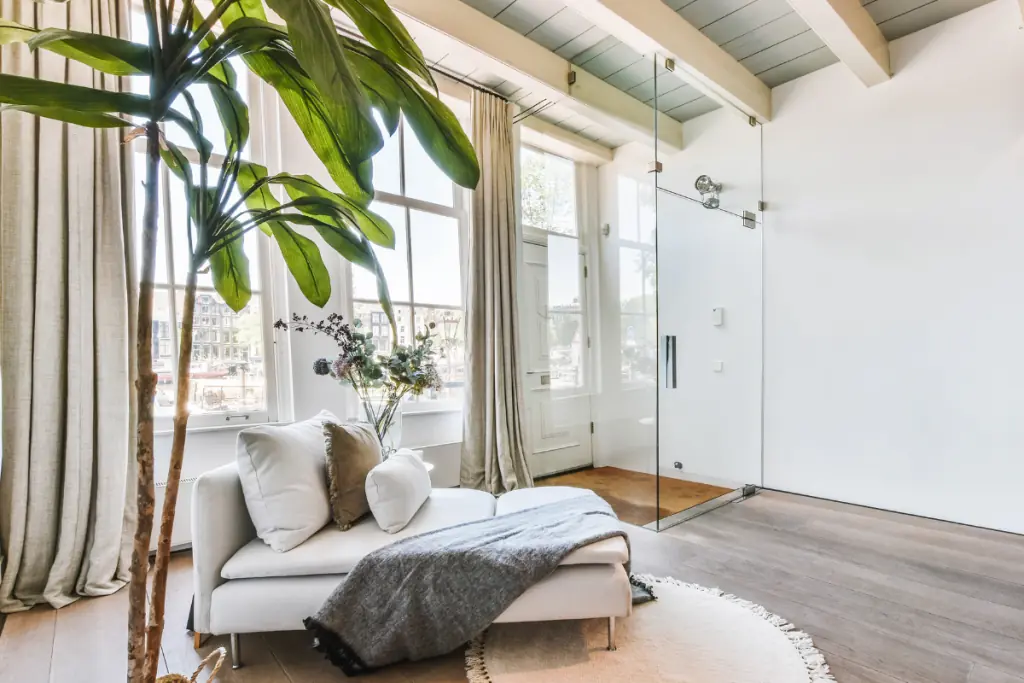 5. Trundle Bed / Day Bed
A trundle bed is a bed within a bed. Some models look like twin beds, and others look like sofas.
The top has the comfort of a traditional mattress. A second bed sits lower than the main bed, tucking underneath it and sliding out to create an additional twin-sized bed for guests or a larger sleeping area for you.
It's an innovative bed alternative that maximizes the sleeping area without taking up floor space during the day.
Remember that not all trundle mattresses combine together well to create one long mattress. Also, the trundle mattress can often be thin or firm, so ensure you have decent comfort.
6. Bunk Bed
A bunk bed is one of the best bed alternatives for small spaces. It can accommodate more than one person and takes up less space than two side-by-side mattresses.
Safety should be a top priority when shopping for a bunk bed. Ensure the bed has stairs or a securely attached ladder, and check the weight limits. Many bunk beds advertised for adults do not hold more than 250 pounds I have learned.
7. Loft Bed
A loft bed is similar to a bunk bed but without a bottom mattress. The lower section can be used for additional storage or as a work area.
Having the bed up high allows for a larger-sized mattress on the top. You may have enough room for a queen-sized loft bed.
Like bunk beds,  prioritize a sturdy frame, reliable support, a safety rail, and either steps or stairs to the top.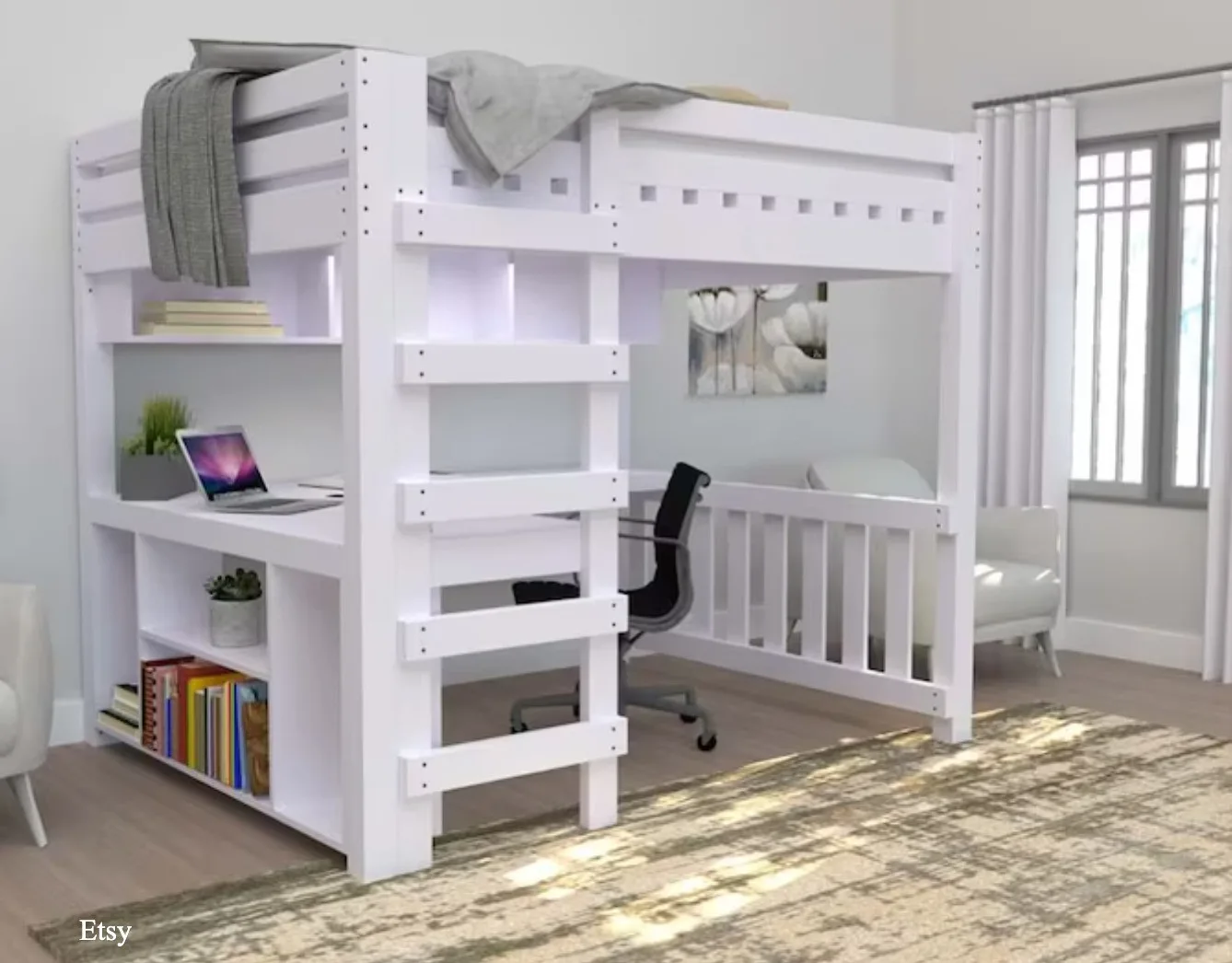 8. Hanging Bed
Like a loft bed, a hanging bed allows room underneath for storage or a desk. In fact, you get more room because the design doesn't require legs. You are suspended from the ceiling, freeing up floor space.
You may need to cushion surrounding walls to prevent the bed from banging around as you sleep. Also, ensure you have strong wood or rope connections to the wall to ensure enduring usage – and peace of mind.
9. Murphy Bed
Also known as a wall bed, a Murphy bed folds into a wall or cabinet when unused. This is the ultimate space-saving solution and one of my personal favorites.
The bed can fold up to create a clean wall or work with an attached sofa, folding over the cushions. Once the bed is put away, the flat section underneath the mattress can double as a place to hang artwork or a TV.
Some even offer attachments like an attached desk or moveable shelving to store books and keepsakes. It can even double as a decorative accent wall for Zoom calls.
10. Air Mattress
An air mattress is a great temporary sleeping solution but also works as a full-time solution. It's light weight makes it easy to tilt the bed up and out of the way, much like a Murphy Bed.
The mattress can always be deflated when needed and stored compactly when not in use, making it perfect for small spaces or hosting impromptu guests.
When buying an air mattress, consider its inflation and deflation speed. A built-in pump can be a valuable feature, ensuring quick setup and storage.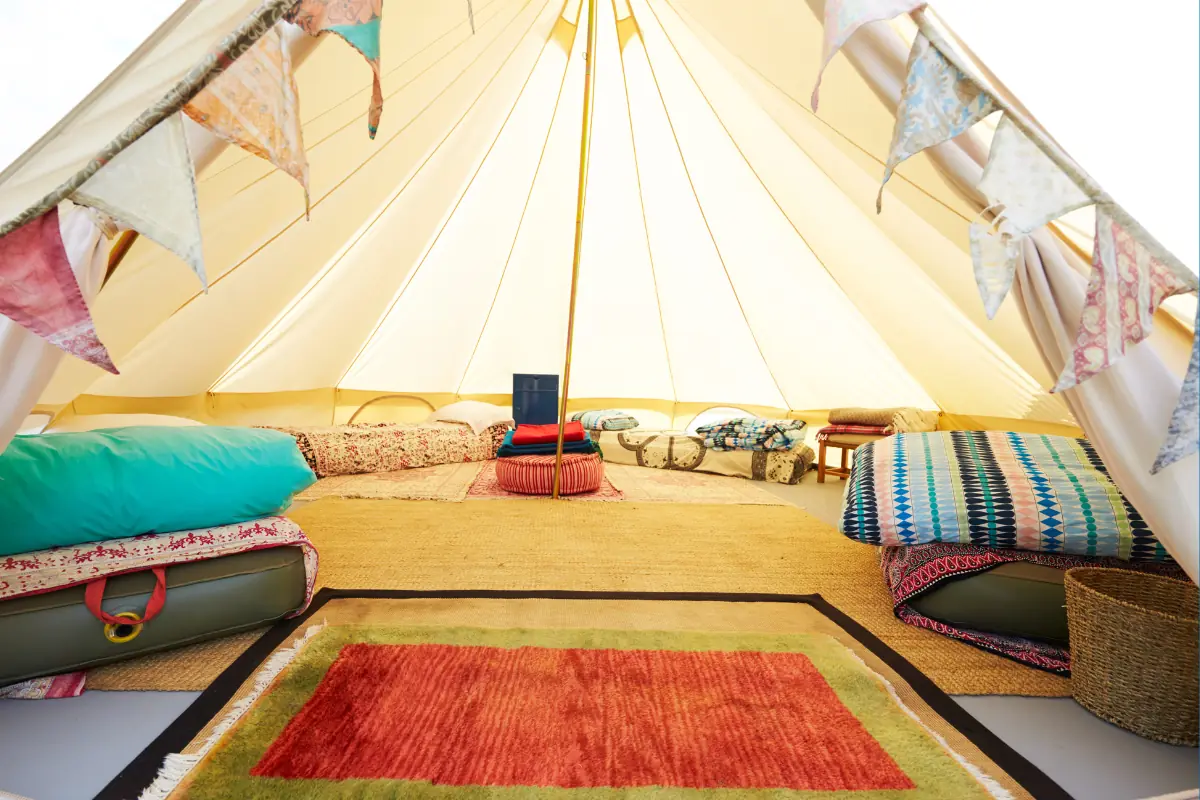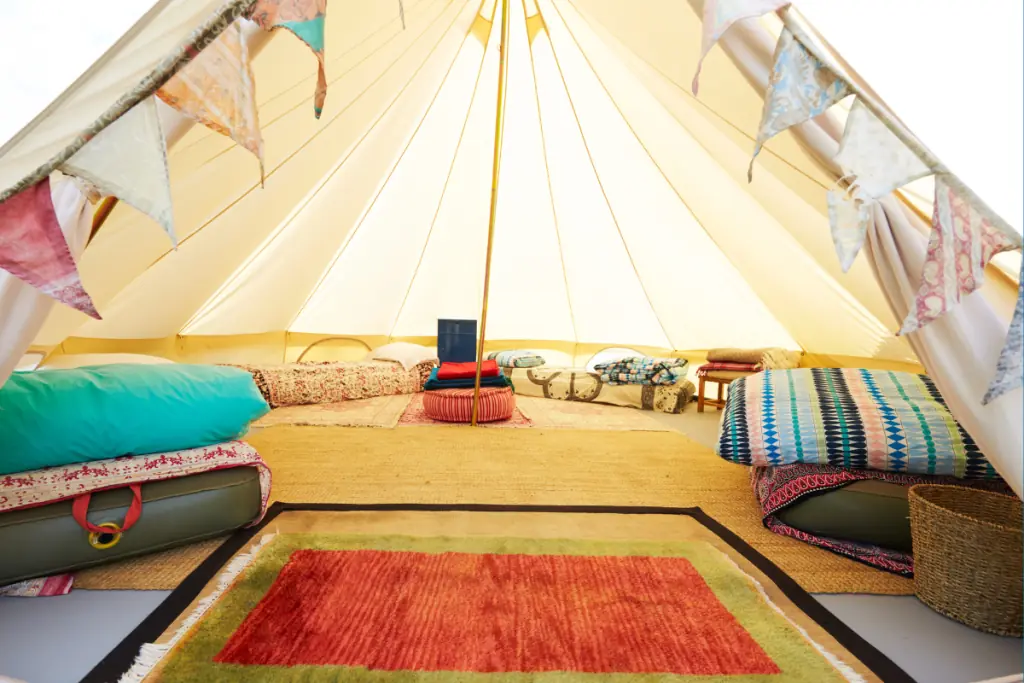 11. Bed Roll
A bed roll is another Japanese solution.
The simple and portable bed alternative is essentially a thick cushion. The soft mattress can be rolled up and stored away when not used. You can store your mattress in a closet or inside a storage chest.
When considering a bed roll, look for durable and comfortable materials. It should be easy to roll up and come with straps or a bag for secure storage.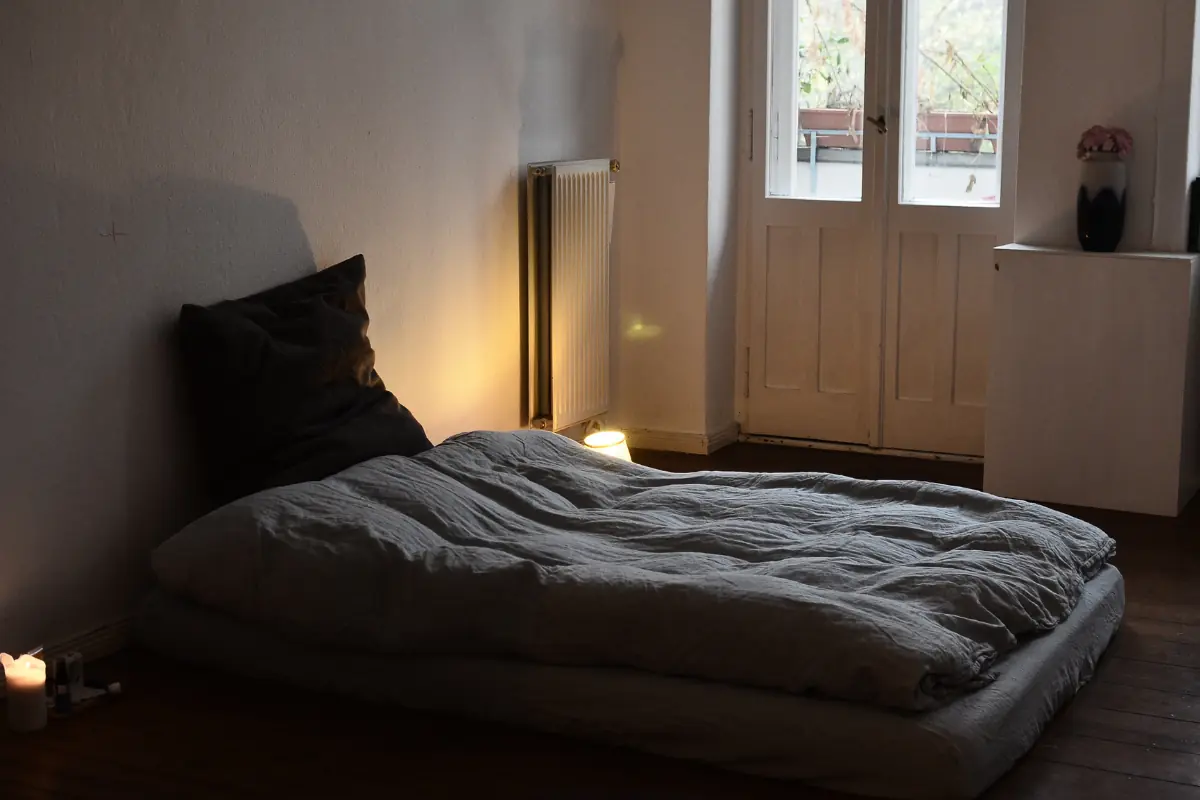 12. A Traditional Mattress
A traditional bed setup includes a mattress and a frame, but sometimes, a good mattress on the floor is all you need.
You can tilt up the mattress and store it away in a closet or set it behind a foldable screen. You can sleep anywhere with enough floor space, including areas with low ceilings.
Since there is no bedframe underneath, the mattress will lie against the firm surface of your floor, so prioritize comfort and support. The thicker, the better.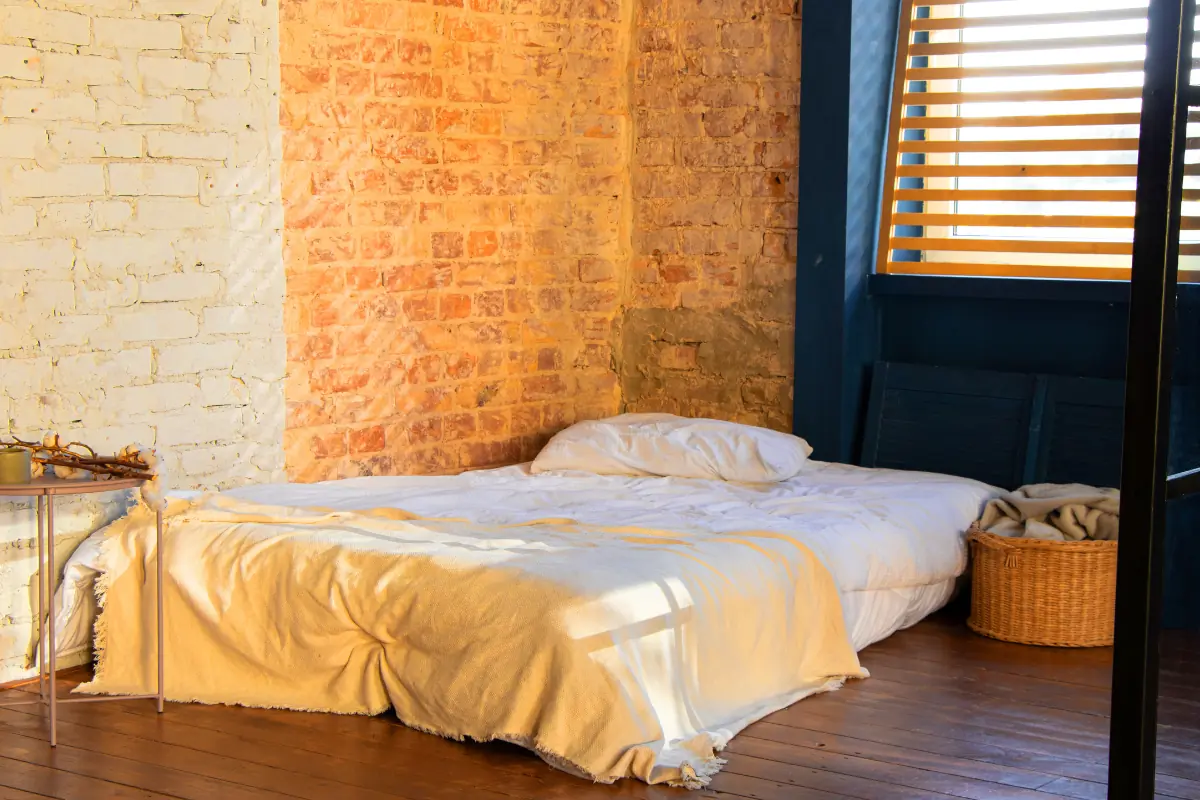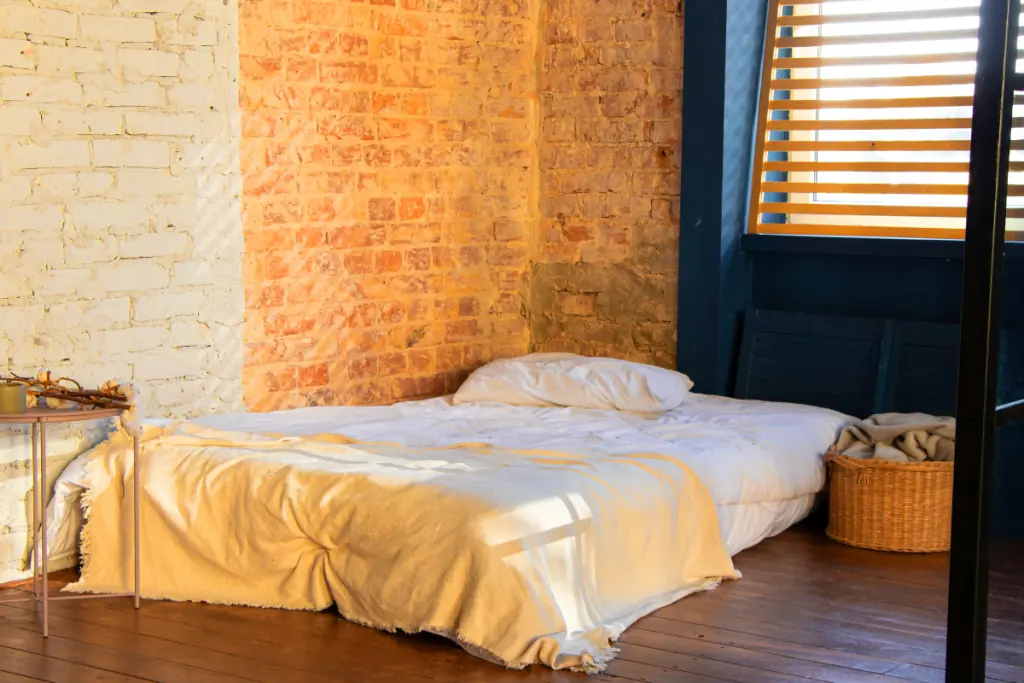 13. Folding Bed
A folding bed comes in two designs:
Rollaway Bed With a Metal Foldable Base. This design is often used as a guest bed because it folds up and wheels away for easy maneuvering and storing.
Non-Metal Frame Design: The design folds up to work like a sofa, long bench, or window seat. It does not contain a metal frame and sits closer to the floor when unfolded. This option allows for a larger sleep area than the metal frame design.
Often, the metal frame design features a thin or uncomfortable mattress, so choose wisely! How? Read on to find out.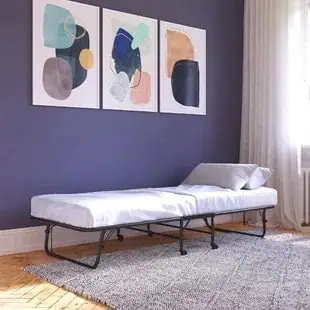 14. Hammock
A hammock isn't just for outdoor relaxation; it's also an innovative bed alternative for small spaces.
It can be suspended from the ceiling or walls and takes up less floor space than a twin mattress while in use. It also packs away quickly when not in use.
The bed offers a unique sleeping experience, rocking you like a baby, but only some find it comfortable for long-term usage. Also, be sure the hammock is made of durable materials and that the fabric, ropes, and hook installation can fully support your weight.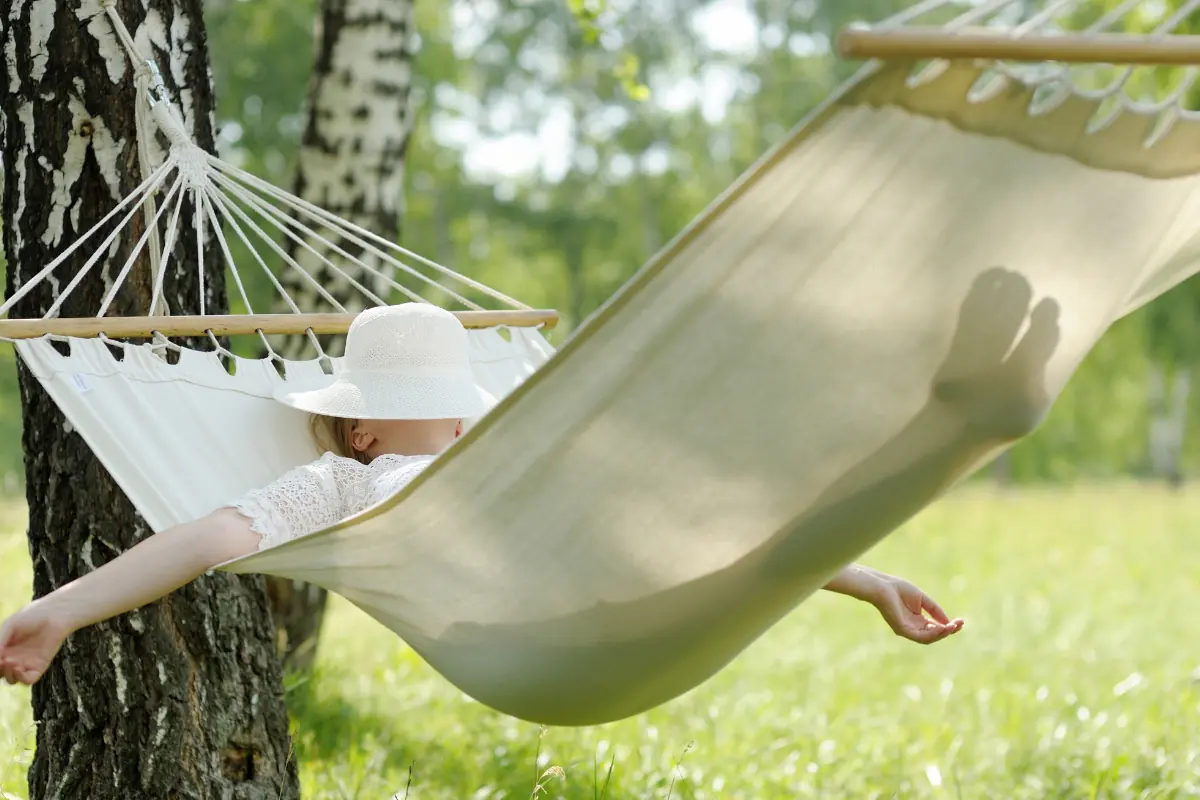 Which Spaces Benefit from space Saving Beds?
These spaces benefit from space saving beds, helping you maximize every square inch of a room for more comfortable living.
Guest Room: A seldom-used guest room can benefit from a versatile bed alternative, freeing up space for other uses, such as a craft room, workspace, or exercise room.
Small Bedroom: A truly livable bedroom offers enough space for sleeping and preparing for your day. A bed alternative does just that.
Tiny House: I've learned firsthand that every inch counts in a tiny house. Bed alternatives are an intelligent choice for minimizing wasted space so that the entire area becomes more functional.
Home Office: A bed alternative can work as secondary seating for more enduring comfort throughout the workday, improving concentration and productivity. It also doubles as a guest bed in a pinch.
ADU (Accessory Dwelling Unit): The detached unit on a property often has limited floor space, requiring innovative bed solutions.
Loft: These elevated spaces offer additional sleeping or resting in a small footprint while maximizing the usable space below.
Studio Apartment: Since a studio apartment is one large living space, it is ideal for multifunctional furniture. Bed alternatives transform a studio apartment in ways that make it more spacious and organized.
Micro Apartments: Spaces with very little space require you to be extra creative, and a space saving bed is just the opportunity.
How to Choose a Good Mattress
The foundation of any bed, whether it is a traditional or alternative option, is a good mattress. Here's how to choose one:
Select the Ideal Firmness: Mattresses have firmness levels ranging from soft to firm. Your choice should align with your sleeping preference.
Choose the Right Materials: Memory foam offers contoured support, while innerspring mattresses provide a bouncy feel. Hybrid mattresses combine the best of both.
Check Ratings: Check customer reviews and ratings to gauge the mattress's comfort and durability.
Choose the Ideal Size: Ensure the mattress fits your space and meets your sleeping needs.
Additional Tips for Maximizing Space in Your Home
What bed alternative is best for you? Here are some traits to consider as you shop:
Under-Bed Storage: Whether you opt for a traditional bed, loft bed, or trundle, utilizing the space underneath for storage can be a game-changer. Look for beds with built-in drawers, or consider adding storage bins.
Wall-Mounted Furniture: Items like wall-mounted desks or shelves can free up floor space for your bed. The same wall can also accommodate it. When paired with a Murphy bed, you can create a multifunctional room that serves as a bedroom, living room, and home office.
Vertical Storage: Instead of spreading out other items in the space, go up. Tall bookshelves, hanging storage solutions, and elevated beds can help you utilize your space vertically, making the most of smaller rooms.
Modular Furniture: Items like folding tables and chairs can be stowed away when not in use, freeing up space. This is especially useful in studio apartments or multipurpose rooms.
Embrace Functionality in Style
Living in a small studio or apartment doesn't mean compromising style or comfort.
You can create a functional and aesthetically pleasing home with space saving beds and creative space-saving strategies. It's not just about how much space you have but how you use it.
Choosing one of the space saving beds and implementing other smart storage solutions gives you more functionality without sacrificing comfort.
Final Thoughts
Space is a luxury, but even the coziest spaces can feel expansive with innovative bed alternatives.
Whether you're downsizing, moving into a city apartment, or simply looking to optimize your current space, there's a bed solution.
All it takes is a bit of creativity and choosing a design that fits your needs best. This list of space saving beds gives you plenty of options to work from.
Frequently Asked Questions
What is the most space saving bed?
How much does a space saving bed cost?
You can get real creative and build a DIY Murphy Bed or similar option.
What is the cheapest way to buy a bed?
Shop discount stores to find inspiration or mismatched furniture. Search for inspiration and get creative. Garage sales or estate sales may be another option.
Do space-saving beds sacrifice comfort?
Not necessarily. Things like a mattress topper can help add a layer of comfort.
Can I use space-saving beds in tiny homes?
Absolutely, space-saving beds are ideal for tiny homes, making every inch count for comfortable living.
Are there affordable options for space-saving beds?
You can find budget-friendly options like futons and trundle beds that save space. When in doubt, keep it simple and plain.