Do you live in a small studio apartment and find it challenging to divide your space effectively? I bet you may be low on funds to transform your tiny studio apartment into a bedroom, dining room, and living room.
Don't worry, we've got you covered!
I thrive on creativity in small spaces. It's a bit of an obsession if I am honest. (Let's not talk about all my pins on Pinterest.) 🥸 I digress.
With a little creativity and our clever room divider ideas, you can maximize your studio apartment and create separate areas for all your activities.
Excited to know more? I have picked eleven innovative ways to utilize a studio apartment room divider and maximize your small space.
Let's get started! 🚀✨
Key Takeaways
Room dividers can create separate spaces.
Bookshelves used as room dividers can help maximize space.
Some room dividers can be made inexpensively.
There are room dividers that can be used as artwork.
Table of Contents
Disclosure: This post may contain affiliate links, meaning I can earn commissions. If you decide to purchase through my links, it is at no cost to you.
What is a room divider?
Why Divide a Studio Apartment?
Studio apartments are known for their open floor plans, combining all living, dining, and sleeping areas into one space. The problem is that one big space can be overwhelming to design in.
While this layout can be great for minimalist living, it may lack privacy and make creating separate zones for different activities difficult.
Dividing your studio apartment can transform into a multi-functional space with distinct sleeping, working, and entertaining areas.
4 things to consider when choosing a room divider
1. Decide on a Budget 💰
Set a budget to narrow down your options. If you are working with a small budget, you may need something more DIY or multi-use to divide the space.
2. Landlord's Rules
Check with your landlord about what you can attach to walls or ceilings. Are you allowed to use nails, or do you have to use something like command strips?
3. Multi-Functional Dividers
Consider if you want the divider to serve an additional purpose like storage or a bookshelf as a way to create those separate spaces.
4. Portability
Do you need something lightweight to store away or move frequently? Do you need a divider that fits in a certain spot when not in use, like under the bed or as a piece of artwork?
11 studio apartment room divider ideas
Dividers are a great way to break up your space and make a studio space feel more cozy. Whether you're looking for studio apartment dividers, there are many options.
I categorized the options into 4 categories:
Curtain dividers
Folding screen dividers
Furniture dividers
Less private room divider
---
You can transform a studio apartment into multiple rooms with creativity and a little vision.

– Erin Hybart, Small Space Enthusiast
---
Curtain Dividers
1. A Curtain on a Ceiling Track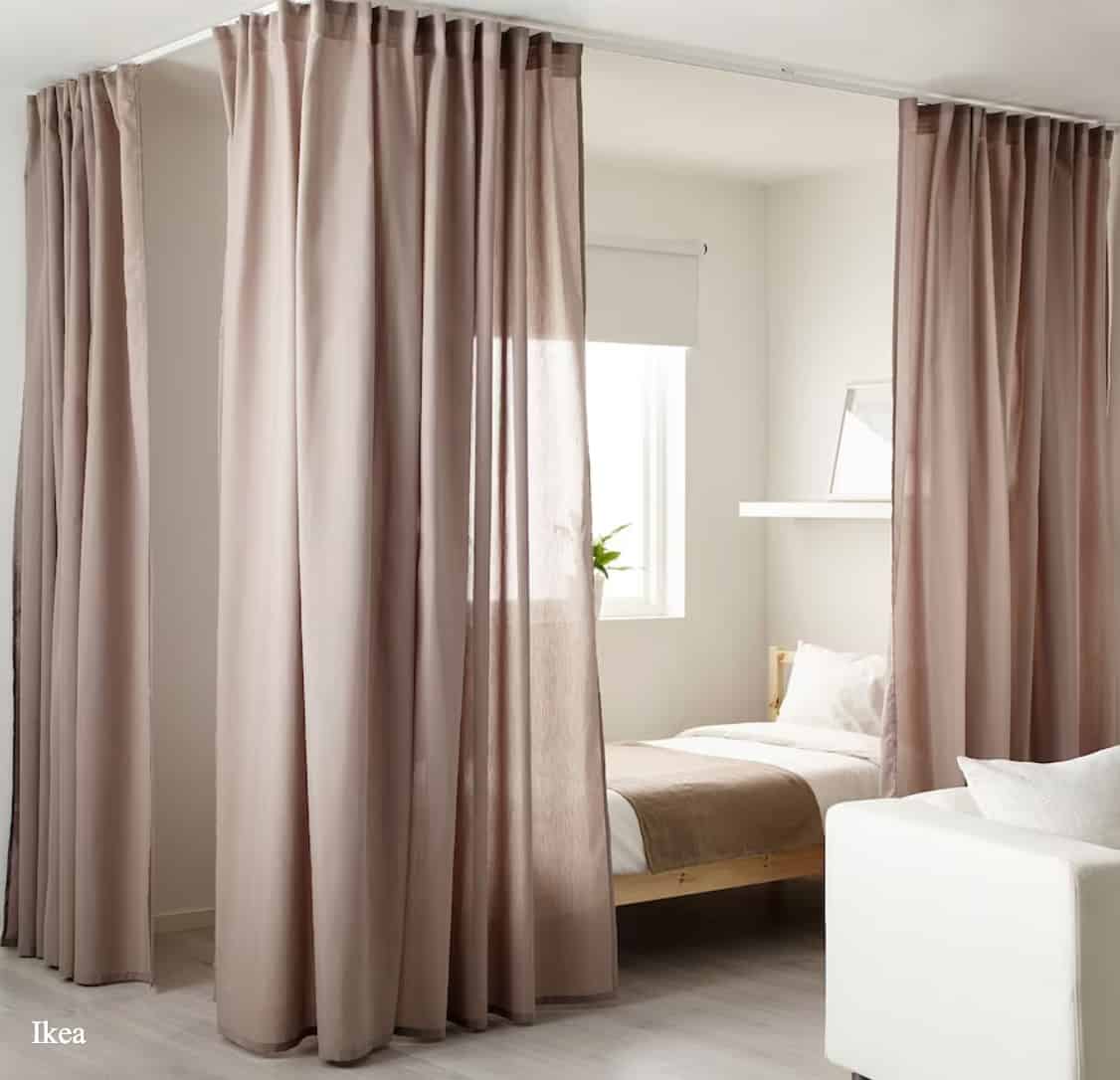 One of the easiest and most versatile ways to create separation is using room divider curtains. A curtain partition separates the living room and sleeping space when the curtain is closed.
Install a ceiling track and hang curtains to create room partitions that can be easily opened or closed. The curtain track can be hung between the living and sleeping spaces, acting as a room divider or temporary wall.
💰 Tip to save: If you have high ceilings, opt for a painter's tarp, which comes in long lengths at a fraction of the cost of longer curtains.
2. Curtains as Dividers Around the Bed
If you want to create a separate cozy sleeping space in your studio apartment, consider using curtains around your bed.
Install a curtain rod above your bed and hang floor-to-ceiling curtains on either side to create a private, intimate sleeping space.
This simple solution adds privacy when needed.
💰 Tip to save: Buy bed sheets and make your own curtains.
Folding Dividers
3. Using a Foldable Screen to Divide Space
Foldable dividers are a classic and practical choice for dividing a studio apartment. These portable and lightweight room dividers can be easily folded and stored when not in use.
Choose a screen that complements your decor and place it strategically to create distinct living and sleeping zones.
💡Creative Tip: Opt for a screen that can be hung on the wall when not used. You can use the screen as a piece of artwork.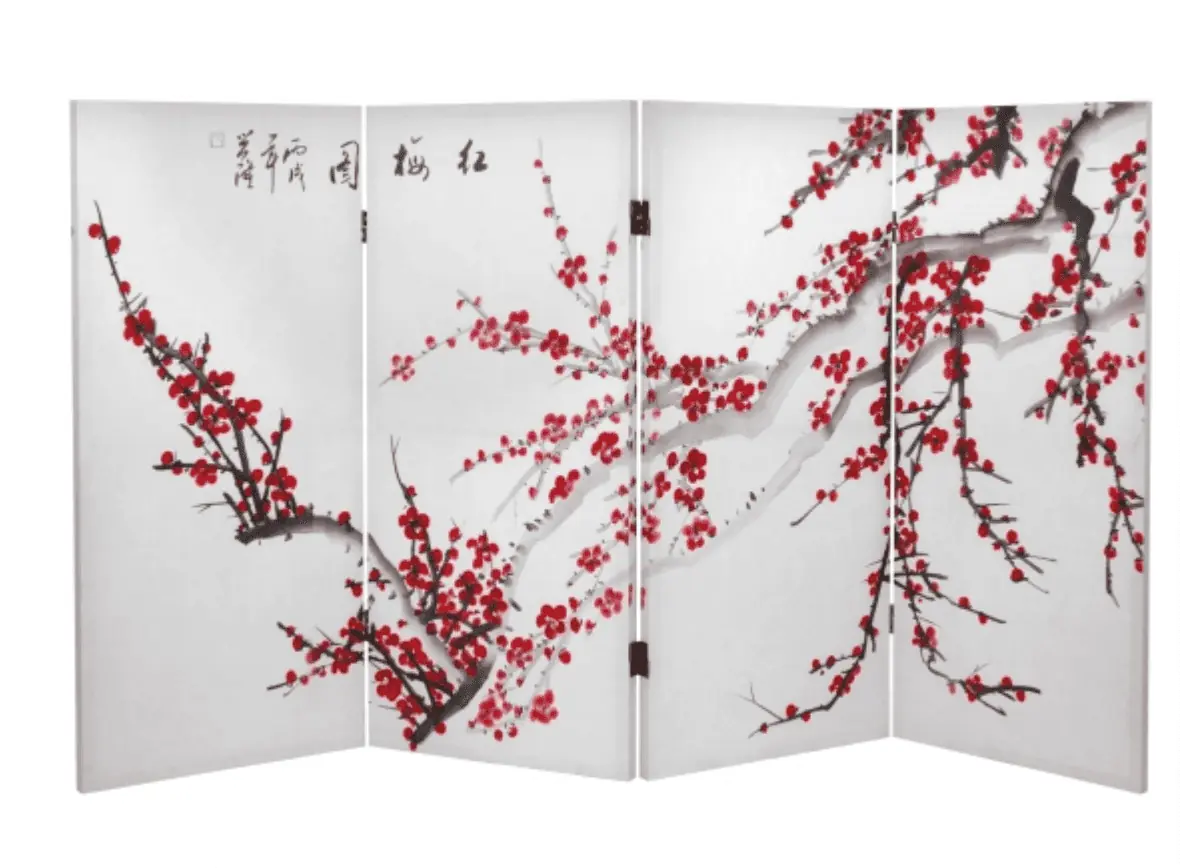 4. Using Bamboo Dividers for a Natural Look
Bamboo dividers are an excellent choice if you're looking for a natural and eco-friendly room divider.
These lightweight screens add a touch of elegance and create a sense of privacy in your studio apartment. Their natural texture and earthy tones bring your space a calming and tranquil vibe.
5. Using Shutters as Dividers
For a unique and stylish room divider, consider using shutters. Shutters – yep. There are so many partition wall ideas utilizing shutters.
These versatile dividers can be adjusted to control the amount of light and airflow in your studio apartment. Whether you opt for vintage wooden shutters or metal ones for a more modern room. They will add a touch of sophistication and charm to your living space.
💰 Tip to save: Find used shutters at garage sales or reclaimed furniture stores to save some dough.
💡Creative Tip: To create the look of shutters, buy 2-3 reclaimed doors and add hinges to combine them into a folding divider. Add wood shelves to the doors to display decora
Furniture Dividers
6. Utilizing Bookcases as Room Dividers
Bookcases are great for storage and serve as excellent room dividers to create a sense of separation from the rest of the space.
Choose a bookcase with open shelves or one with open and closed compartments to balance dividing your space and providing storage space.
Display your favorite books and decorative items to add personality and character to each side of the bookcase.
💡Creative Tip: If the bookshelf is closed, add interesting wallpaper to the back of the bookshelf to add color and texture.
7. Creating a Shelf Wall to Separate Areas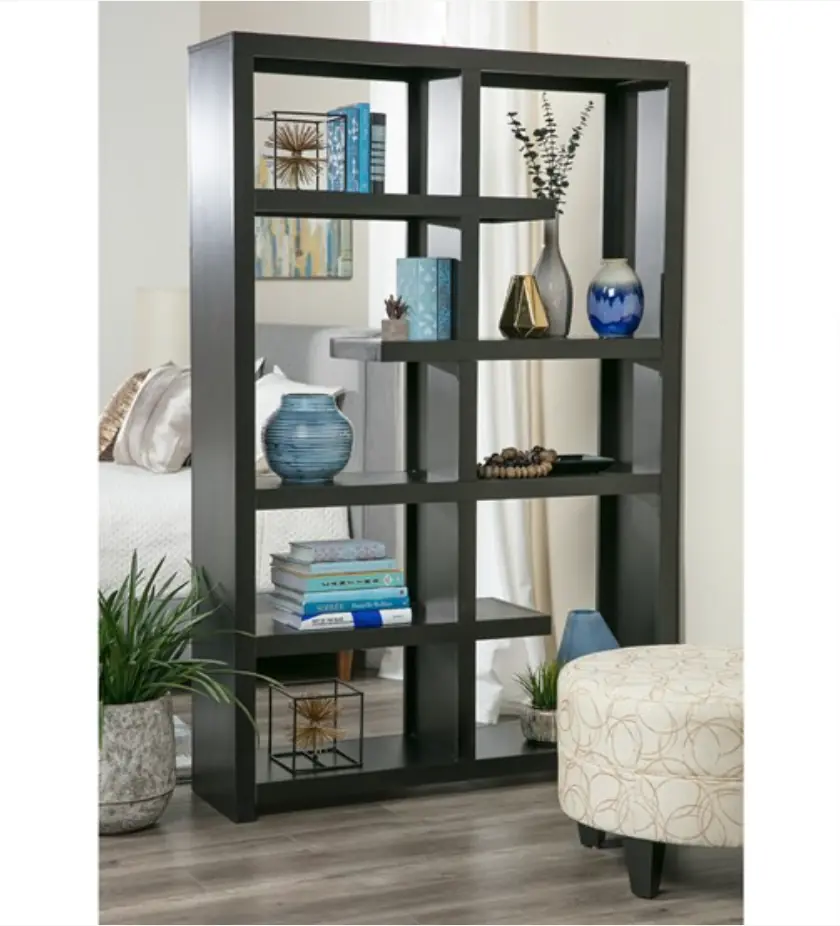 Consider building a shelf wall to create a more substantial division between different areas in your studio apartment. This solution involves installing a tall shelving unit from floor to ceiling or utilizing a free standing unit to separate your living and sleeping areas.
You can really maximize storage space with this idea.
8. Using a Clothing Rack as a Divider
A clothing rack can do the trick if you want a unique and functional room divider.
Install a sturdy clothing rack in the middle of your studio apartment to create a visual separation between your living and bedroom areas. Opt to put two clothing racks at the foot of the bed to create a faux wall.
9. Adding a Custom Headboard and Desk Combination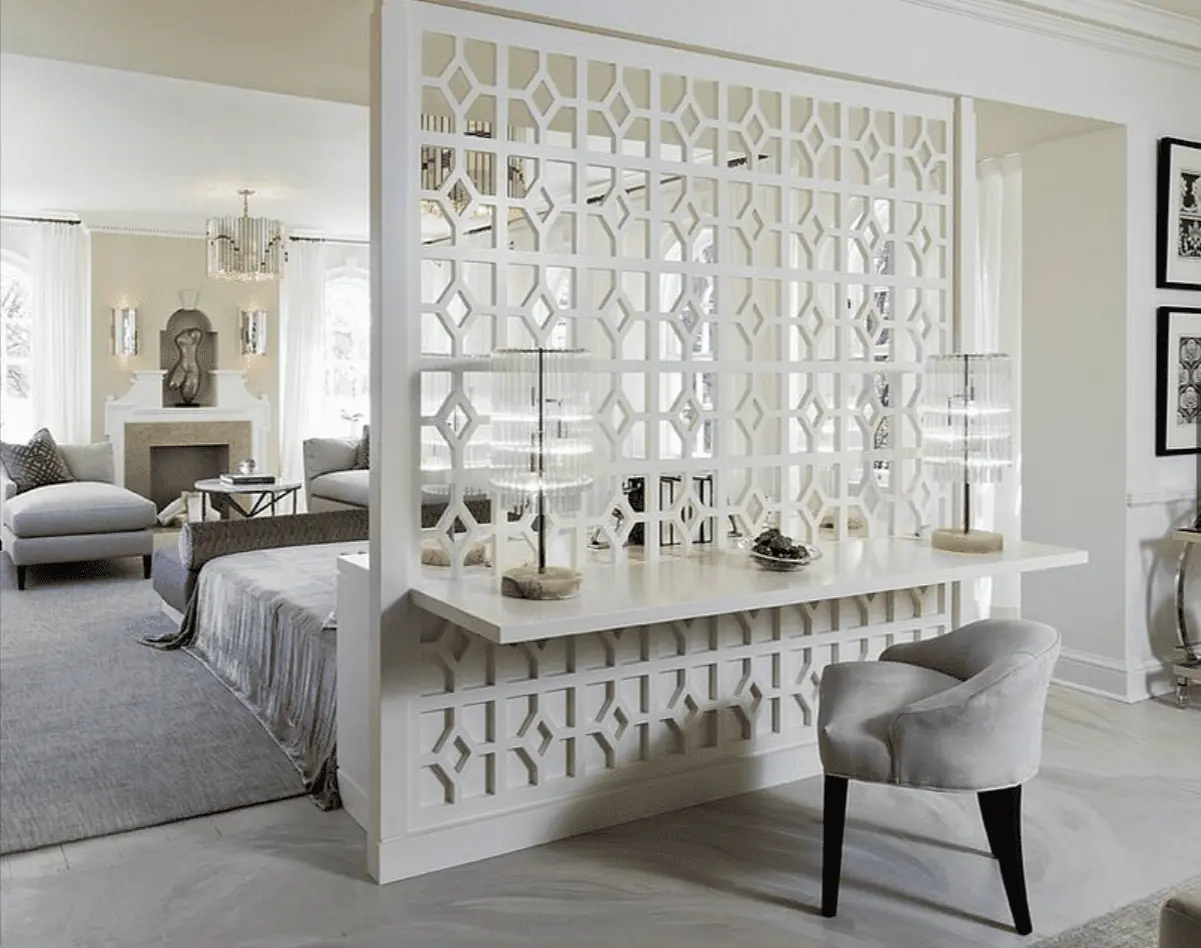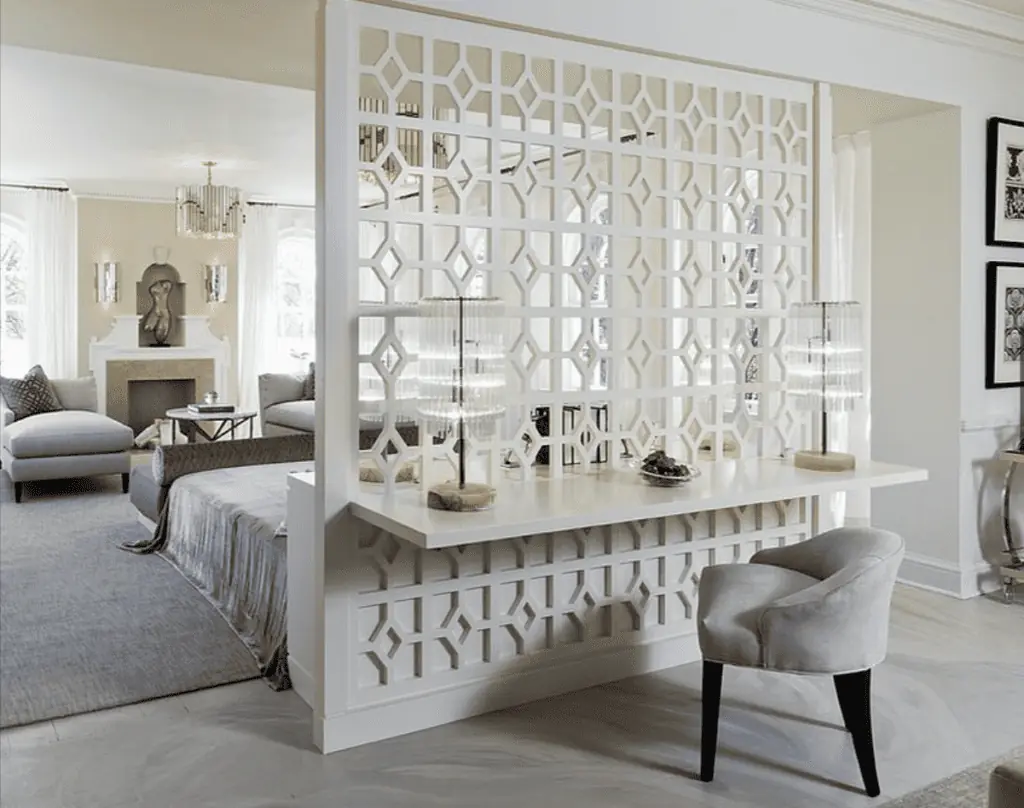 Create the illusion of a bedroom by adding a custom headboard and desk combination piece.
Build a large headboard that spans the width of your bed and extends to the ceiling. Attach a floating desk to the other side, creating a visual separation between your bed area and workspace.
💡Creative Tip: Add shelves to the custom headboard on each side to display items.
Less Private Room Divider Ideas
10. Incorporating Plants as Natural Dividers
Adding plants to your apartment may be the next best thing to enhance the aesthetics and act as a natural divider.
Strategically place large potted plants or tall planters to create visual boundaries and separate your bedroom space from the rest of your home. Not only will they provide privacy, but they will also freshen up the air and add a touch of nature throughout the space.
11. Using a glass room divider to Allow Natural Light
If you want to maintain an open and airy feel, consider using glass partitions.
These transparent dividers allow natural light to flow through your space, making it feel more spacious while creating separate zones. Frosted or textured glass can provide extra privacy without blocking light.
Creative Tip💡: Utilize plexiglass instead of glass and opt to add a textured window sticker to add inexpensive privacy
Other ways to maximize and divide the space
Some have found other ways to divide a studio by choosing more creative furniture. Sometimes you have to close your bed or raise it up!
Items such as loft beds or Murphy Beds can create the sense of an extra room. The area under a loft bed can be used for a cozy nook or office space, while a Murphy Bed can be folded when not in use. Chest Beds have become another option to store a bed when not in use.
Conclusion
When you live in a small studio apartment, the key is maximizing the available space while creating distinct areas.
You can transform your studio apartment from one room into a stylish and functional living space by utilizing various techniques such as curtains, foldable screens, and clever furniture placement.
Don't be afraid to explore divider options that align with your style and cater to your needs. The studio apartment right room divider can take an open space and create a more cozy space to call your own.
Frequently Asked Questions
What is the cheapest way to make a room divider?
The cheapest way to make a room divider is to utilize curtains or foldable screens. These options are affordable, easy to install, and offer versatility in dividing your space.
How do you split a studio into two rooms?
To create distinct living and sleeping zones, you can split a studio apartment into two rooms using furniture dividers such as bookcases, shelving units, curtains, or partitions.
How do you get privacy in a studio?
In a studio apartment, you can utilize curtains, folding screens, or glass partitions for privacy. These dividers create visual separation while allowing for natural light and airflow.
Does a studio have a separate bedroom?
A studio apartment typically does not have a separate bedroom. However, by utilizing room dividers, you can create the illusion of separate living and sleeping areas.
What is the easiest and cheapest way to divide a room?
The easiest and cheapest way to divide a room is to utilize curtains or folding screens. These options are portable, affordable, and can be adjusted to create separate zones.
How do you make a homemade divider?
You can make a homemade room divider with fabric, wood, or cardboard. Create a frame or structure and attach your chosen material to create a custom-made divider.
How to make a bedroom in a studio apartment?
To make a bedroom in a studio apartment, you can use curtains, dividers, or furniture arrangements to separate the sleeping area from the rest of the living space. A large headboard or custom-built structure can help define the bedroom area.