Living or traveling in an RV can be thrilling, but ensuring a comfortable resting space for a good night's sleep is important. That's where an RV mattress comes into play.
What many RV owners learn when shopping for an RV is how many RV mattress sizes there are, including the short RV mattress. A shorter mattress may be fine if you are 5 foot 2 inches like me. It is not out of the question if you are taller, though.
I learned all about RV mattresses in my early 20s because we were in the RV repair business. I went to all the RV shows and toured the interior of hundreds of campers and RVs. (It fed my passion for home design and my love of living in a small space. 😍)
My appreciation for the various sizes of RV mattresses hit home because my husband was 6 feet tall. We purchased an RV that had a standard queen mattress. I figured we had to keep the standard mattress unless hubby wanted to sleep in a fetal-like position.
I was wrong! Allow me to share with you all that I have learned about the short RV mattress and how this clever mattress changed our world (at least to mine).
Stay tuned to explore the ins and outs of the sizes available, including the short RV mattress, and provide tips for buying the perfect mattress for your travels. Let the RV mattress madness begin!
Table of Contents
Disclosure: This post may contain affiliate links, meaning I can earn commissions. If you decide to purchase through my links, it is at no cost to you.
What is a short RV mattress, and what do you need to know
An RV mattress is a specially designed mattress that fits the unique dimensions of an RV bed. Unlike standard mattresses, RV mattresses come in different sizes to accommodate the limited space in recreational vehicles.
No one needs to remind us of the importance of quality rest during our travels. The right mattress may prevent aches and pains from sleeping on an inadequate surface. If you are into full-time RV living, this is crucial.
The short RV mattress has become popular for those looking to squeeze space around the bed. After all, you don't want to climb over the bed to access the other side. Selecting a short mattress is no different than selecting a regular-size mattress.
Who is buying a Short RV Mattress
People with small campers buy short RV mattresses to fit in tighter sleeping spaces. If the bed takes up the whole width of the camper, a short mattress is a perfect fit. Those who want more space around the bed also choose this size.
How we Hacked our Sleeping Space and Purchased a Short RV Mattress
The RV we purchased came with a regular queen mattress. It made the place a little cramped, and I wanted more space to walk around the bed. I also wanted to utilize the space at the foot of the bed for a makeshift office, so I needed space for a chair.
I put my thinking cap on and pulled the mattress up. Why was there space between the mattress and the headboard? That space was mine!
I knew then I could likely replace the standard queen mattress with a short RV queen mattress. To ensure hubby would fit on the shorter mattress, I drew the size of the short rv mattress on the driveway with chalk and had him lay in the rectangle. It was a tight fit, but he fit!
I wish I had a picture of this to share!
Understanding Different RV Mattress Sizes
Camper and RV manufacturers often produce mattresses in various sizes and shapes to suit the specific needs of recreational vehicles. Camper and RV manufacturers must design to accommodate the diverse spaces within the sleeping space.
These mattresses may be shorter or narrower, reflecting the unique requirements of the vehicle's interior. There's no universal standard for height or thickness, allowing for various sizes and shapes tailored to different models and designs.
So having a regular mattress in your RV is not always possible. Hence the need for the short RV mattress.
There are like 20 different sizes! It's complete Mattress Madness!
It's essential to understand the dimensions of your RV bed and choose the appropriate mattress size to ensure a proper fit.
Some common RV mattress sizes include:
| Mattress Type | Size (inches) |
| --- | --- |
| RV California King | 72 x 84 |
| RV King | 72 x 80 |
| RV Short King | 72 x 75 |
| RV Queen | 60 x 80 |
| RV Short Queen | 60 x 75 |
| RV Full or Double | 54 x 75 |
| RV Three-Quarter | 48 x 75 |
| RV Twin | 39 x 75 |
| RV Bunk | 42 x 80 |
RV Mattress Dimensions Chart: Find the Right Size Mattress
Determining your RV Mattress Size
An RV mattress will be a variety of shapes and sizes. The thickness of the mattress will also vary.
"Mattresses may come from the RV manufacturer ranging in thickness from 5 inches to 12 inches", according to The RV Geeks.

The RV Geeks
Choosing the Perfect RV Mattress
When selecting a mattress for your RV or replacing your RV mattress, you have several options. You can also opt for a custom mattress. These are made-to-order, allowing you to choose the shape and size best for your RV bed.
Understanding the Types of RV Mattresses available
Various mattresses types are available, including:
foam

memory foam

innerspring

hybrid

and

latex mattresses

.
Each type offers different features and benefits, so it's crucial to understand your preferences and choose accordingly.
Foam Mattress
Standard foam mattresses are 5-6 inches thick, costing between $150-$350. The denser the foam (1.8-2 lbs per cubic foot), the more durable and supportive. Due to its affordability, this may be an option for occasional use or children.
Memory Foam Mattress
Memory foam mattresses, around 8 inches thick, are ideal for those living full-time in their RV or seeking extra comfort, with prices ranging from $399-$799. The best density is around 4 lbs, as higher densities may cause sweating, while lower (2.5-3 lbs) may lose elasticity quickly.
Innerspring Mattress
RV owners prefer innerspring mattresses for their cost-effectiveness and support. They consist of a coil support system and a foam, fiber, or fabric comfort layer. These mattresses suit various sleepers but may be better for those seeking body conforming. They come with a price tag of $399-$799.
Hybrid Mattress
Hybrid mattresses combine the support of innerspring coils with the comfort of foam or latex. They offer a versatile sleeping experience, catering to various preferences by balancing firm support and soft contouring. They are an excellent choice for those seeking a blend of traditional and modern comfort in their RV. This option will range in price from $599 – $1299.
Latex Mattress
Latex mattresses are a great choice for frequent RV users or those seeking comfort and eco-friendliness, with prices ranging from $599-$999. Natural latex is collected from rubber trees and doesn't break down or discolor with heat and UV light. Natural latex is also hypo-allergenic, dust-mite resistant, and anti-bacterial. However, those with latex allergies should avoid this type of mattress.
Comparing New RV Mattress Types
Mattress Type
PROS
CONS
Foam
Affordable
Lightweight
Can Retain Heat
May Sag Over Time
Memory Foam
Pressure Relief
Good for Joint Pain
Can Retain Heat
May Feel Too Soft
Innerspring
Breathable
Affordable
May Feel Too Firm
Less Durability with Lower Coil Counts
Hybrid
Supportive
Comfortable
Heavier
Potential for Motion Transfer
Latex
Natural Option (if using natural latex)
Durable
Heavier
Not for Those with Latex Allergies
Pro tip: Finding a short RV mattress size may be more challenging. These options are often hard to find in a typical brick-and-mortar store, so the online world becomes your go-to.
Tips for Choosing the Right Size Mattress for Your RV
Measure the bed platform
Measure your RV bed accurately and compare it with the available RV mattress sizes chart to find the perfect fit for your vehicle. Consider your RV bed's unique features or dimensions to ensure the mattress fits properly.
Personal preferences
Consider your preferred types and preferences:
Firmness level – do you like a firm mattress or a soft mattress

Desired features, such as cooling properties or motion isolation

Do you have a preference for what the mattresses are made of?

Durability and longevity of the mattress

Weight of the person that will be using the mattress

The weight of the mattress also matters

How often will you use the mattress
Considerations for adding a new mattress topper to your RV bed
If you want to enhance the comfort of your existing RV mattress without investing in a new one, a mattress topper can be a great solution.
A topper is an extra layer of padding that can provide additional support and cushioning to your bed. Consider factors like thickness, material, and ventilation when choosing a topper for your RV.
Buying a custom RV mattress
A custom-sized mattress is worth considering if a standard RV mattress doesn't meet your requirements. Why, you ask?
Not all RV beds are square. Some RV mattresses have cut corners. So some mattresses are shorter and have these cut corners too!
Understanding the advantages of custom mattress types
With a custom-size mattress, you can ensure a perfect fit for your RV bed, regardless of its unique dimensions. Additionally, you can choose the materials, firmness level, and other features that will provide you with the most comfortable sleep experience.
Custom is likely the route if a sleeping space needs a uniquely shaped mattress.
Finding the right shape and size for your custom mattress
When ordering a custom mattress, measuring your sleeping space or bed is important to ensure the perfect fit accurately. Take into consideration any unique shapes or angles that your bed may have.
This will help you obtain the ideal dimensions for your custom mattress. You don't want to have the mattress fit so tight you can't put the sheets on it.
RV mattress issues and solutions
RV mattresses, like any other mattresses, can present certain issues. RV mattresses are prone to:
sagging

uncomfortable firmness

insufficient support
To address these problems:
Consider adding a mattress topper

Replacing the mattress with a higher-quality one

Opting for a custom queen mattress that meets your specific comfort requirements

Determine if it is possible to add support to the bed frame to prevent sagging and add extra support.
Choosing a replacement mattress for your Camper or RV
Perhaps the mattress for your camper isn't meeting your comfort or space needs. Some RVs only have a plywood-type base making it possible to modify the dimensions of the mattress platform.
Ashley Mann from RV Inspiration says, "We decided to change the size of the bed in our RV from an RV King (72×80 inches) to a Standard Queen (60×80 inches) by sawing the sides off the bed platform in order to create more walking space in the bedroom."

RV Inspiration
Before you break out the saw, carefully inspect what you are working with, and always Measure Twice and Cut Once! Here is a DIY way to change your bed size.
Frequently Asked Questions
What size is a short mattress for an RV?
The standard size for a short mattress in an RV is typically 48 inches by 74 inches.
What is the length of an RV mattress?
The length of a standard RV mattress is typically 74 inches.
What is the size of an RV short queen mattress?
The length of an RV mattress typically ranges from 74 to 80 inches.
Can I use a regular mattress in my RV?

Maybe. You can use a regular mattress in an RV as long as it fits the available space and meets your comfort requirements. However, remember that regular mattresses may be heavier and less flexible than mattresses designed specifically for RVs. You may have to opt for the short RV mattress.
What is the best RV mattress?
The best RV mattress depends on your personal preferences and needs. Some popular options include memory foam, latex, and hybrid mattresses. Choosing a mattress that provides comfort, support, and durability for restful sleep while on the road is recommended.
How do I choose an RV mattress?
When choosing an RV mattress, consider factors such as size, comfort level, support, durability, and any specific requirements you may have. It is also important to measure the dimensions of your RV bed to ensure a proper fit.
Can I add a topper to my RV mattress to make it more comfy?
Adding a topper to your RV mattress enhances comfort and support. A mattress topper can provide an extra cushioning layer and help alleviate pressure points during sleep.
What should I know about RV mattresses?
RV mattresses are designed to fit RV beds' unique dimensions and weight restrictions. They are typically made from specialized materials that are durable, lightweight, and offer good support for travel comfort.
Conclusion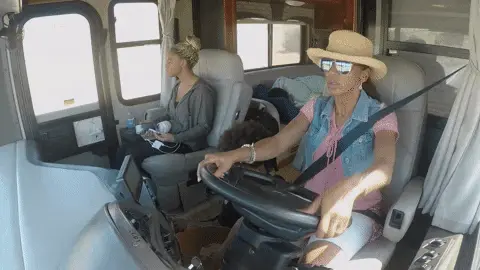 If you made it this far in the article, you know choosing the right RV mattress is like picking the perfect road trip snack – essential for a satisfying journey. The RV mattress world is a bit of madness with all the options!
If there is one piece of advice I have for picking a mattress, try not to focus solely on budget. After all, you will spend 1/3 of your day on your mattress! Don't let a terrible night's sleep ruin your RV adventures!
So next time you're gearing up for an adventure, remember the RV mattress may be the unsung hero of your travels.
Happy trails and even happier naps!