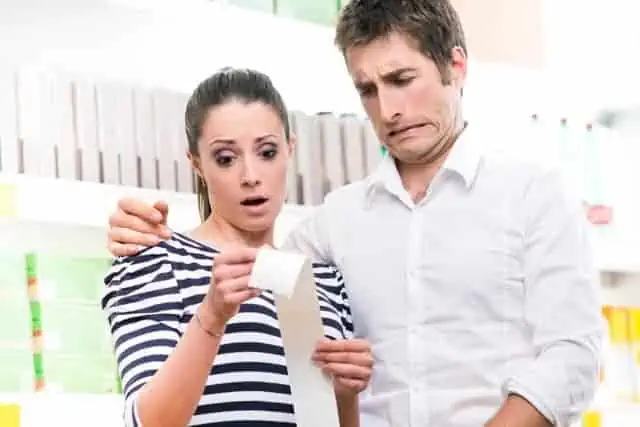 Having to choose between housing and other basic needs should not have to happen. I want to discuss 17 realistic alternative housing options to save money using a creative and innovative living approach. This article is a lot of fun for me to write as a real estate agent because alternative housing is one of my passions.
Just Google "Affordable Housing" and see it all over the news. It is not a secret everything is expensive. While some can't keep up with the cost of living, others want more life and less house to keep up with.
This article will help you get some cheap alternative housing ideas to consider when looking for a place to call home. We hope it is a jumping-off point and used to help you think outside the box.
Key Takeaways
Alternative Housing ideas can include:
Tiny ho

mes

Manufactured homes

Skoolies

Barndominiums

and many more.
I also added 54 Bonus ideas that could be considered innovative options!
Table of Contents
Disclosure: This post may contain affiliate links, meaning I can earn commissions. If you decide to purchase through my links, it is at no cost to you.
What is alternative housing?
Alternative housing is a non-traditional and innovative approach to residential dwellings that deviate from conventional methods and materials. That is a mouth full! It likely breaks the mold of a traditional house and could seem a little out-of-the-box to many.
Why would anyone consider an alternative housing option?
One word – MONEY. It is as simple as that. The concept of alternative housing has been introduced previously. A shelter is a basic necessity, but conventional homes are becoming increasingly unaffordable in many areas, leading people to explore unconventional ways of housing.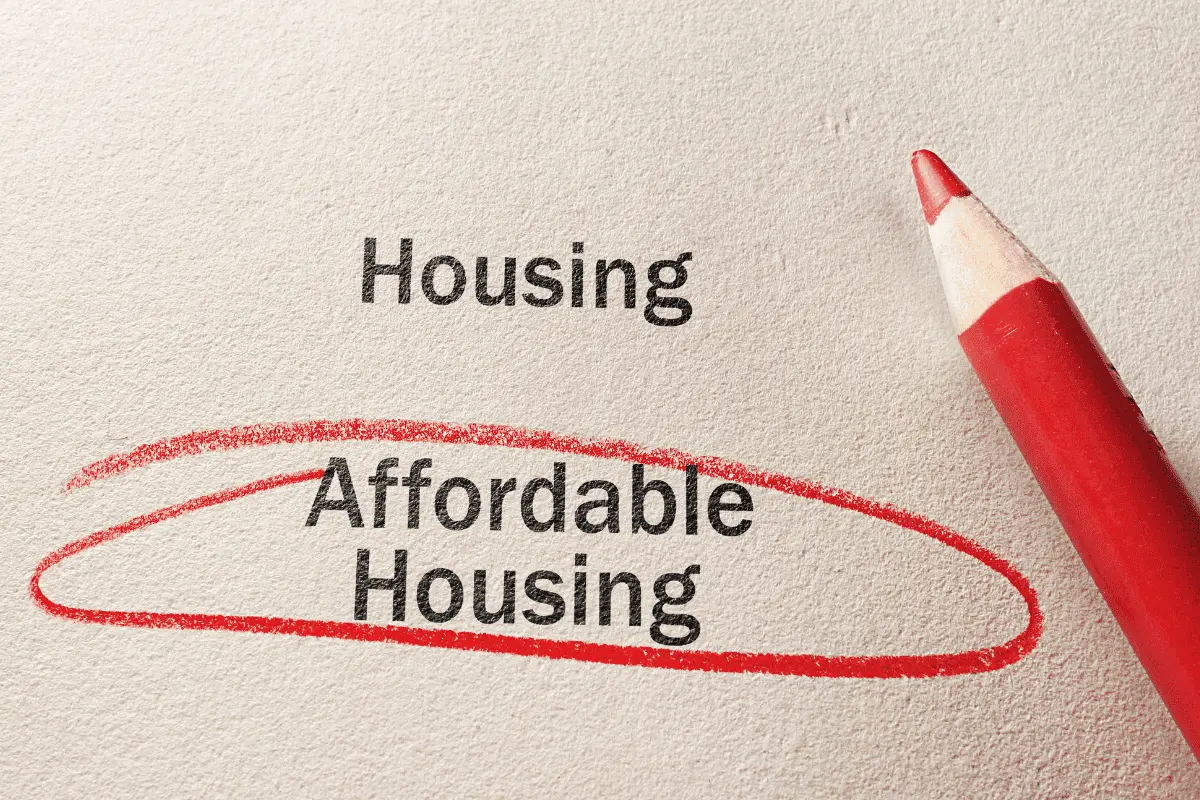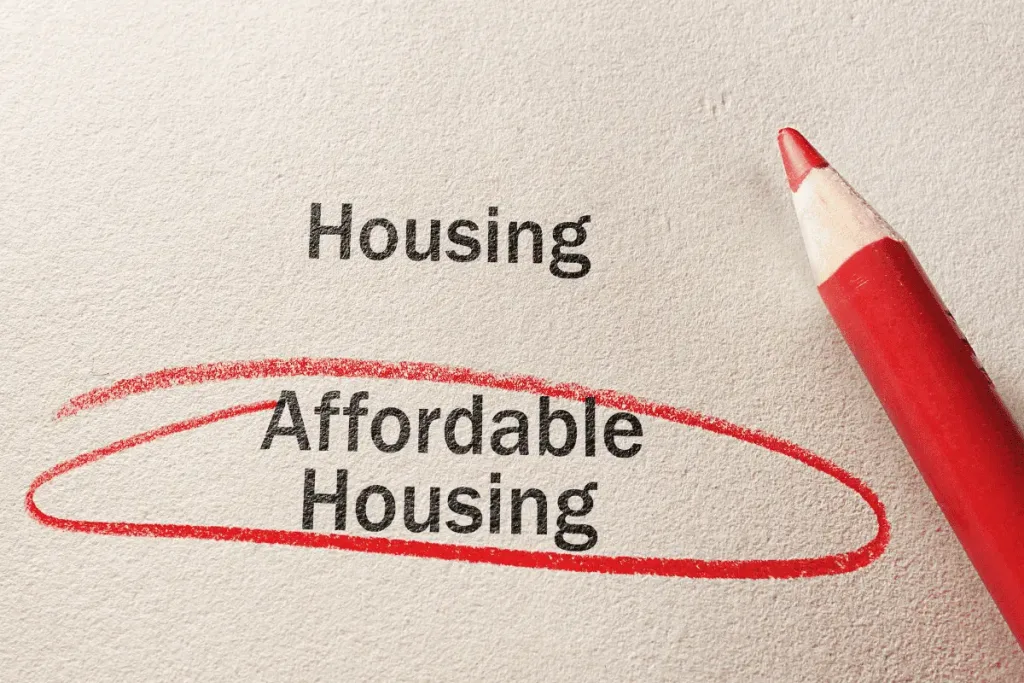 Housing affordability affects not only the person but the community. High housing costs in your area could make it hard for your local school district to recruit teachers or your local fire department to hire firefighters. From HudUser.gov, households should spend 30 percent of their income on the costs associated with housing.
Let's look at a simple example of what 30% of the Gross income (before taxes) is for someone making $10 an hour. Gross earnings of 40 hours per week at $400 would be $120 a week. Multiply that by Four, and you get a whopping $480 monthly. $480. That's it.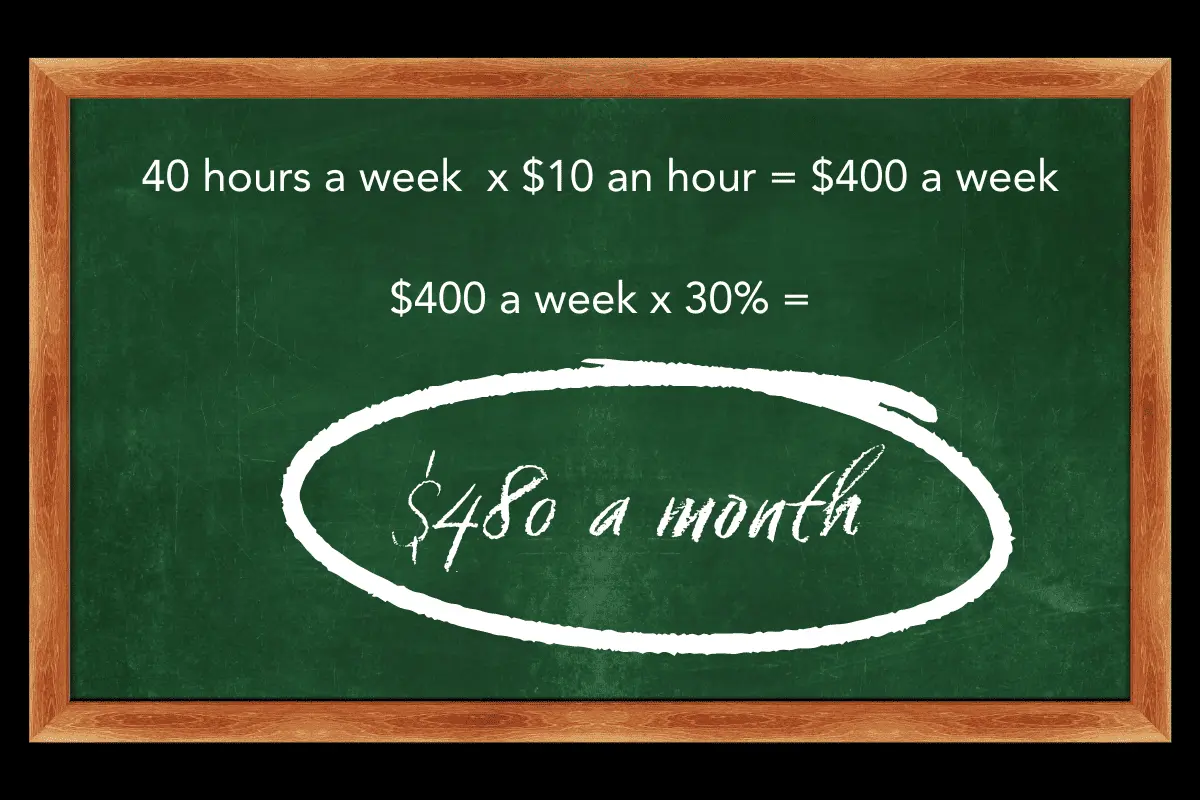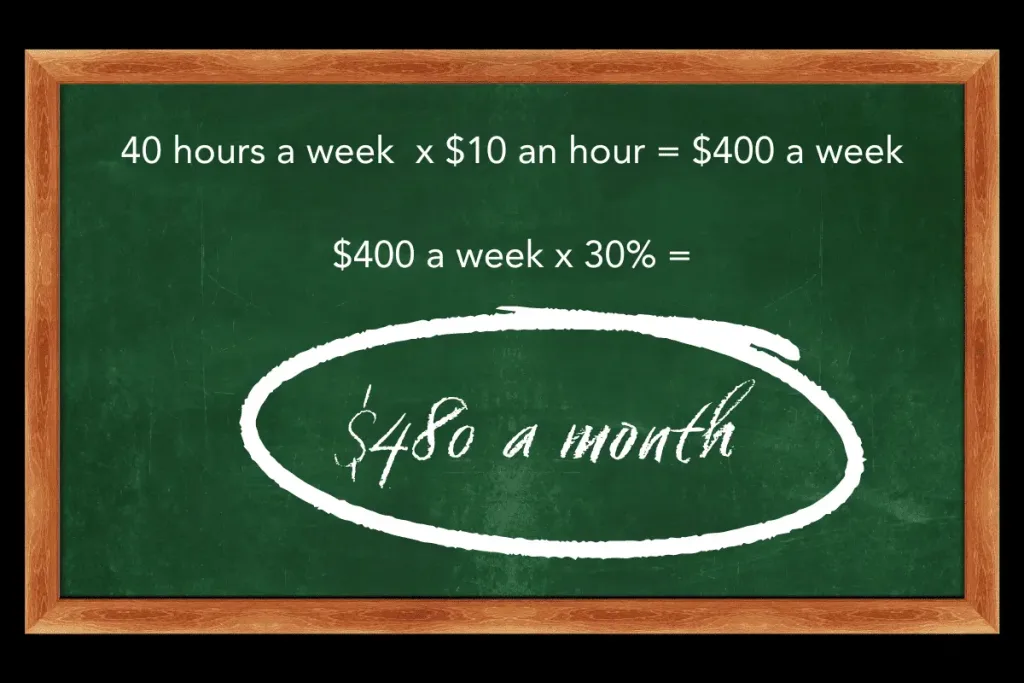 Even renting in Toledo, Ohio, the cheapest city in the US, you would still need more money, as seen below.
The good news is you have options. I will share realistic, cost-effective, and innovative alternative housing options in this article! Let's Go!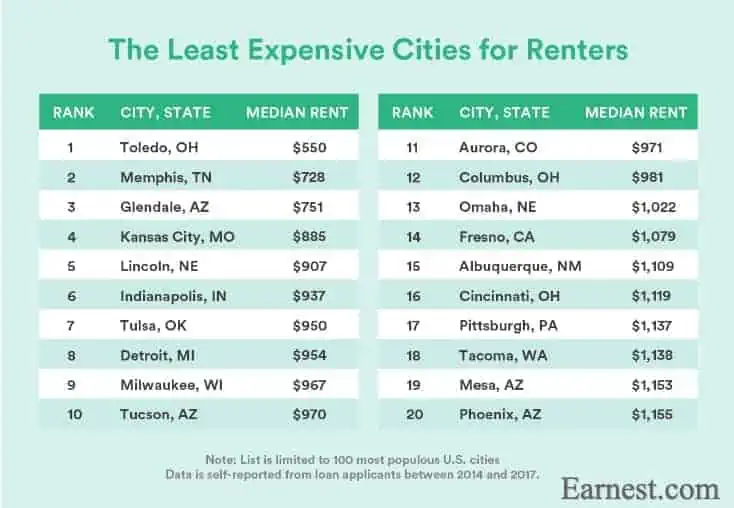 What are some Alternative Housing Ideas to Save some dough?
With the average sales price of a house sold in the US going from above $200,000 in 2000 to over $375,000 in 2020, alternative housing options have become a hot topic, and for good reason.
I pulled this graph to demonstrate what the article says about the Average House Price by State in 2023. You can click on the graph to see how the numbers change over time.
It is hard to believe, even being in the industry daily. Here is where the options to save a little money come in.
1.
Manufactured Homes
Mobile homes, now called manufactured homes, are affordable housing options. Since 1980 when Congress approved changing the term "mobile home" to "manufactured home," the manufactured housing industry has grown in size and quality.
They are built to conform to Housing and Urban Development (HUD) codes, which ensure safety and quality. A manufactured home is used as a way to provide cost-effective and convenient housing solutions that can meet a variety of needs and budgets.
Personal Thoughts: The manufactured home has come a long way and will continue to grow in quality. They have made leaps and bounds compared to the original models from many decades ago. I have lived in a mobile home and have been inside plenty of mobile homes. A manufactured home is a very good option to save on expenses and not have to sacrifice space.
2.
Modular Homes
Modular homes are a great alternative to traditional homes. Because these homes meet local and state building codes, they qualify for great financing.
These homes are designed and built in sections off-site in a factory. This process reduces construction material waste and can be more efficient than traditional on-site construction. Modular homes are typically energy-efficient, reducing the need for central air and heating. They offer flexibility in customization and can be designed to be indistinguishable from site-built homes.
Personal Thoughts: The first house I ever bought was a modular home in 2008. It took me forever to decide on a floor plan. We underwent different floor plans for several months until I committed to one. I loved that house. It was well-built, and once I decided on the one, it was delivered in a few weeks. I should have kept it; it would have almost been paid off.
Modular homes have come a long way now with things like awesome porches and the ability to combine three units to customize the space. I would do it all over in a heartbeat.
3.
CrossMod Homes by Clayton Homes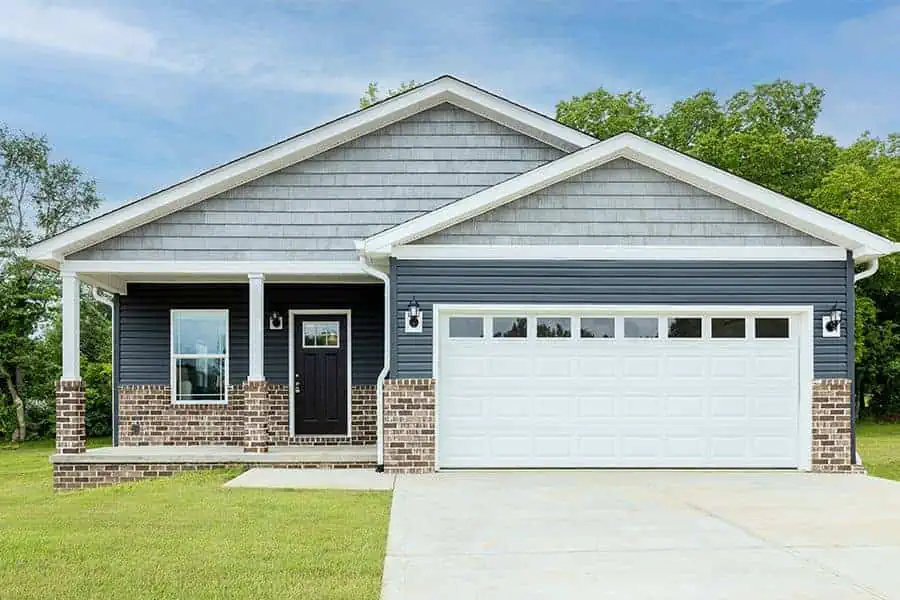 CrossMod Homes by Clayton Homes offer an innovative housing solution, merging the affordability of manufactured homes with the design flexibility and aesthetics of traditional site-built homes, like a regular roof line. These homes are constructed off-site, then transported to their location, where additional features, such as a garage, are added on-site.
CrossMod homes can appraise like site-built homes using site-built comparables, and financing options can have several advantages over loans secured by standard manufactured housing.
This means you can blend cost-effectiveness, customization, and contemporary design in a home.
Rest easy knowing your home is built on a permanent foundation, providing stability and durability.

Enjoy all the features of a site-built home, including a dedicated space to park in an attached or detached garage, smooth ceilings, and high-end cabinetry.

Extend your living area outdoors with a beautiful site-built porch, creating an inviting atmosphere where you can enjoy spending time with friends and family.

Enjoy energy-efficient standards and features, like an ecobee® smart thermostat, Low-E Windows with Argon Gas, SmartComfort® by Carrier unit, and a Rheem® water heater.

A high roof pitch (minimum 5/12) means your home has similar benefits of site-built aesthetics, helping it maintain its value and appraise to site-built standards.
Personal Thoughts: I am intrigued by this option because it blends the best of two worlds by creating affordable options for those who would not consider things like a Tiny houses or living in a converted shed. I love that the house is energy-efficient and built on a permanent foundation. This is a win in my book!
4.
Tiny Houses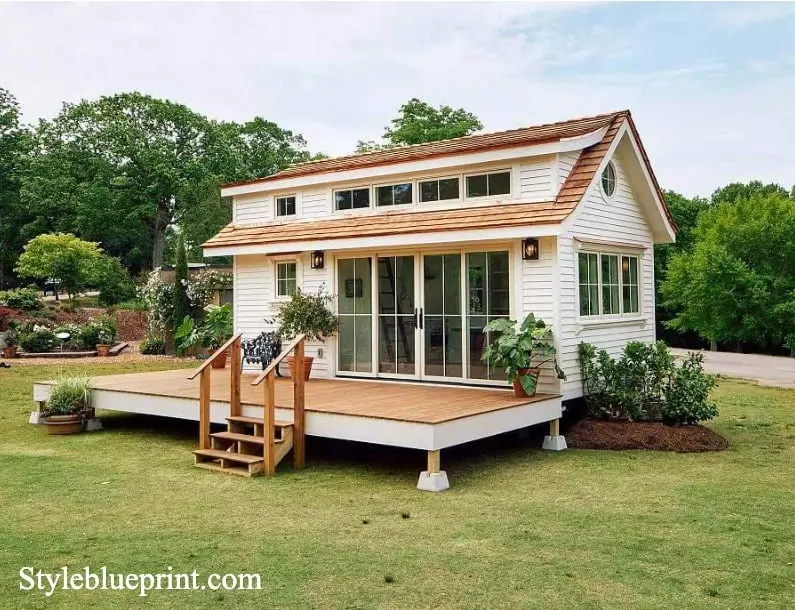 The tiny house is one of the most common forms of alternative housing today. These houses range in square footage and go up to 399 sq ft. The Tiny House movement strongly focuses on simplicity and minimizing material possessions.
With their minimalistic design and lower maintenance costs, these houses offer an affordable and sustainable housing option that promotes a clutter-free lifestyle. Things like solar panels and composting toilets allow the structures to live off grid.
Many tiny homes are built on wheels, allowing for more flexibility and mobility, while others are built to be permanent. Despite their small size, these houses can provide all the necessary amenities, including kitchens, bathrooms, and comfortable living areas.
Personal Thoughts: I LOVE TINY HOMES! Everyone that knows me can attest to this. The obvious glaring benefit to a smaller house is less space means less energy to heat and cool your space.
I went to a Tiny House Festival near my hometown and was amazed by the possibilities of a small space. Tiny Houses are an absolute favorite of mine! I will own a Tiny Home one day! I jump at the opportunity to attend a Tiny House Festival. Keep reading to see pics from our adventure. Can you feel that energy?
5.
Shipping Container Home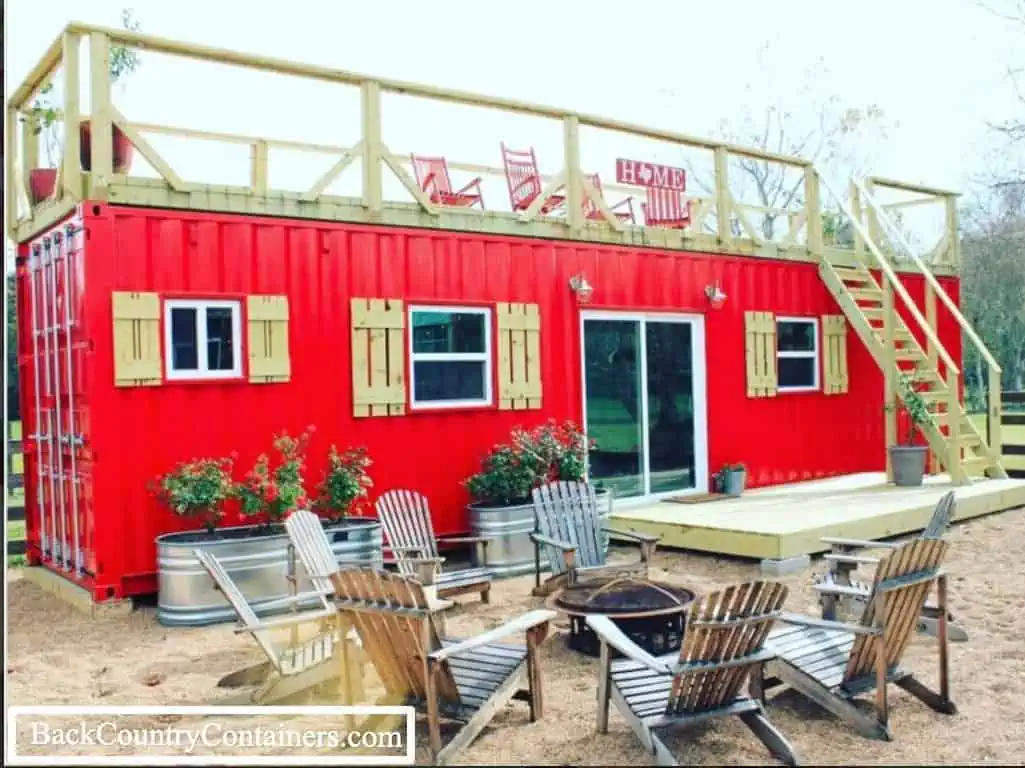 Shipping container are an excellent alternative for those seeking an inexpensive alternative housing solution. These shipping containers are designed to transport goods but can be converted into comfortable living spaces with a bit of imagination and creativity.
A shipping container home is made from recycled steel and can last for generations. You can decide if you want a larger home by combining multiple containers. The one above is inspired by a home on HGTV's Tiny House, Big Living.
Personal Thoughts: These are plain cool. The structures you can build with these metal boxes are beyond amazing. Businesses are now using these structures for commercial use as well. Two thumbs up from me!
6.
Prefabricated Homes
Prefabricated or prefab homes are a faster and cheaper option for building a home. These homes can be designed and made off-site, reducing the building time and minimizing construction waste.
Boxabl units offer a streamlined and cost-effective approach to housing. These homes can be quickly assembled on-site, minimizing the time and expenses associated with traditional construction methods.
The Casita option by Boxabl is enticing. Watch it come together and unbox into a 375-square-foot of living space. An Instant Home!
Personal Thoughts: I am all for this option. This is the easiest way to move into a house the same day as the Boxabl website indicates it is delivered to you and unpacks in an hour. These structures can be customized to your needs and be used for disaster housing relief.
7.
Accessory Dwelling Unit (ADU) or the Granny Flat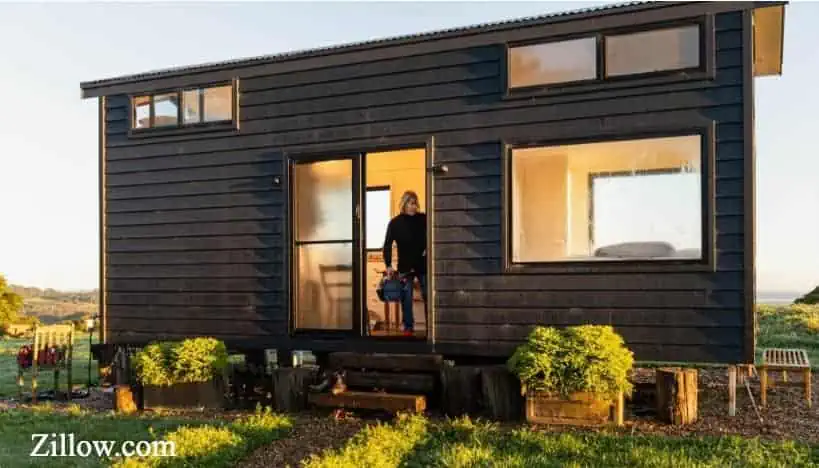 Accessory Dwelling Units (ADUs) or Granny Flats (for our purposes, let's call them ADUs for short) are excellent alternative housing solutions for those looking to save money. These additional living units can be constructed on existing properties, allowing homeowners to maximize their space and generate rental income.
By building an ADU, individuals can avoid the high costs of purchasing or renting a separate property, ultimately saving money in the long run. ADUs provide a practical and affordable way to create additional housing options while offering homeowners potential financial benefits. While an ADU is more of a catch all for a lot of structure, they typically include tiny houses or shipping container homes.
ADUs have become well known in the California area, where housing is known to be at the highest in the country.
Personal Thoughts: When I think of an ADU, I see it as an attractive option to have a loved one nearby and still allow their own space. Living in an ADU or even renting it out is very appealing.
8.
Skoolie Conversions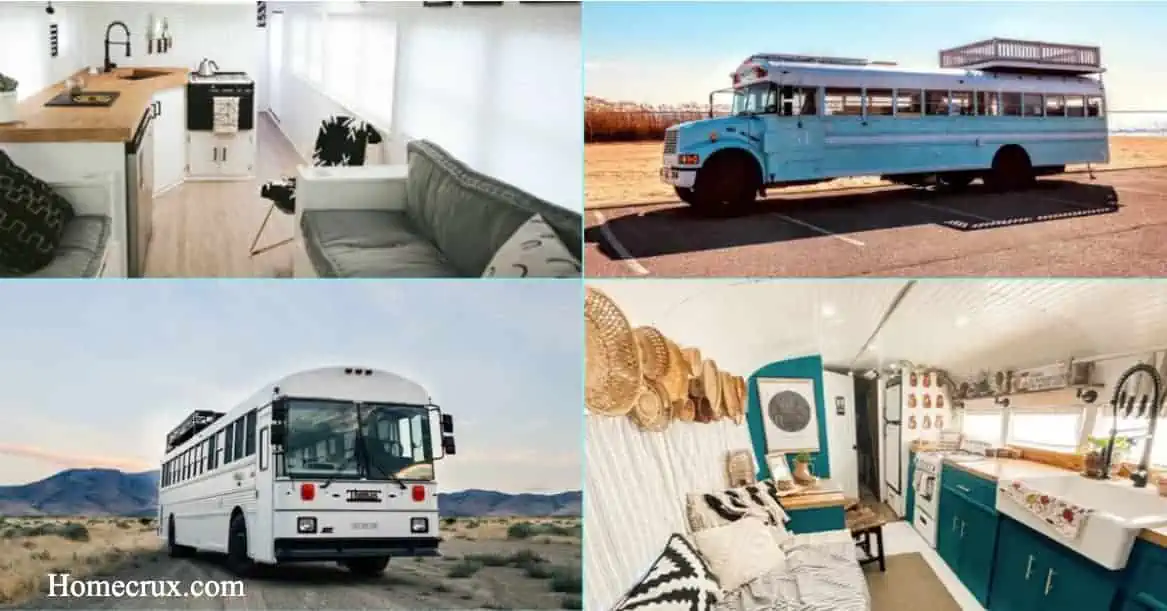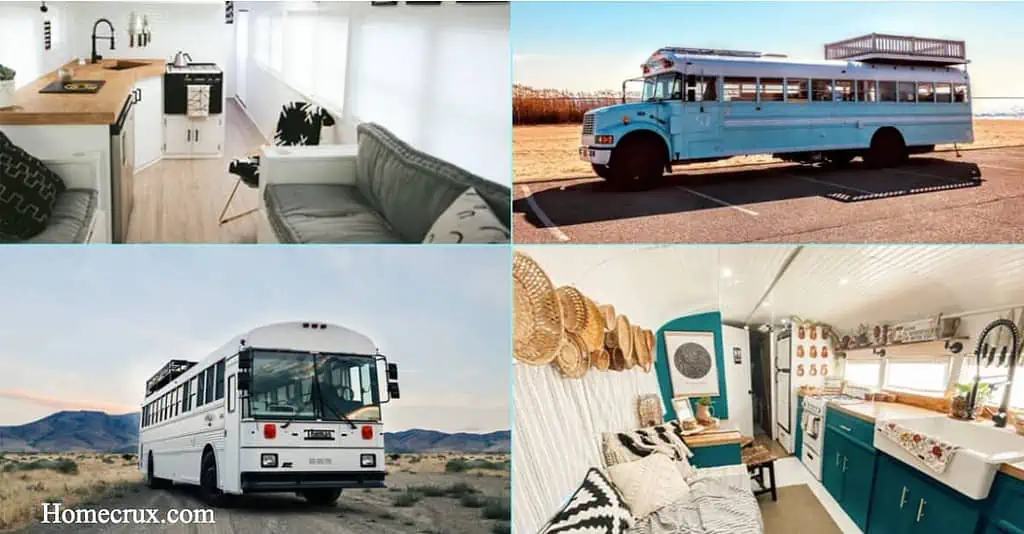 Skoolie conversions have gained popularity as a creative way to transform retired school buses into unique living spaces. Skoolie Conversions offers flexible and affordable housing options for those seeking an adventurous lifestyle. A lot of Skooklies mount solar panels on the roof to soak up the suns rays for their energy needs.
Personal Thoughts: I saw many converted school buses at the Tiny House Festival. One young man, Michael Fuehrer, known as Navigation Nowhere on YouTube, lives full-time in a Skoolie. It would make my heart happy never to see an abandoned school bus rusting in a grassy field again and to have the all converted to a place to call home.
Here is a video of the bus we toured at the Tiny House festival. It is incredible how spacious it felt in person.
9.
Barndominiums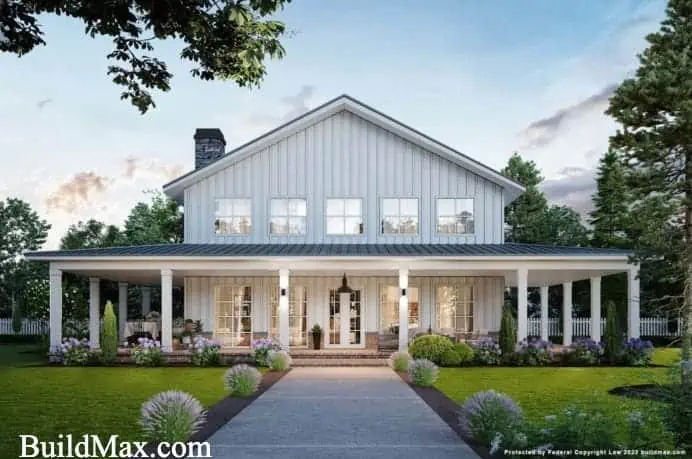 Barndominiums, a blend of "barn" and "condominium," offers a unique and affordable housing alternative with a rustic appeal. These structures typically feature an open layout, with living quarters and functional spaces like workshops or storage areas.
Personal Thoughts: This option is both overwhelming and amazing. You can go as small or as large as you want – which I much approve of. I love seeing the Barndominium also have a shop attached or even a recreational room. My brother swears he will build one of these in the future.
The thought of having a small Barndominium is also appealing as the metal structure is durable and can be designed creatively. Perhaps the combination of a tiny home and a barndominium. I could be on to something.
10.
Shed Conversions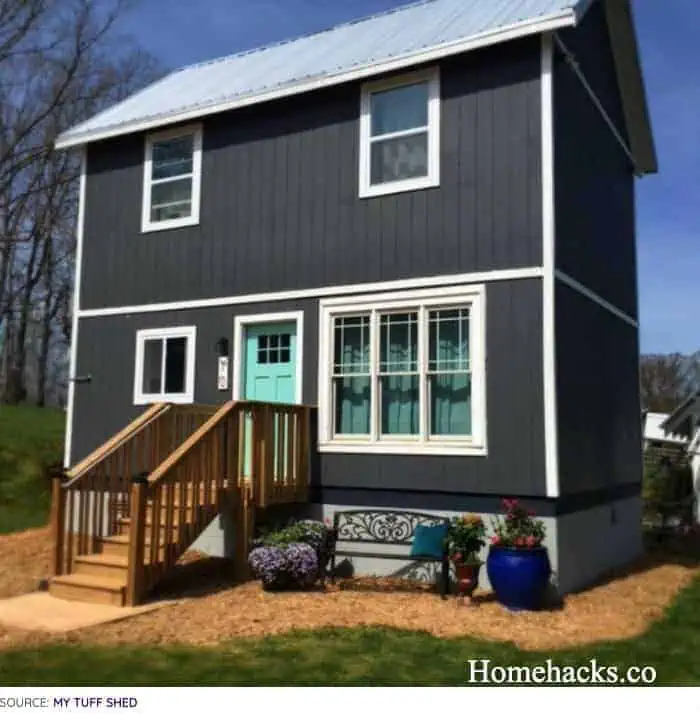 Individuals can create cozy and functional homes by converting ordinary backyard sheds into livable spaces. Many people recognize the Home Depot Tuff Sheds when considering converting a shed into a livable space. Those sheds are becoming increasingly popular, especially the 2-story shed, which gives even more freedom to live smaller.
Personal Thoughts: My kids keep asking me to do this for them so they can live in the backyard. I have seriously considered it. I have gone into the shed shell and visually imagined what it would be like to be inside a finished one.
It would not be much different than my first apartment. Aside from looking like a shed on the outside, all the images I have seen of the finished product could convince me to do this.
11.
Geodesic Dome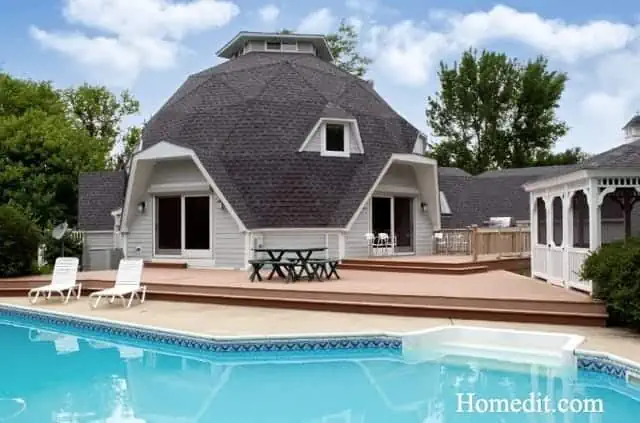 You have probably seen these and didn't know what they were called. These are funny-looking houses I saw growing up. My cousin's dad lived in one. They were the most remarkable thing. It felt like something out of Super Mario Bros.
Geodesic domes are becoming popular for homes because they have many advantages. Their unique shape makes them solid and stable by evenly spreading the weight. Geodesic domes are also energy-efficient because their round shape reduces heat loss. Inside, they have plenty of space for different floor plans and creative designs.
Personal Thoughts: I don't want to be the roofer to have to install those shingles! Otherwise, I have always been fascinated by these structures. I never got a chance to go inside one, but I have studied the floor plans a bit and love the creativity in the design. I could stare at the ceiling for hours. It is so interesting.
12.
Living off the Grid with RVs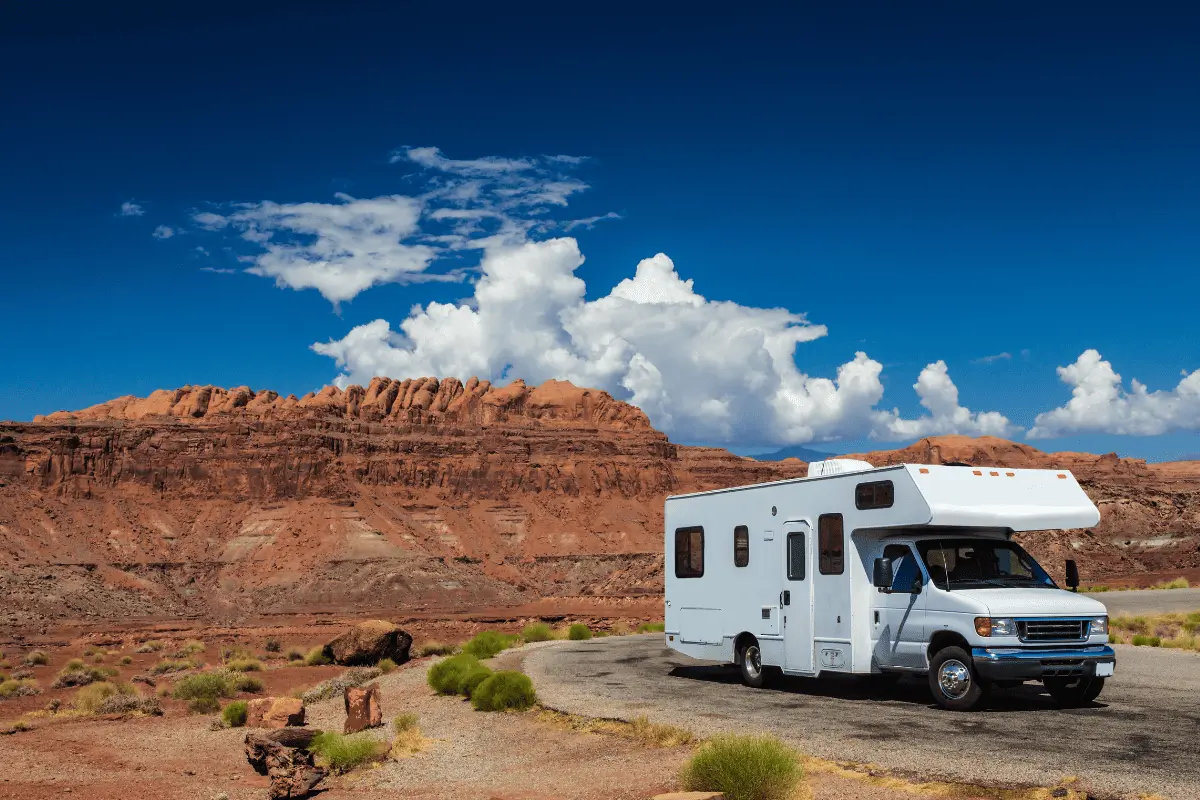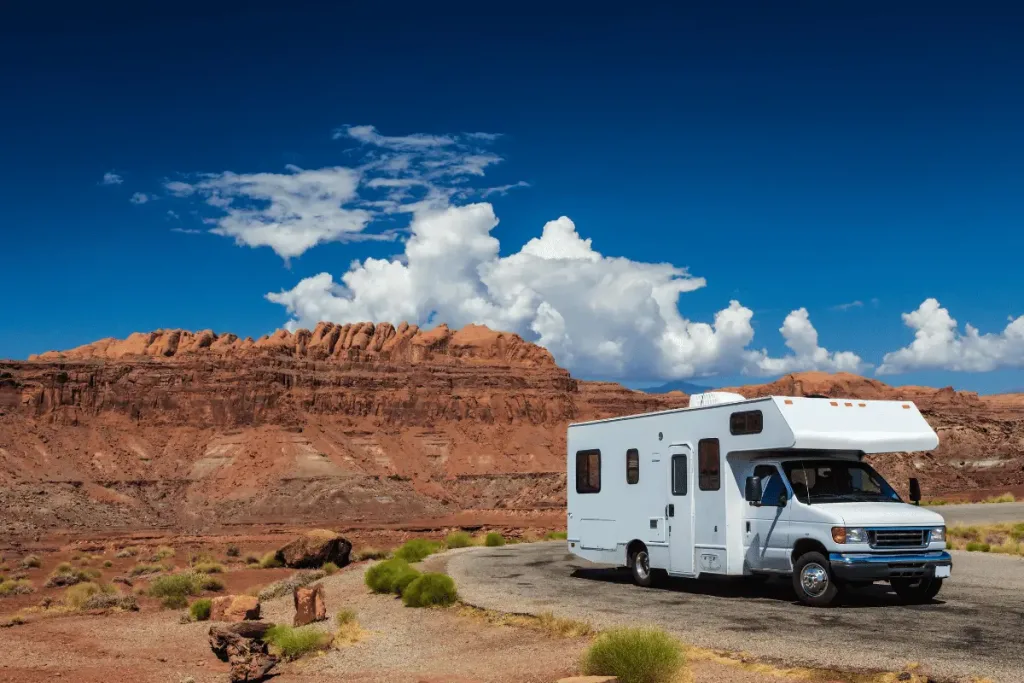 Living off the grid in an RV is for those who enjoy a nomadic lifestyle. RVs are an alternative housing options as they can run using solar panels or generators. RV living allows you to move around and explore different parts of the world while having your own living space.
Personal Thoughts: Full-time living in an RV is very appealing to me. I lived in an RV parked in an RV park for a few months while waiting for a house to be built, which was delayed due to the destruction of Hurricane Katrina.
It was five adults, including myself, my niece (less than ten years old), and my infant daughter living in that RV. It was cramped but forced us to be creative, keep only what was necessary, and go outside more.
We did not travel in the RV as it was just on site of the build, but I can assure you, if an RV showed up in my driveway right now, I would get in and not look back. I have also had clients live in RVs in between houses.
13. Log Cabins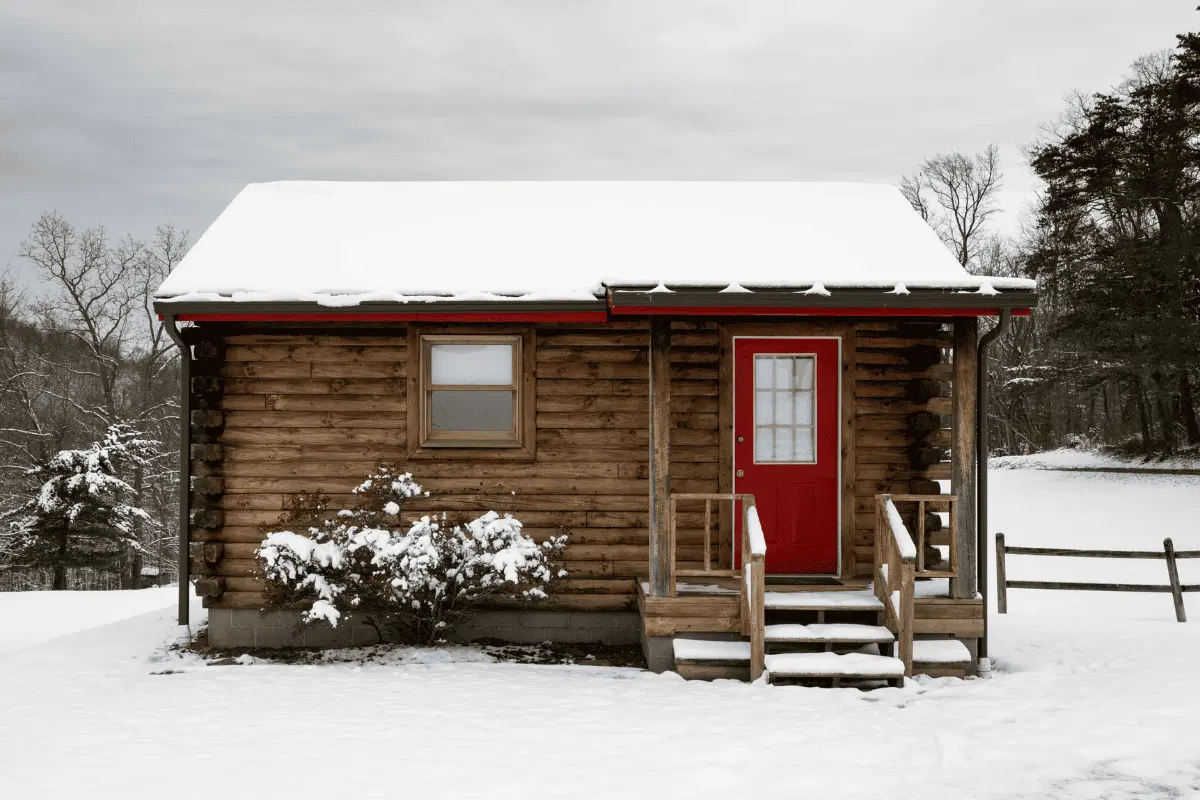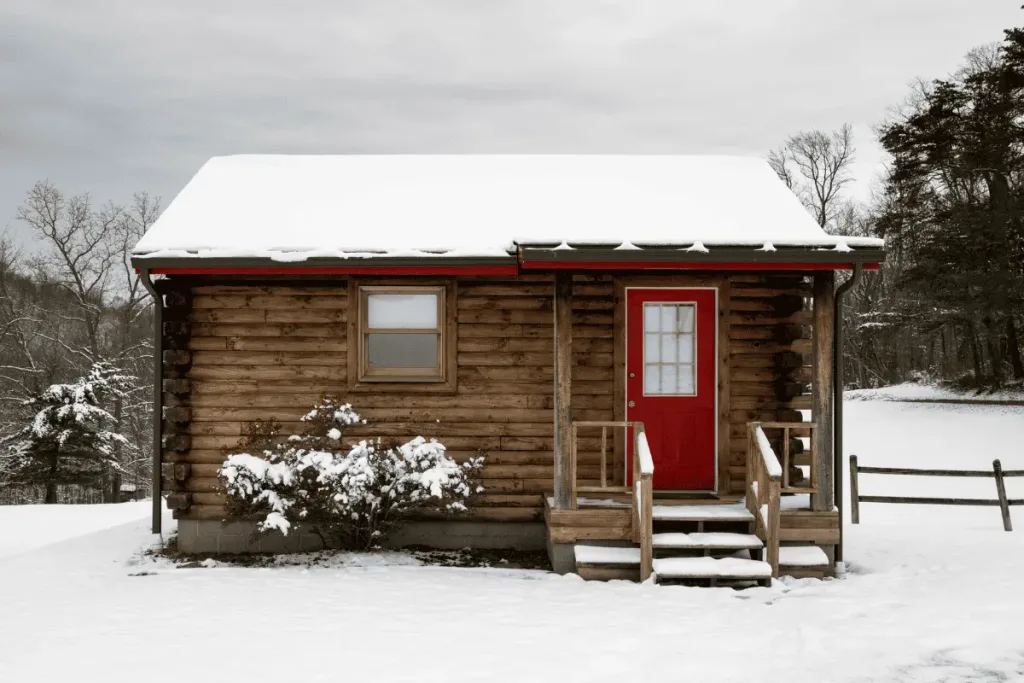 While not necessarily "alternative," modern log cabins can be sustainable and energy-efficient. Log homes offer a unique blend of aesthetic appeal and practical benefits. If you build it yourself, it is like Real Life Lincoln Logs!
Personal Thoughts: Log cabins appeal to me. Seeing the walls of a home built with entire trees is impressive. I love the rustic feel of them. I remember watching The Wilderness Family as a child and wishing I could live in a log cabin when I grew up. They are just a solid structure and have a calming effect on people.
14.
The Silo Home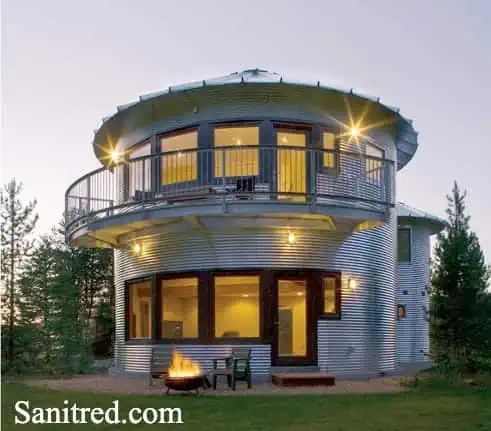 Silo homes may turn heads when used as a creative housing alternative. These homes are made out of farm silos that are no longer in use. Silos are also environmentally friendly since they are designed to withstand extreme weather conditions and are built using sturdy materials such as concrete and metal.
Personal Thoughts: I love the silo home because it forces you to design the space creatively. The silo homes remind me of when I visited a Boot House in Huntsville, Texas. The main structure had a circular shape, and I just loved the red curved staircase that followed the form of the building. Keep reading to see pics of the Boot House and the next-door Cowboy Hat house.
The late Dan Phillips designed this boot house. He had a spot in a Ted Talk discussing his mission.
Dan headed the Phoenix Commotion, a construction company that builds affordable homes from reclaimed and recycled materials. They aim to divert landfill waste while creating sustainable housing for low-income single mothers, artists, and families.
15. Houseboat
Living on the water in a house boat provides a close-knit community and a sense of connection with fellow residents who share the unique waterfront living experience. It offers the opportunity to create a home and embrace a serene and peaceful lifestyle, surrounded by the soothing presence of water and the beauty of nature.
Remember Sleepless in Seattle? That was a house boat. That particular one is not considered affordable with its fame, but it shows that house boat living is a thing.
Personal Thoughts: Living in south Louisiana, the first thought is, what if a hurricane comes and takes your house away? Perhaps I could drive the boat to a safer area to ride out the storm. I would have to deal with my motion sickness, though. I wonder if the body gets used to the swaying.
I could be convinced to live on a house boat if it were in Key West, FL. I could have my own private sunset every night. Check out this Key West Houseboat.
16.
3-D Printed Houses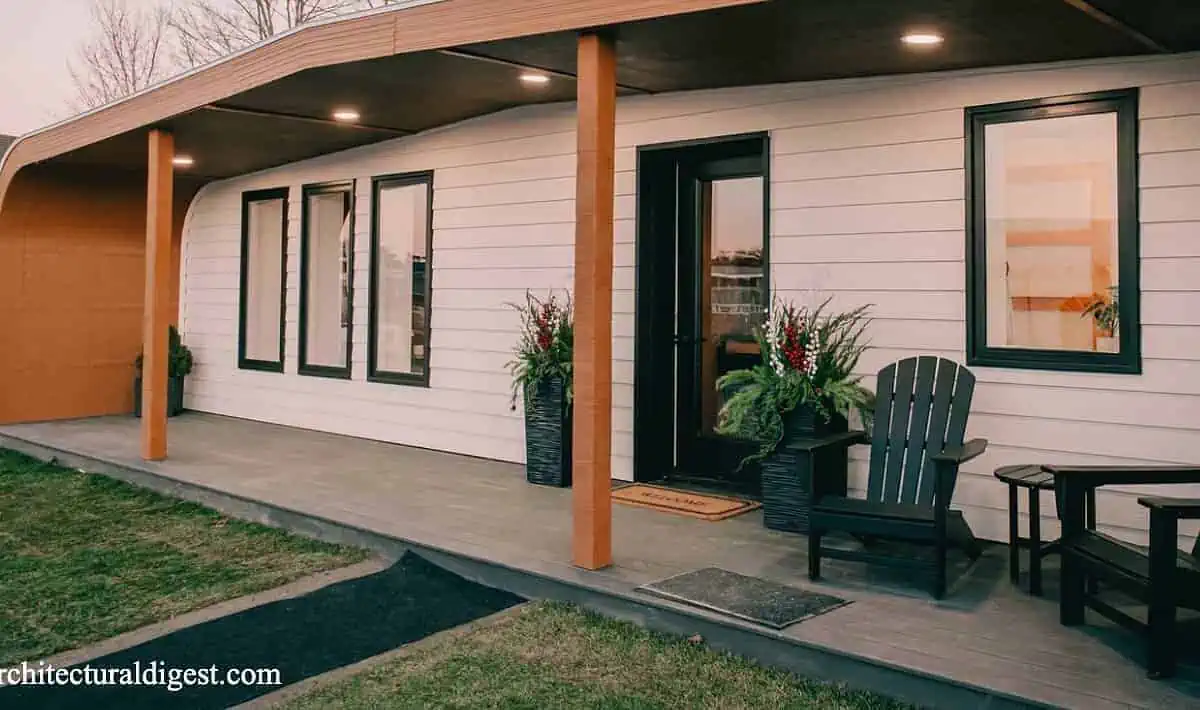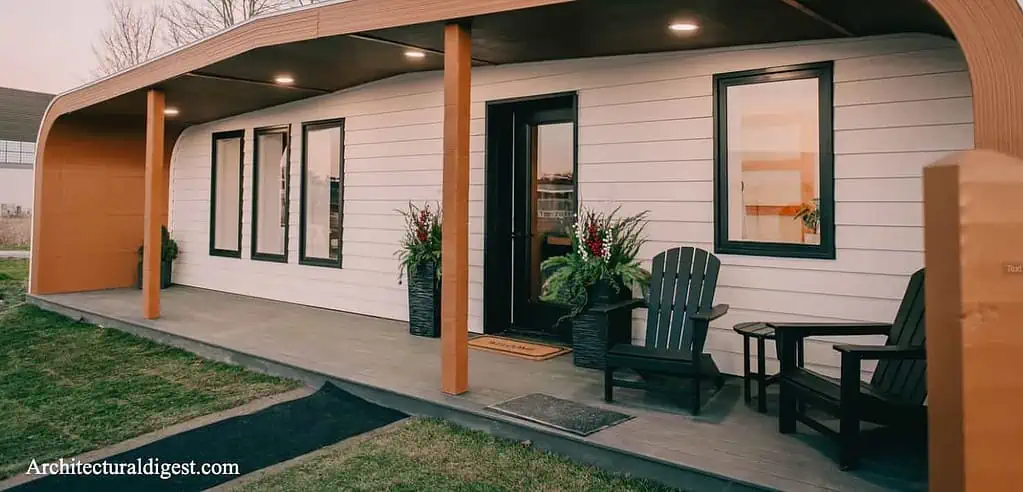 3D-printed homes represent a groundbreaking advancement in the construction industry, offering a fast, cost-effective, and sustainable alternative to traditional building methods.
A 3D printer can construct a house much faster than traditional building methods. Some 3D-printed homes can be printed in as little as 24 hours.
The giant 3D printer feeds a concrete mixture in layers to build the walls and structure of the house based on a digital blueprint. 3D printing is more sustainable than traditional construction methods. It produces less waste and uses less material.
Personal Thoughts: I saw a 3-D printed house in person at the Community First Village in Austin, TX, which was very cool. It was a prototype, so the interior was not built out. The fact the frame of the house can be built in literally hours is astonishing. I am anxious to see where this type of technology goes.
I have researched how these structures can be used as a solution for disaster relief housing or for those groups needing shelter, like homeless people. This is promising as there is a great need.
17.
Loft Living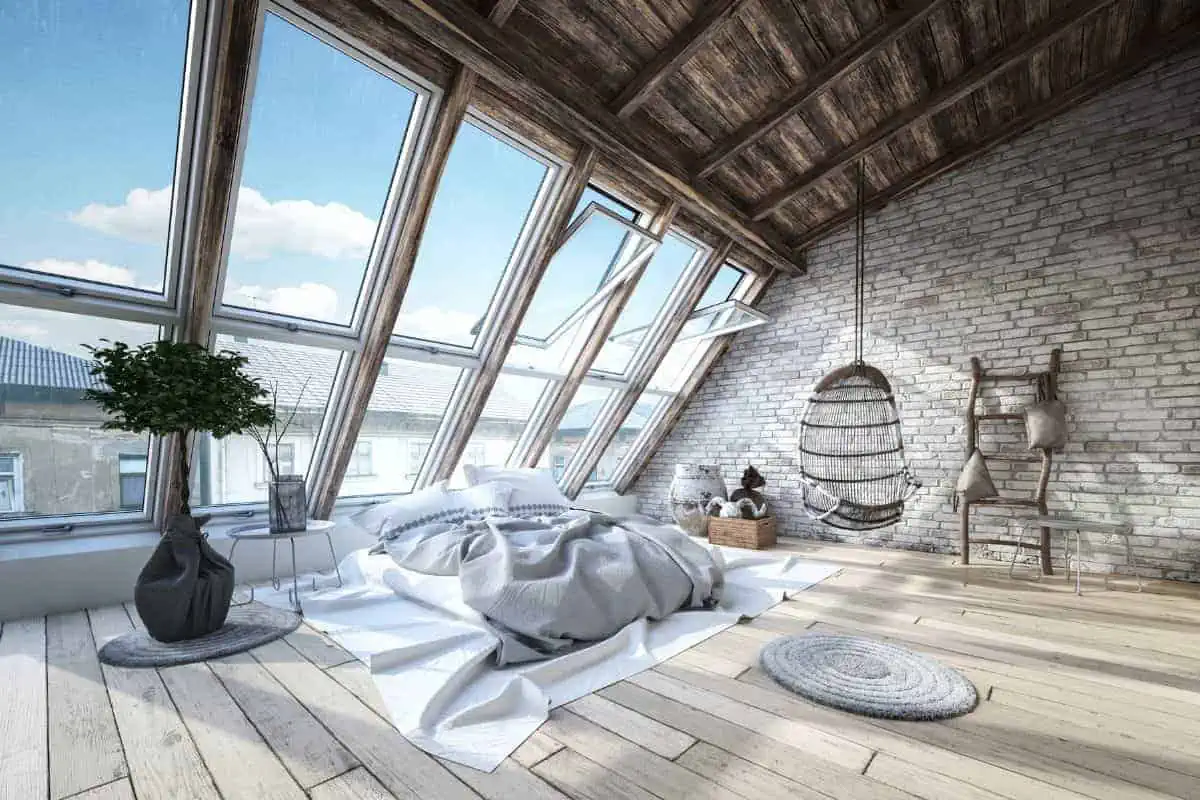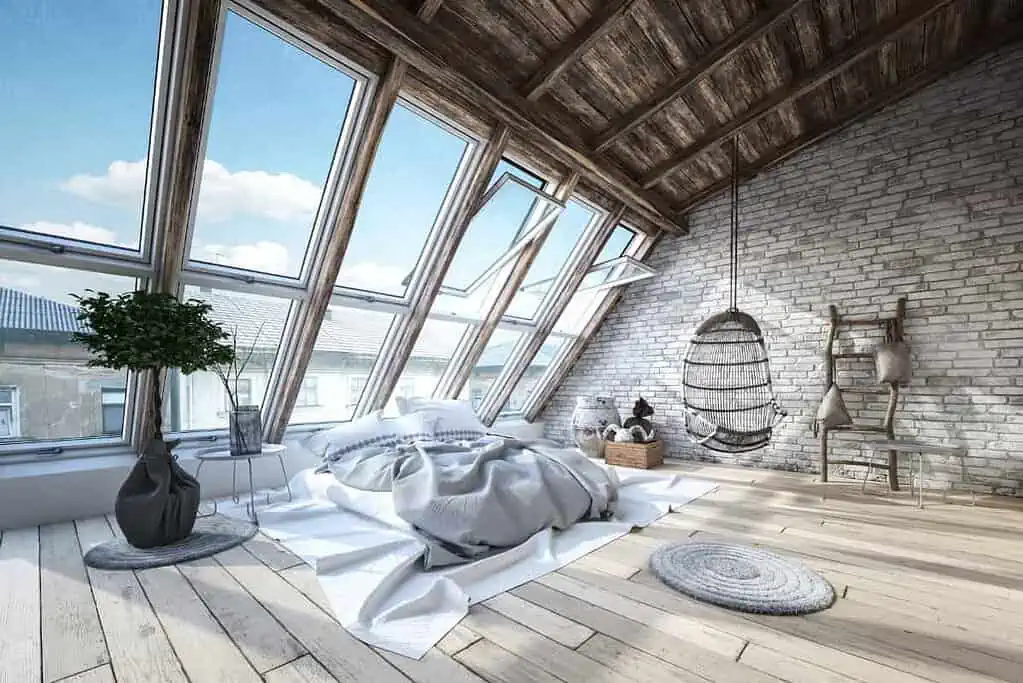 A loft apartment involves converting a single, open space (like a warehouse or factory) into a residential living area. Originating from replacing old factories and warehouses, lofts offer floor plans with high ceilings, large windows, and exposed architectural features like brick walls and wooden beams.
This style of living is trendy among artists and young professionals, offering a versatile space that can be customized to serve as a home, a studio, or even a small business. I can see why!
Personal Thoughts: I am still determining why this appeals to me. It could be because it is marketed so well in the movies or because you can appreciate what goes into a home, like the pipes and HVAC ducts. The high ceiling makes a space so immense, even if it is only 10-12 feet wide.
How can I save money without moving into a smaller place?
Zero Energy Homes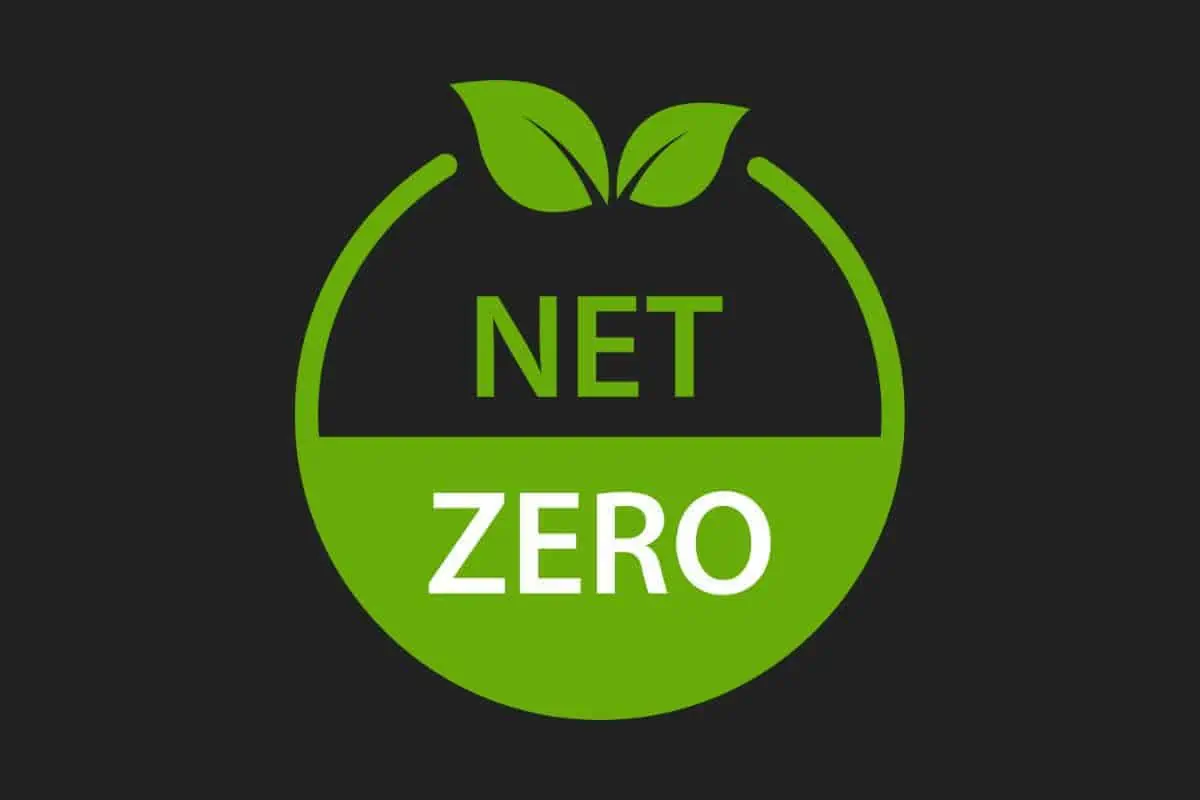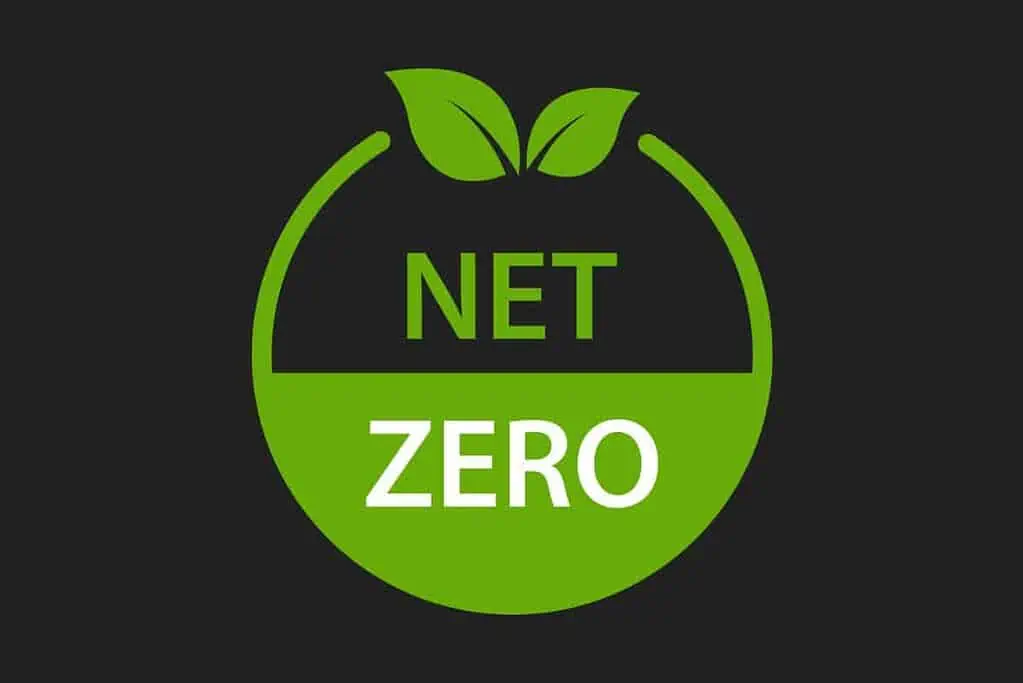 Zero-energy homes, also known as zero net energy (ZNE), represent a sustainable approach to residential construction that aims to minimize energy use and maximize energy production on-site. Some people call this option a Green Home.
These homes are designed to reduce energy consumption through high-quality insulation, energy-efficient windows, and strategic positioning to take advantage of natural light and heat.
The goal is for the home to produce as much energy as it consumes over a year, resulting in a net energy consumption of zero. This reduces the home's environmental impact and can result in significant cost savings for homeowners over time.
Personal Thoughts: I am all about this option. While it doesn't need to be off-grid, it would be nice if it were. I can't think about the money I have spent on utilities throughout my adult life.
Quick math – $250 per month x 12 months x 21 years = $63,000. It does get you thinking.
Are there other Alternative Housing Options beyond the Tiny Homes and Shipping Container home?
These options may be less common, but they are innovative for sure. They aren't cheap unconventional housing alternatives but deserve their place too.
Full-time Hotel Living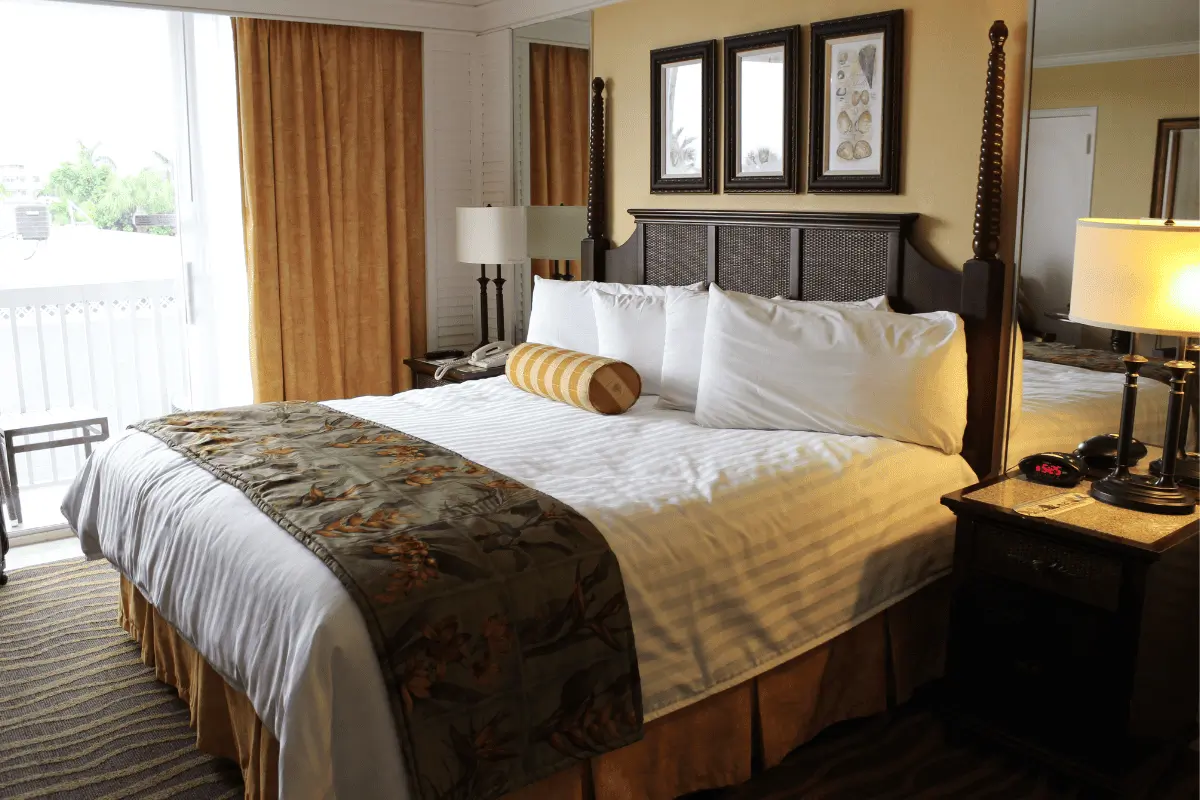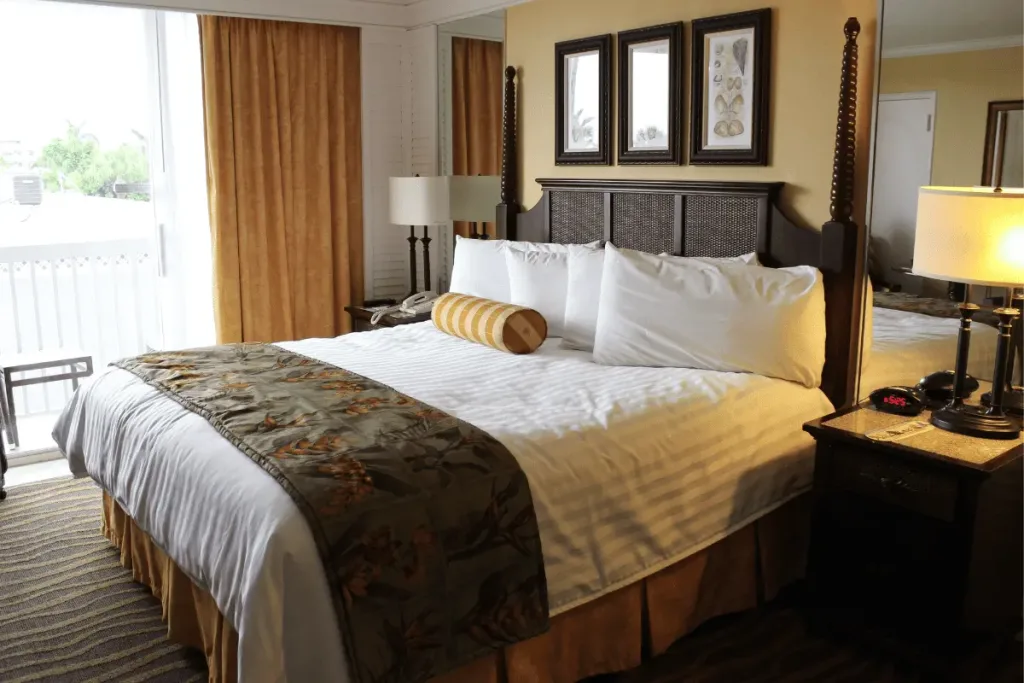 Don't believe me? Check out this article on Joy Bricker, who lived in the Towne Place Suites for over ten years. It was cheaper than an apartment in the Washington Metro area where she lived. You could not get away with staying there for ten years now, but it is an idea!
Personal Thoughts: There are several hotels I would love to live in full-time! I would like to have someone clean my space and wash my sheets. It would have to be the right room and location. This is a way to travel worldwide – perhaps for a Travel Blog. That is something to consider.
Full-time Cruise Ship Living
Here me out on this as this is a more expensive option. This may be an option for some, but for those willing to hop on the trend, you can expect to pay about $29,999 per year for accommodations, basic medical care, gym usage, pools, housekeeping, meals, entertainment, and other activities.
You won't have utilities, transportation, or cook your food. Suddenly the almost $30,000 a year doesn't sound so bad.
Listen to Mama Lee talk about her experience living at sea on a cruise ship.
Personal Thoughts: If I didn't get so motion sick from the most simple things, I would be down for this idea! At least for part of the year. I may have to have a shipping container or tiny home set up on a piece of property or an RV to live in when not cruising. It's tempting, for sure! Never having to cook and eat these lavish meals. I would be glad there was a gym on board.
Other Options

– A Super Long List of 54 Innovative Housing Ideas
I consider these innovative ideas but am not yet sold on full-time living in them

.
Straw Bale Houses

: These are built using straw bales as insulation or as the structural building block. They are energy-efficient and sustainable.

Yurts

: Yurts are round and portable structures that Mongolian nomads traditionally use. These homes are inexpensive and environmentally friendly due to their unique design. Yurts are made from natural materials such as canvas and wood, which make them sustainable.

Bamboo Houses

: Bamboo is a sustainable and versatile building material. In many parts of the world, it's used for constructing houses.

Hobbit Houses

: Inspired by the "Lord of the Rings" series, these homes are built into hillsides or underground to blend in with the natural landscape.

Passive Houses

: These are designed for energy efficiency and comfort. The design reduces the ecological footprint using specific construction techniques to reduce heating and cooling needs.

Cave Houses

: These houses are carved into a mountain's side or underground. They can be surprisingly comfortable and energy-efficient.

Floating Houses

: Not to be confused with houseboats these are stationary structures built on floats. They are common in places with lots of water, like the Netherlands or parts of Canada.

Tent Houses

: These are more permanent structures that use the basic design of a tent but are built with more durable materials.

Ice Hotels or Igloos

: While not practical for year-round living in most places, these structures made of ice and snow are used in some cold climates.

Capsule Apartments

are tiny, one-room apartments stacked together to create a larger building. They originated in Japan, where space is at a premium.

Earthbag Houses

: These are built using bags filled with earth or another filler material. They're stacked together to form walls and then often covered with plaster.

Underground Houses

: These homes are built mainly or entirely below ground. They can be very energy-efficient and offer a unique living experience.

Cardboard Houses

: Companies like Wikkelhouse are making houses out of cardboard. These homes are surprisingly durable and well-insulated.

Aircrete Domes

: These are lightweight, insulated concrete domes. They're durable, fireproof, and resistant to pests.

Pallet Houses

: These are built using wooden shipping pallets. They're an affordable and sustainable building option.

Tire Homes, aka Earthship Houses

: These are built using old tires packed with earth. They're sustainable and energy-efficient.

Van Conversions

: Similar to Skoolies and bus conversions, these are vans that have been converted into homes to travel around the country.

The World of Cob Houses:

Cob homes are made of natural materials like mud, clay, and straw. No corn cobs in sight! This type of dwelling also has excellent insulation properties, which can help to keep your home warm in winter and cool in summer.

Earth Berm Home:

An earth berm home is built by digging a pit and insulating it with hay bales, straw, or other materials. These homes are energy-efficient because the soil can be a natural insulator.

Retirement Abroad: Some people choose to retire in a different country where the cost of living is cheaper, or the climate is more to their liking.

Seasteading

: This is a concept for living on floating structures in international waters to create new societies or habitats.

Greenhouses

: Some people have converted greenhouses into housing. These homes can provide a unique living experience and the opportunity to grow your food year-round.

Garage Conversions

: Converting a garage into a living space can be a cost-effective way to add more room or create a separate dwelling.

Train Carriages

: Old train carriages can be refurbished and converted into unique homes.

Lighthouse Living

: There are instances where old lighthouses have been converted into homes.

Windmill Conversions

: In some countries like the Netherlands, old windmills have been converted into homes.

Church Conversions

: Old churches can be converted into unique and spacious homes, often with stunning architectural features.

Cordwood Homes

: These are built using debarked tree logs set in a mixture of mortar and insulating materials.

Papercrete Homes

: Papercrete is a material made by combining recycled paper with cement and clay.

Sod Houses or Soddies

: These are made from sods cut from grassy soil and were historically used in the United States and Canadian prairies.

Pit Houses

: These are dug into the ground and typically have a roof at ground level. They take advantage of the earth's insulating properties.

Monolithic Dome Homes

: These are a type of structure cast in a one-piece form. The dome design provides energy efficiency and resistance to natural disasters.

Rammed Earth Homes

: These are built using a technique that involves compacting the earth into a frame to create walls.

Grain Bin Homes

: Old grain bins or silos can be converted into homes, often with a very modern look and feel.

Quonset Hut Homes

: These are lightweight, prefabricated structures of corrugated galvanized steel having a semicircular cross-section.

Tent Platforms or Yome

: A blend of a yurt and a dome with the portability of a tent.

Glass Houses

: Houses made largely of glass can be beautiful and let in a lot of natural light, but they also come with privacy and energy efficiency considerations.

Converted Barns

: Old barns can be converted into spacious and rustic homes.

Water Towers

: In some places, old water towers have been converted into unique multi-story homes.

Fire Stations

: Decommissioned fire stations can make for exciting and spacious homes.

Airplane Homes

: There are a few instances of old airplanes being converted into homes.

Bunker Homes

: Old military bunkers have been converted into homes, often semi-underground.

Tipis

: Traditional Native American dwellings that can be used as a portable and natural housing solution.

Mud Brick or Adobe Houses

: These are made from a mixture of earth, water, and often straw and dried in the sun.

Insulated Concrete Form (ICF) Homes

: These are made from concrete poured into foam forms that stay in place to provide insulation.

House Sitting

: This involves looking after someone else's home (and sometimes pets) while they're away. In return, you get to live there rent-free. This can be a great way to experience living in a different country without the cost of rent or a mortgage.

Home Exchanges

: This involves swapping homes with someone in another country for a set period. It's a cost-effective way to travel and live in a different country.

Co-housing Communities

: These are intentional communities of private homes clustered around shared space. Each attached or single-family home has standard amenities, including a private kitchen. At the same time, shared spaces typically feature a common house, including a large kitchen and dining area, laundry, and recreational spaces.

Digital Nomad Lifestyle

: Some people can work from anywhere in the world with a laptop and a good internet connection. This can involve moving frequently and experiencing many different cultures and living arrangements.

Living on a Sailboat

: Some people choose to live on a sailboat and travel the world's oceans. This can be a cost-effective way to see different countries, but it requires a specific set of skills and a love of the sea.

Volunteer Abroad Programs

: Some organizations offer free room and board in exchange for volunteer work. This can be a rewarding way to experience life in a different country.

Teaching English Abroad

: Many countries have a high demand for English teachers. In some cases, housing may be provided as part of the job.

Fixer-Upper: Buy a fixer-upper house and complete the renovation yourself. A fixer-upper project could help you score some equity in the home.
Live in a Treehouse: You can live in a tree house. Living in a treehouse can be a great alternative housing option for anyone who loves nature and wants to be environmentally friendly. Treehouses can be built on a budget using ecologically sustainable materials and offer an escape from modern life. The late Dan Phillips showcases his Treehouse design in this YouTube video.
What Building Materials can I use for a more energy-efficient or eco-friendly home?
Exploring Insulation Options
Insulation is a crucial component of any energy-efficient home. There are many insulation options available that are affordable, eco-friendly, and energy-efficient. Options like cellulose made of materials like waste, fiberglass, mineral wool, and natural wool insulation have proven effective against heat loss, noise, and moisture in constructing an eco-friendly building.
Consider Reusing Materials
Reusing old doors, windows, bricks, and timber is an ideal way to reduce material waste while lowering building costs. Reused materials can be found in many locations, such as salvage yards, and carry a unique feel for your home. Consider bending a fork to be used as a cabinet handle if you are looking for a unique way of using materials that you may have lying around the house.
Check out some pictures of the Cowboy and Boot house by Dan Phillips, which was primarily built with recycled materials. We visited and received a personal tour.
the Boot & Cowboy Hat houses
Consider Hemp Concrete
Hemp concrete, or hempcrete, is an environmentally friendly and sustainable building material gaining attention in alternative housing construction. Hemp concrete is lightweight, non-toxic, and low carbon footprint, making it an attractive choice for those seeking environmentally conscious and energy-efficient building solutions.
Corrugated Metal Sheets
Corrugated sheet metal offers an affordable and durable building option, ideal for those seeking a cost-effective solution without compromising structural integrity. Plus, the rust look is gaining popularity.
Building Homes Using Pallets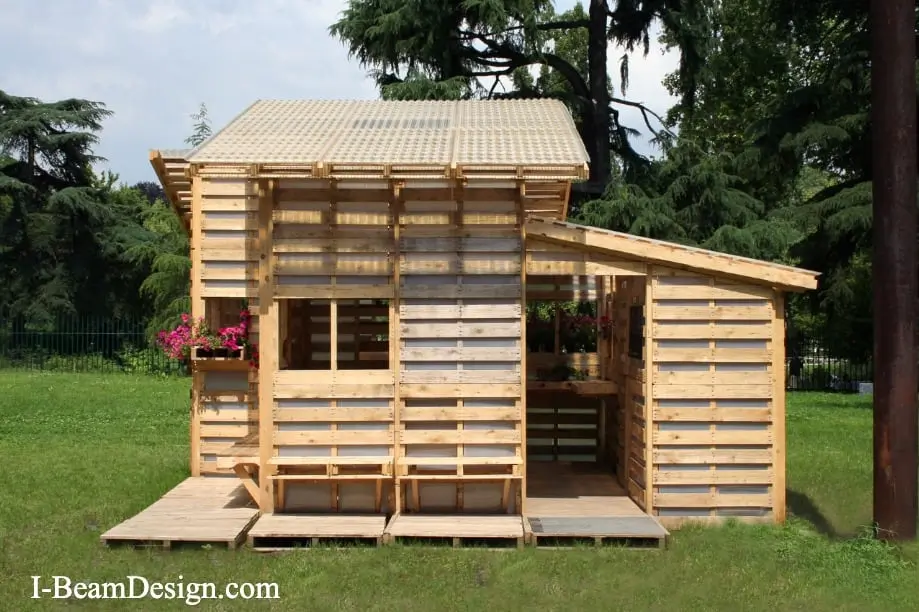 I am still deciding about this one as I am sure most people would agree. It did come up in the research, so I must share it with you. Perhaps a camp could be made out of pallets, but I can not see myself living in this full-time. Although, some of the houses on tropical islands are not too different!
Building a home using pallets is a creative way to construct an alternative space. Pallets are readily available and can be an excellent alternative building material. Pallet homes are cheaper housing alternatives, and they can be erected in a short amount of time.
Discount building supplies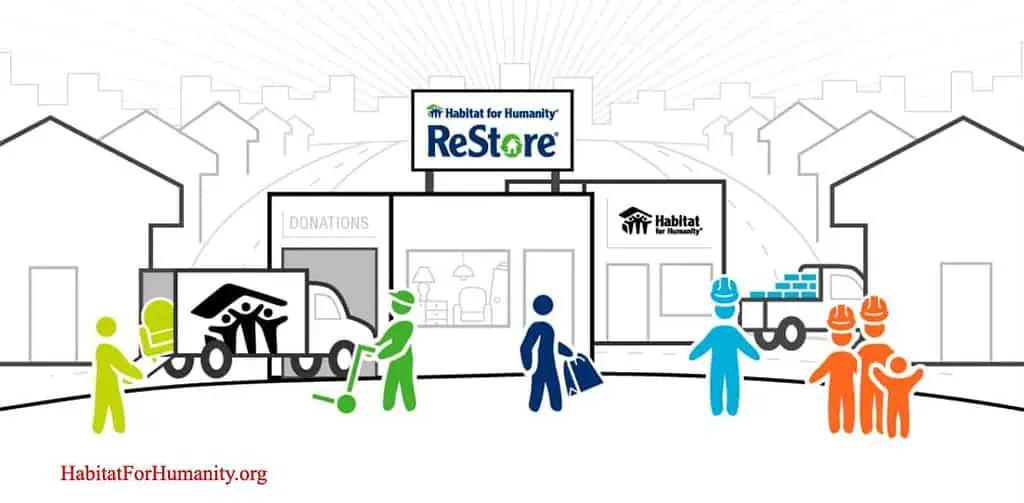 Where we live, there are Habitat for Humanity Restores. The Restore takes donated housing and building items and resells them to the public at a discount. I occasionally go in to see if I can find some gems for my house. I have built up a well-stocked tool set for my DIY projects from the ReStore.
Green Walls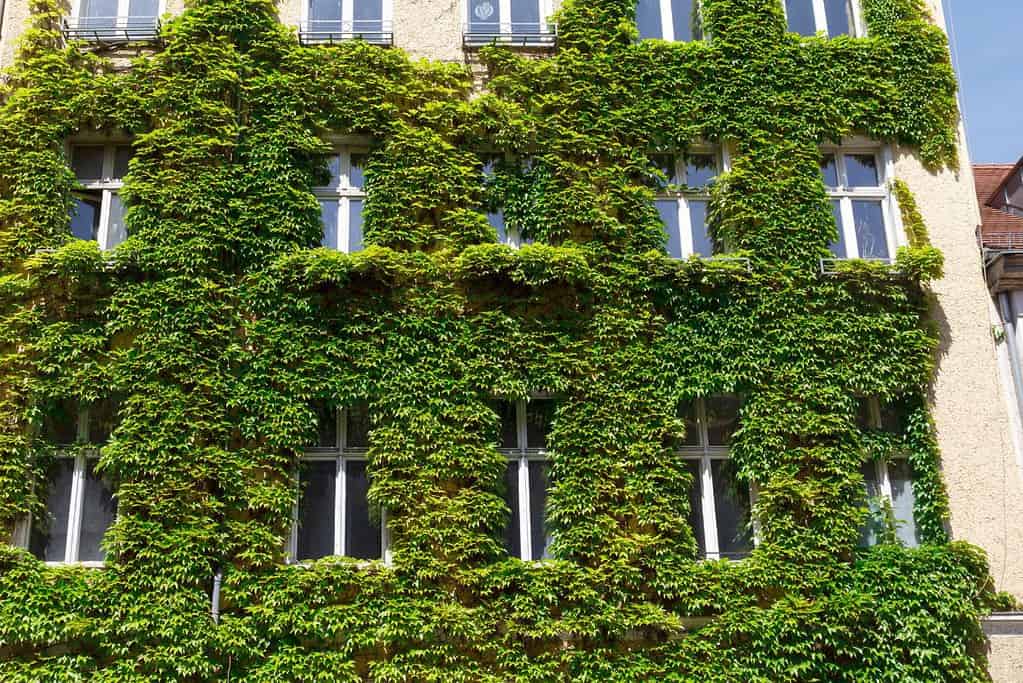 Incorporating a green wall into a home can enhance its sustainability and energy efficiency. The green wall, composed of living plants, provides natural insulation and improves air quality, reducing the need for mechanical heating, cooling, and ventilation.
It also adds a unique aesthetic appeal, creating a living piece of art that benefits the home's inhabitants.
Where can I see some options in person?
Events like the Tiny House Festivals are a great way to see some options in person. There are more than just Tiny homes there, like Skoolies, Yurts, and other innovative housing ideas. The people you will meet at the these festivals are so friendly that they help you understand their way of living.
One of the most memorable things I remember someone saying was, "I never have a bad weather day. I watch the weather for the next few days and plan where I will go around what the weather is like. I love when I can just be somewhere sunny and 75 degrees."
Our visit to the Tiny House Festival
There is also a Tiny House community in Austin, Texas. The Community First! Village offer tours of their property. This community is to house those chronically homeless.
Our Visit to Community First! Village
Video tour of Community First! Village
There are some homes to check out in a virtual tour or in a gallery of different ones that have been built or contact a Tiny House Builder to see if you can schedule a time.
You can also browse Airbnb to see homes worldwide in some fun categories. Just watch out because you could go down the rabbit hole like I often do.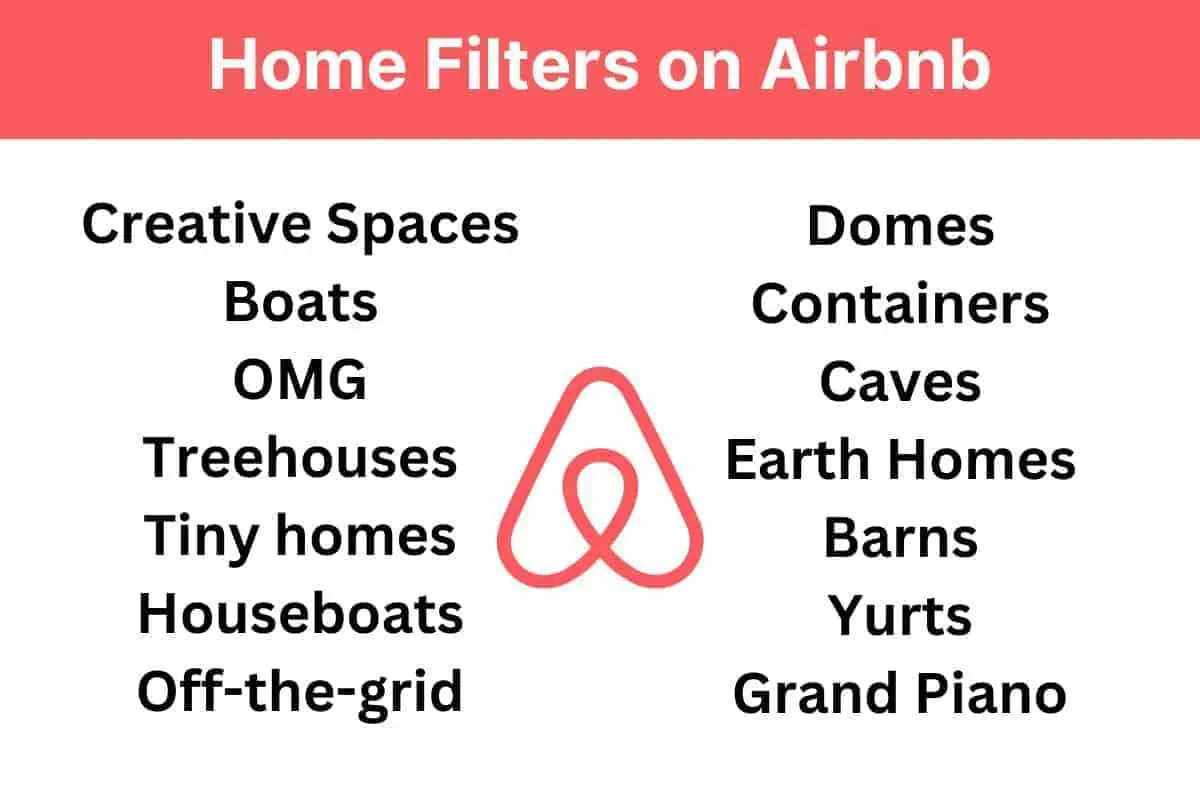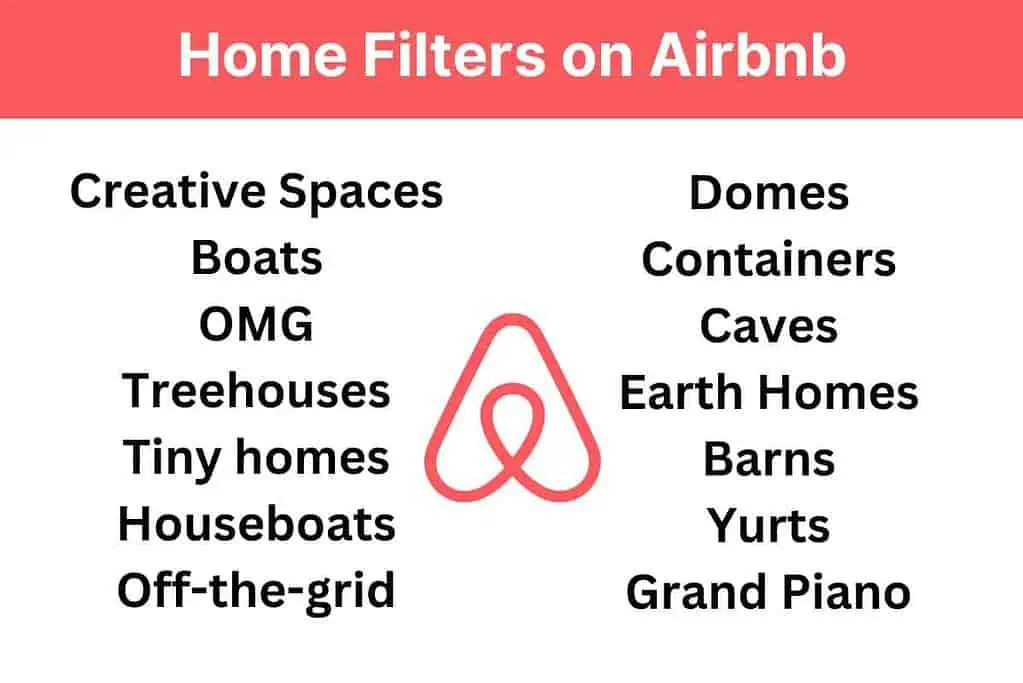 Frequently Asked Questions
Where can you live instead of a house?
You can live in apartments, condos, mobile homes, tiny houses, houseboats, RVs, and more as alternatives to houses.
What is the cheapest type of home to live in?
The cheapest types of homes to live in often include mobile homes, tiny houses, and some apartments or condos.
What is the meaning of alternative housing?
Alternative housing: unique, non-traditional living options like tiny homes, houseboats, yurts, and more
What is the alternative to buying a traditional home?
Alternative to buying a traditional home: renting, mobile homes, tiny houses, houseboats, RV living, and more.
How can living in alternative housing options save on living expenses?
Living in alternative housing options can save on mortgage or rent payments and utilities and maintenance costs. Alternative housing may be smaller and more energy efficient.
Are any alternative housing options suitable for the environment?
Yes, many alternative housing options, such as green roofs, earthships, and living walls, are designed to be eco-friendly and energy-efficient.
What is the cost of living in alternative housing options compared to traditional homes?
Living in alternative housing options can often be cheaper than living in traditional homes, depending on the specific housing option and location. 
Conclusion
In conclusion, alternative housing options offer a great way to save on housing prices while reducing environmental waste. This list provides 17 realistic and cost-effective housing options that do not sacrifice comfort or style.
The alternative living possibilities are endless, from tiny homes to shipping container homes. 
Thanks to these options, owning a home can finally be within reach for anyone considering alternatives to buying a traditional suburban house. Where will the road take you?