Let me tell you a story about how we almost bought a prefab ADU for the backyard.
It is no secret I am a tiny house and small space enthusiast. Well, when the idea of installing an ADU became an actual option in our lives, I jumped into the obsessive research phase, true to form.
ADUs weren't new to me because I have been slightly obsessing over this sort of thing for years. My daughter wanted to attend college nearby but did not want to "live at home" so an ADU was a win-win for us. (I was happy dancing!) 💃
After many months of research and hours spent collecting information, touring the ADU models, visiting all my friends who had an ADU, and lazily daydreaming over what art I would hang on the wall, the bomb dropped.
She changed her college choice and was now going 2 hours away. My dream of having my very own ADU was crushed. At least for now.
While my backyard sits empty, I have a head full of knowledge to share with others.
Perhaps you find yourself in a similar situation, or are you looking to increase your income because you heard people are renting out an ADU in their backyard?
Investing in an ADU (accessory dwelling unit) is one of the best ways to build passive income. There's no reason every homeowner shouldn't be taking advantage of this fantastic investment opportunity.
Allow me to help you figure out the Best Prefab ADU for your backyard. 7 options made the cut! Let's explore them together!
Key Takeaways
Accessory Dwelling Units are an increasingly popular housing option due to the demand for affordable housing and the rise of remote work.
ADUs are versatile and can serve numerous purposes, such as rental properties, home offices, living spaces for aging parents, or guest spaces.
Prefabricated (Prefab) ADUs offer significant advantages over their stick-built counterparts. These include cost-effectiveness, a streamlined construction timeline, minimized onsite disruptions, and the assistance of a professional design team.
Prefab ADUs emerge as a practical and efficient solution for homeowners looking to add extra living space to their property.
Some property owners see a 20-30% increase in property value after adding an ADU.
Table of Contents
Disclosure: This post may contain affiliate links, meaning I can earn commissions. If you decide to purchase through my links, it is at no cost to you.
What are the Best Prefab ADUs?
I learned in the countless hours I spent diving further into the tiny house and ADU world. I may have seen so many ADU companies and ADU builders just to realize how many options exist. It's overwhelming, to say the least.
For example, you can build an ADU yourself, have someone build it completely on-site, buy a prefab ADU option, or even buy one of the prefab ADU kits to install and finish yourself.
Between the permits, installation, and design decisions, even buying a Prefab ADU can be a lot. Let's not talk about the limited space and the careful thought needed to make the place functional.
Luckily, I have overanalyzed the options for you. Let's look at the best prefab adu options.
Top 3 choices for best prefab Adus
Boxabl
Turnkey prefab ADU with a fast setup.
Dwellito
Turnkey prefab ADU with the smallest footprint.
Studio Shed
Prefab ADU kit with multi-purpose layout.
Dwellito Alon 240
Overview
The Dwellito ADU company offers prefab ADU or site-built options, providing a wide range of ADU plans in a convenient do-it-for-me (DIFM) service. Customers work with a design team to select the unit and ensure a seamless setup and delivery process. Dwellito also offers a feasibility study for ADUs without pressure to commit to the project. The company provides assistance with financing options, including the Home Share investment program, which offers a $0 monthly payment. There are over 60 plans to view online!
The Alon 240 is a compact ADU measuring 240 square feet, with dimensions of 20 feet by 12 feet.
Photo Credit: Dwellito.com
Key Benefits
Features a durable metal roof and stylish drywall interior walls.
The package includes zoning and site planning services.
Delivered as a kit and installed on-site with a build time of 12-18 weeks.
Pricing
Starting at $84,900 with an estimated $120k – $144k for the entire project.
Pros ✅ & Cons ❎
Pros: The small footprint of this prefab adu could allow this to fit in smaller backyards. Structural drawings for permits are included.
Cons: Appliances not included, site work is not included and is on the property owner to arrange, so you could need to hire a general contractor for the extra work.
Erin's Thoughts 😎
This is truly my favorite option. If you look closely, there is an option to put a lofted sleeping space. I love the huge door windows in the plan, and it would be so freaking cool if I had a view to sit and enjoy. The price was right on this project for our needs. Ideally, this plan would be perfect for a Murphy Bed to take advantage of the small footprint.
Studio Shed Summit 364
Overview
The Studio Shed ADU company has offered well-designed and easy-to-navigate ADU solutions since 2008. All their products are prefabricated in Colorado, and they ship nationwide.
The Summit 364 is a 364 square feet model measuring 14 feet by 26 feet.
Photo Credit: Studio-Shed.com
Key Benefits
Use their prefab adu design studio to create and customize your ADU project according to your needs.
The ADU includes an electrical and appliance package and a complete kitchen and bath package.
The company uses two-by-six wall construction and eco-friendly materials with mixed sourcing, including recycled materials.
Pricing
These ADU Kits are on sale for $87,200, with ProAssembly for $65,700.
Pros ✅ & Cons ❎
Pros: The floor plan is versatile and efficient. The additional window brings in ample natural light. Solar panels are available for the ADU. Quick turnaround time for unpermitted units – just a few weeks from the order date.
Cons: The foundation is not included, and there is only a sleeping space versus a full bedroom. Built-in storage is limited. The windows in the bedroom could be bigger.
Erin's Thoughts 😎
I absolutely love the roof design! I'm a total sucker for a shed-type roof with transom windows, you know? Their website really impressed me, too, and it's so user-friendly. This option caught my attention because I've got a bit of a flipper in me. Of course, I know I'd have to hire a local contractor for at least some of the work.
Meka Modular ALP 320
Overview
The Meka Modular ADU builders specializes in innovative construction and assembly techniques, aiming to provide enhanced value to customers. They utilize a seismic and hurricane-proof container frame with sheetrock walls for the interior.
One of their popular models is the Meka 320, with 320 square feet measuring 20 feet by 16 feet. The 480 Model is also a showstopper!
Photo Credit: MekaModular.com
Key Benefits
Seismic and hurricane-proof container frame for enhanced durability
Customizable interior finishes
Units meet building codes and are move-in ready after installation.
Pricing
Starting at $102,250, not including the foundation, assembly, or roof.
Pros ✅ & Cons ❎
Pros: Ships all over the US on a flatbed trailer. The units are designed to follow all building rules and codes for the US and Canada. Bigger units are available.
Cons: The Delivery timeframe could be up to 6 months, depending on permits. The design seems to have limited storage, which is an easy fix!
Erin's Thoughts 😎
I almost passed this option up because the website was a little underwhelming until I found their pictures! The more I looked at the product available, the more I started to put this option on the list of contenders. I have never seen a shower design like theirs! It partially sits inside the bedroom space. This is a new favorite of mine for sure.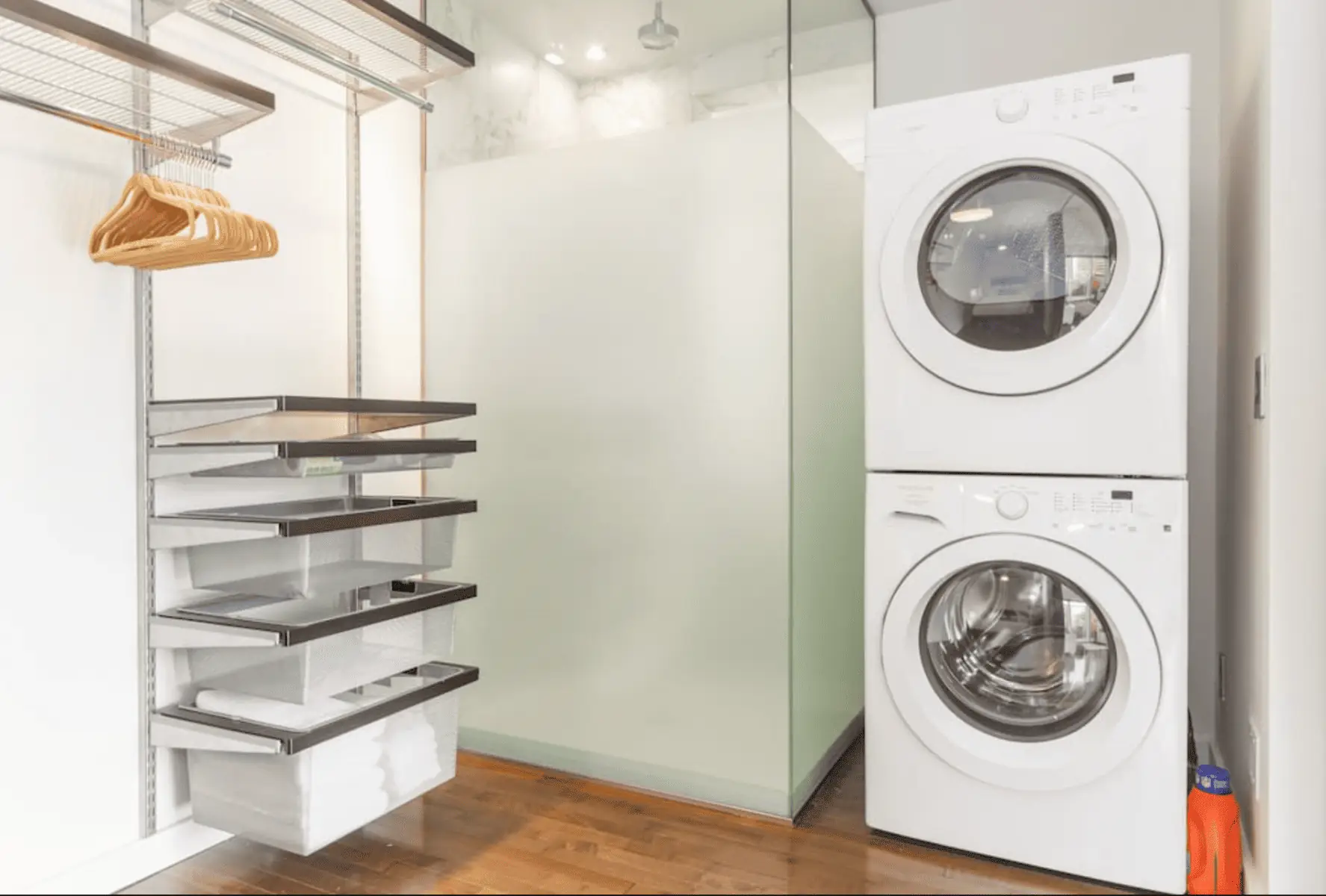 Instant Living 430
3-D Tour of the Instant Living 430 Model
Overview
This impressive ADU builder offers instant home installation within 30 days, following a comprehensive "Soup-to-Nuts" approach. These homes are installed on a permanent foundation. Customizable units are available, including the option of a fully furnished setup.
The Instant Living 430 model is 430 square feet measuring 15 feet by 29 feet.
Photo Credit: InstantLiving.com
Key Benefits:
Instant home installation within 30 days
Customers can customize the interior and the exterior
A fully furnished option is available
Pricing
Starting at $185,450. The price includes the permit, the ADU, the foundation, utilities, and appliances!
Pros ✅ & Cons ❎
Pros: The company has a few floor plans within a similar price range. This model has a wonderful flow and layout.
Cons: They are only serving the San Diego area right now!
Erin's Thoughts 😎
This one was tough for me only because there is a 2-bedroom unit also available in compact square footage. Of course, me being me, says Oh, I have another child about to graduate, and I can stick them both in the backyard! I am hoping by the time I am ready, this company will be serving further distances.
Boxabl unboxing &
Boxabl interior tour
Overview
The goal of Boxabl is to build 1 house every minute. It is a lofty goal for an ADU company, but their goal also means you can not make customizations. Their accessory dwelling units are built under modular building standards and are made of steel, concrete, and EPS foam designed to last a lifetime. Their units are 375 square feet.
Get an in-depth look at Boxabl in this complementary article.
Photo Credit: Boxabl.com
Key Benefits
Made with high-quality materials, these units are designed to last a lifetime.
The units are built to be fire resistant, ensuring safety for occupants.
The units are energy efficient and reduce environmental impact.
Pricing
They used to be under $50,000, but now the website says they can not offer a fixed price due to demand, so the price is quoted on a case-by-case basis.
Shipping will cost between $3-$10 a mile from Las Vegas (manufacturing site).
Examples: Las Vegas to Atlanta = 2,000 miles. Shipping costs between $6,000 – $20,000. Las Vegas to San Francisco = 575 miles. That comes out to $1,725 – $5,750.
Pros ✅ & Cons ❎
Pros: This option is the most affordable, even with the shipping costs. Once delivered, the setup is quick and can be done in under an hour. Additionally, the floor plan is highly efficient and can accommodate a wide range of uses.
Cons: The unit has a flat roof – could that be an issue in rainy areas? They offer a roof kit plan to build a different roof (at the customer's expense).
Erin's Thoughts 😎
This is by far my favorite option for the price. There was just such a long wait – like a long waitlist. I like the openness of the floor plan to utilize as an office space.
Villa Homes The H450
Overview
Villa Homes is the largest ADU builder in California, offering 15-floor plans with customizable interior finishes. The company has a commitment to technology and integrity. They also offer accessible options for wheelchair access. The website has a good section of FAQs and offers an instant quote with no hidden costs.
The H450 model measures 16 feet by 30 feet in 450 square feet.
Photo Credit: VillaHomes.com
Key Benefits
Standard features include upgraded cabinets, under-mount sinks, sheetrock, appliances, and designer electrical and plumbing fixtures.
Abundance of natural light with 3 large glass double doors or large windows.
Offers the perfect balance of functionality and design for comfortable living.
Pricing
The base unit starts at $105,500 plus site prep, estimated to be under $130,000.
Pros ✅ & Cons ❎
Pros: The package includes site plans, structural plans, and permit assistance. It also covers site work, foundation work, and utility hookups. In addition, stainless appliances are provided! Depending on the chosen plan, a comprehensive warranty may also be available.
Cons: It's pricey to get this turnkey, no-stress option. The website mentions a 15%+ cash-on-cash return (in California). Delivery is estimated to be 10 months.
Erin's Thoughts 😎
The price is a little high for our needs. The ADU's popularity is not as high as in other places like California. It is hard to estimate the resale value of my current home with the addition of ADU. We don't have enough data in our area yet.
Bay Modular – Solo 2
Overview
Bay Modular ADU company is offering services from delivery to installation and site preparation. They provide assistance with permits, project management, and even a free property assessment. Financing options are available through Hometap.
The Solo 2 is an entry-level Accessory Dwelling Unit with 384 square feet measuring 16 feet wide and 24 feet deep.
Photo Credit: BayModular.com
Key Benefits
Provides a versatile living or working space
Designed with large windows to maximize natural light
Includes appliances
Pricing
Starting at $182,400. Delivery, installation, and foundation are not included. Those costs are estimated to be $40k-$60k.
Pros ✅ & Cons ❎
Pros: The structure is crafted from recycled shipping containers known for durability, waterproofing, fire resistance, and earthquake resilience. The studio layout offers remarkable flexibility for various purposes.
Cons: Privacy may be a concern as only one sleeping space is available. Also, there may be a 4-6 months wait for delivery, excluding permitting. These ADUs are exclusively available in the Bay Area of California.
Erin's Thoughts 😎
At first glance, I thought this was an option I would not consider. I later realized since it was turnkey, it would take the headache off my plate to get it finished. I only wish it was an option for our location. 😫
Other Cool Prefab Adu companies I Considered
The Koda Loft – The Koda ADU builder offers versatile and minimalistic living spaces that can adapt to various functions and locations. Their design philosophy removes unnecessary elements, allowing users to personalize their environment.
Plant Prefab – Plant Prefab aims to revolutionize high-quality housing construction, making it faster, easier, and more sustainable. The team created an adaptable panel-based building system with unparalleled speed, quality, and sustainability.
Dvele – Dvele reimagines healthy living, healing the planet, and reducing homeownership costs through mass production and strict quality control. With Dvele, your home becomes a worry-free sanctuary.
What is a prefab adu?
If you've been browsing housing options recently or watching the news, you've probably came across the term accessory dwelling unit or ADU. Since affordable housing is at the top of my mind, it is easy to see why. But what exactly is an ADU?
It is a secondary housing unit near a primary dwelling. You may hear them called granny flats, tiny homes, in-law units, Ohanas, guest houses, or backyard cottages.
The majority of ADUs must have the following:
A kitchen area
Separate entrance from the main house
A living area
Bathroom
Sleeping space
With the increasing demand for affordable housing and the rise of remote work, ADUs are quickly becoming popular for homeowners nationwide. Legislation is being addressed to make ADUs easier to obtain, but each location will have a specific ADU ordinance.
Who is buying ADUs?
The increase in demand for these small structures is coming from all directions, especially if you are unwilling to convert an attached garage into a living space. You can add an ADU on the same property as a single family home.
ADUs can be used as:
a rental property for passive income
a home office or man cave
a cozy living space for aging parents
a guest space
a place for family members or adult children to live independently and save money
New ADU builders are joining the ADU market daily to meet the demand of this small structure. There are even ADU companies to help you with your ADU project if the ADU builder you select does not offer this service.
Benefits of Prefab ADUs versus Stick-Built ADUs
There are notable distinctions between prefab and stick-built options. Stick-built ADUs are constructed on-site, offering customization but at a higher cost and longer construction time. Let me give you a hint from my house-flipping experience, the project always goes over budget!
STICK BUILT ADUS VERSUS PREFAB ADUS
Stick Built ADUs
Stick-built ADUs are constructed on-site, offering customization but at a higher cost and longer construction time. Let me give you a hint from my house-flipping experience: the project always goes over the budget!
Prefab ADUs
Prefab ADUs provide cost savings by offering pre-designed options. These modular homes are built off-site, minimizing disruptions and potential weather delays. They can practically back up to your backyard and drop the house off.
How we Conducted our Research
When selecting the best prefab ADUs, I narrowed down the options to the ones we were considering. I focused on spaces 250 Sq ft to 500 square foot options to allow for enough space for my daughter to live comfortably but could accommodate an office in the future.
My Criteria:
Use of interior space
The use of smart technology options and energy efficiency of the unit
A floor plan that would feel spacious
I also considered the reputation of the prefab ADU companies and the designs they already had available versus trying to customize the space.
Conclusion
Backyard ADUs are a fantastic way to increase cash flow, create housing in urban areas, house a family member, create an in law suite, or create a home office.
A prefabricated unit is the perfect choice for someone who wants to save time and money while creating their dream home.
In my research, I found seven of the best prefab ADUs that balance customization and cost-savings. These options provide the perfect solution for those looking for a quick and efficient way to add living space to their backyard.
So what are you waiting for? Take your ADU pick and get some extra space and cash flow today!
I will get mine soon!
Frequently Asked Questions
How do I know if accessory dwelling units are allowed on my property?
To see if ADUs are allowed on your property, review your local zoning ordinances and building codes. These regulations specify where and what you can build, including ADUs and the corresponding ordinance for your area. The process usually requires obtaining permits from your local planning or building department.
Will a backyard ADU increase my property value?
Some property owners may see significant increases in value, especially if you are on the West Coast. Some residents in California have reported a property value increase of 20-30% after adding an ADU to their property.
Do I need a building permit to install an ADU next to my current property?
A building permit is typically required for an ADU project. The specific requirements may vary based on your local regulations. You may also need to secure permits for utility connections such as water, electricity, and gas.
Is it possible to have a Zero Energy or an Energy Efficient ADU unit?
Absolutely. Today's ADUs can be outfitted with sustainable features such as solar panels, LED lighting, and Energy Star appliances. There's also the option to use recycled materials in construction, reducing the environmental impact and making your unit even more eco-friendly.
What are LEED-certified buildings?
LEED offers a framework for healthy, efficient, and cost-saving green buildings. It's a globally recognized symbol of sustainability achievement. LEED-certified buildings save money, improve efficiency, lower carbon emissions, and create healthier spaces for people. To achieve certification, projects earn points by meeting prerequisites. Homes that meet the Leed Platinum standards earn the most points to qualify.
Is an ADU considered a passive house?
While an ADU can be designed and built as a passive house, it's not inherently so. A passive house is a specific type of ultra-energy-efficient building with a design focused on exceptional thermal performance, airtightness, and mechanical ventilation.