If you have overnight guests, you know how important it is to have a comfortable place for them to sleep. However, not everyone can afford to dedicate an entire bedroom to a guest space, so to the living room, your company will go. With the rising cost of housing, doing more with less comes as a challenge.
A small space can be functional and inviting for your guests. How? One solution to the need for more guest space is a folding bed. These beds are convenient, budget-friendly, and easily hidden away when not in use. Don't confuse this option with the well-known Murphy Bed.
In this article, we'll discuss everything you need to know when buying a folding bed to create an inviting and budget-friendly guest space. We'll explore the different types of folding beds, things to consider when buying one, assembly and storage, and budget-friendly options.
Table of Contents
Disclosure: This post may contain affiliate links, meaning I can earn commissions. If you decide to purchase through my links, it is at no cost to you.
What is a Folding Bed?
A folding bed or rollaway bed is a style of bed that easily folds up and is stored away when not in use. It is designed to be compact and portable, making it ideal for small spaces or homes without a dedicated guest bed or room. A bed that can be stored when not in use but can offer a comfortable space for the occasional guest.
What are the Different Types of Folding Beds?
There are several different types of folding beds available on the market. The most common types are rollaway beds, sofa beds, and futons. Rollaway beds are designed to be lightweight, easy to move, and come with a steel or metal frame and foam mattress. Sofa beds, conversely, are a combination of a couch and a bed and are usually more comfortable than rollaway beds. Futons are similar to sofa beds but come with a thicker mattress and can be converted into a couch during the day.
What are the Benefits of a Folding Bed?
There are several benefits to owning a folding bed:
They are compact and easy to use and store away when not in a closet, making them ideal for homes with limited space.
They are budget-friendly and much cheaper than buying a traditional bed.
They are versatile and can be used for various purposes, such as camping trips or sleepovers.
Factors to Consider When Buying a Folding Bed
What is the Size of the Bed?
Bed size is an essential factor when buying a folding bed. Most folding beds come in twin-size or full-size options, but it's necessary to measure the space where the bed will be placed to ensure it will fit and is easy to save till the next use. A full-size option has the width to accommodate two adults, but it may not be the roomiest. Additionally, it's essential to consider the weight capacity and ensure that it can support the weight of the person using it.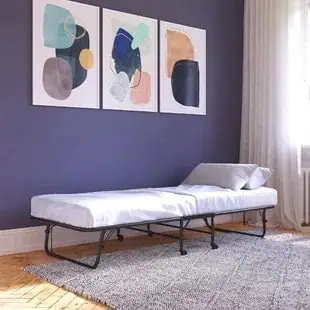 What Type of Mattress Does the Folding Bed Have?
The type of mattress that comes with the folding bed is also essential. Most folding beds come with a foam mattress, but options are available with memory foam and an optional high-density mattress topper. Choosing a mattress that provides adequate support, is comfortable to sleep on, and is durable is essential.
There may be better choices than a spring mattress, as the bed folding up could impact the mattress's longevity. On that note, a super thick mattress may be harder to manage.
What is the Weight Capacity of the Bed?
The bed's weight capacity is an important consideration, especially if the bed is being purchased for adults. Most folding beds have a weight capacity of around 250-300 pounds, but checking before buying is essential. Consider something heavy-duty if you need something suitable for someone over 300 pounds.
Delivery and Shipping
What are the Delivery Options?
You may need a pickup truck or SUV to haul the unit to your house. When purchasing a folding bed, it's essential to consider how you will get the bed to your home. Some retailers offer free delivery, while others charge a fee. Some retailers also provide the option to pick up the bed in-store, which can be cost-effective.
What is the Cost of Shipping and Estimate Delivery Time?
The shipping cost is essential, especially if the bed is purchased online. Shipping costs can vary depending on the weight and size of the bed, as well as the shipping location. The estimated delivery time is another important consideration because if Aunt Sue is coming on Friday, you may have to offer up your bed to her as an option. Some retailers offer same-day or next-day delivery, while others may take upward of a few weeks to deliver.
Assembly and Storage
How Easy Is It to Assemble?
The ease of assembly is an important consideration, especially if the folding bed with mattress is stored away when not used. The option to store separately could be one to take advantage of if space is limited. Most folding beds are easy to assemble, but it's essential to check before making a purchase.
What is the Best Way to Store a Folding Bed?
Folding beds should be stored in a dry and cool place when not in use. Most folding beds come with caster wheels, making them easy to move and store.
How Much Space Does a Folding Bed Take Up?
The amount of space a folding bed takes up when stored away is an important consideration. Most folding beds are designed to be compact without taking up a lot of space and are easy to store. The most popular twin-size bed will fit children or adults and be the easiest to store.
Budget-friendly Folding Beds
What are the Best Budget-friendly Folding Bed Options?
Rollaway folding beds are a good blend of budget and comfort. Futons are slightly more expensive but can double as a couch during the day. If the budget has you looking for something that you can pick up for under $50, consider an Air mattress on a frame, but this option will score the lowest on the durability scale, especially with kids using it as a trampoline.
Where Can I Find Affordable Folding Beds?
Affordable folding beds can be found at most furniture stores and online retailers such as Amazon, Wayfair, Overstock, and Walmart. It's essential to shop around and compare prices before making a purchase. I have even seen some at discount stores like Dirt Cheap. After much digging, I picked up an air mattress for less than $10. There is always the option to do a DIY Murphy bed.
What are Some Tips for Saving Money on a Folding Bed?
One way to save money on a folding bed is to buy a bed frame separately and use an inexpensive mattress with a foam mattress topper. This option can be cost-effective, especially if a spare mattress is already available. Another tip is to buy during sale periods or use discount codes to save on the overall cost.
Investing in a folding bed is a great way to create a comfortable and inviting space for guests without breaking the bank. With the proper considerations, it's possible to find a folding bed that is both budget-friendly and meets all the requirements and necessities. By keeping these tips in mind, you'll be able to find the perfect folding bed for your home and provide comfortable sleeping space for your guests.
Key Considerations when Buying a folding bed
Size of the bed
Weight of the mattress and bedframe
Where the bed will be set up while in use
Space needed to store it during non-use
How easy it is to set up
The weight of the guest that will use it
How often it will be used
Cost of the bed
How can I take my guest space to the next level?
I rarely sleep well in another bed the first night. The house is noisy and dark, and a midnight snack attack always hits. Let me give you some tips to take your guest space to the next level. Here are my favorite tips to improve your guest space:
Invest in a set (or two) of folding room divider partitions to create privacy if the guest is in a big open room. It could create a cozy space for them to relax better. You can buy some already made, or if you are handy, get a few shutters from a second-hand store and install some hinges. Another DIY option is to create PVC privacy panels by getting some PVC pipes and fabric or a sheet around the panels, as seen in this HGTV.com tutorial. You could pick up a few sheets at a second-hand store for cheap. If you don't have sewing skills consider something like Stitch Witchery or fabric glue for a no-sew option.
Leave your guest a small basket of personal hygiene items. Include things like earplugs, a sleep mask, and bathroom essentials. The hygiene items should be purchased new but look at garage sales and second-hand stores for lovely baskets.
Purchase inexpensive storage containers like the foldable cubes at Dollar Tree for storage of blankets or personal things as needed. If there is space under the bedframe, they can be just hidden underneath.
Plug in an extra cell phone charger near the guest space.
Consider purchasing a set for your guest when you see a robe and slippers on sale.
Create a midnight snack basket to leave out.
If your space still needs a small lamp, grab one on sale for extra light if they need to get around in the dark. The last thing you need is for someone to trip and get injured at 2 am.
Install small nightlights or leave a flashlight out for more lighting options.
A sound machine can help create white noise for your guest so they can enjoy a pleasant slumber. Houses are typically a lost nosier than the owners realize.
Invest in a nice support foam pillow to offer your guest.
Catch a soft blanket on sale to leave out. Some people get cold – not me – but they are out there!
Alternatives to the folding bed
The folding bed may not be the best fit for your situation. There are a few alternatives to a folding bed. A simple air mattress on the floor is an option, but use caution if your guests need something for easy mobility. My mother-in-law could not get off of an Air mattress on the floor.

We must remember a giant bean bag as a sleeping option. Some bean bags are big enough for adults to sleep in and are just fun.
Another idea for more long-term use is a Murphy bed. Like the folding bed can be stored away when unused, a Murphy bed mattress and frame do not fold. There are still excellent affordable DIY options for Murphy beds if you want the most durable and comfortable option.
There is also a suitable old cot and sleeping bag option. Neither provides a comfortable sleeping option. These could be options for kids as they can tolerate less comfortable sleeping than adults.
Conclusion
Ensure enough space and a tight budget to provide guests with a comfortable and enjoyable experience. With our tips on how to buy a folding bed, you can transform your guest space into a haven without breaking the bank.

By carefully selecting a folding bed that suits your needs and considering the practical aspects such as storage, portability, and ease of assembly, you can ensure that your guest space is functional and inviting.

So, embark on this budget-friendly journey to create a guest space that will impress your visitors and make them feel right at home. Dive into ways to make them extra comfortable by shopping sales on items that may make them feel more at home.
Frequently Asked Questions
What are the disadvantages of folding beds?
Folding beds are a bit bulky when folded and could be more difficult to hide in a small space.
What are foldable beds called?
Foldable beds are commonly referred to as "rollaway beds" or "folding beds.
Are foldable beds comfortable?
Yes, folding beds can be very comfortable to sleep on. Look for models with supportive foam and breathable materials for a restful slumber. If you purchase in person, take a lay down and see for yourself. 
What sizes do folding beds come in?
Folding beds come in a variety of sizes, including twin, full, and queen. Some models also come with options for small children and adults.
Are folding beds easy to set up?
Yes, most folding beds are designed to be easy to set up and take down. Some models feature a simple fold-and-unfold mechanism, while others may require more assembly.
Can a folding bed save space in a small home or apartment?
Yes! A folding bed is a great option for those who live in a small space or apartment. It can easily be folded up and stored away, freeing up valuable floor space.
How quickly can I get a folding bed?
Many retailers offer same-day or next-day delivery for folding beds. Some may even offer free shipping.
ARE FOLDING BEDS PORTABLE?
Yes, folding beds are designed to be portable. They typically come with wheels or other features for easy transport.
Are folding beds sturdy?
Yes, most folding beds are designed with a sturdy frame and wooden slats or wire mesh for support. However, it's important to choose a model with a weld and wire that can hold up to frequent use.