You want a Murphy bed, and you want to put your handy skills to work. Are you considering building a Full Murphy bed instead of buying one? Don't let some wood and power tools scare you. You can do this.
This DIY Full Murphy Bed Kit: Easy-to-follow 7 Step-by-Step guide and supporting YouTube video will help you and walk you through each step.
You can save money by doing it yourself and creating a unique piece for your home. Imagine the possibilities if you could move your bed out of the way during the day and use the space for something else.
In this guide, we'll provide a comprehensive overview of how to build a DIY Murphy bed with the Rockler Murphy Bed Hardware Kit. We start by discussing the Rockler Full Murphy Bed Hardware Kit, cutting and assembling the frame, prepping and painting, and installing the bed.
Table of Contents
Disclosure: This post may contain affiliate links, meaning I can earn commissions. If you decide to purchase through my links, it is at no cost to you.
What is a Murphy Bed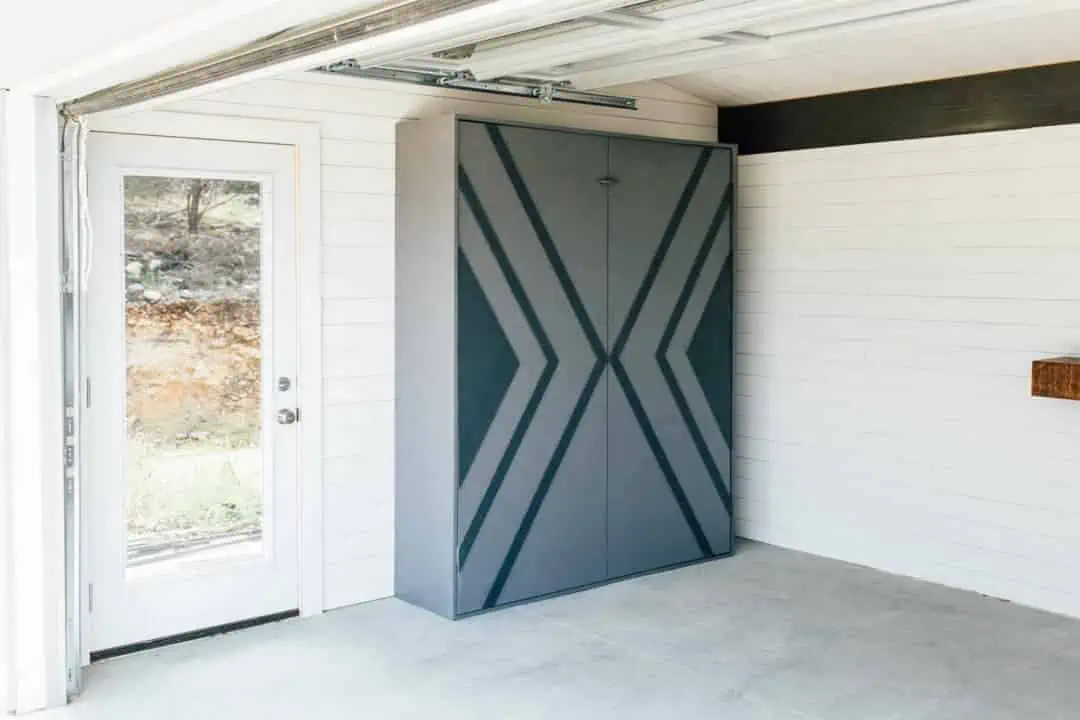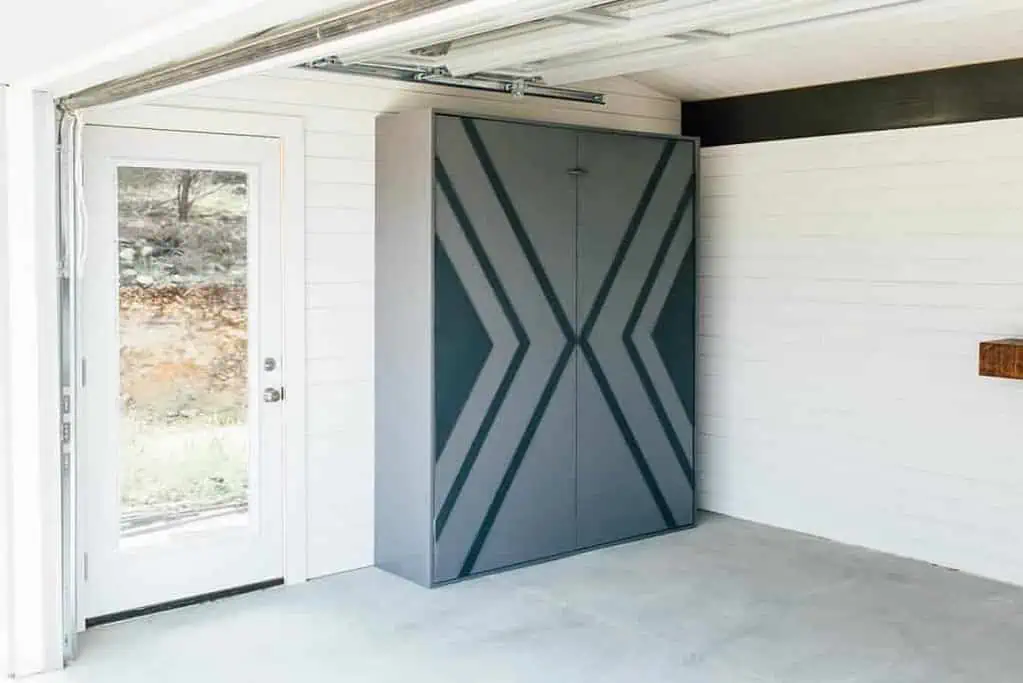 A Murphy bed is a fold-down bed where the mattress sits on a bed frame and folds into a cabinet or against the wall when not in use. It is designed to save floor space in small spaces or allow for more functionality in a room.
There are many style options and sizes of a Murphy Bed, including the popular twin Murphy bed choice, which is my favorite because of how creative you can get with the twin horizontal Murphy bed in a small space.
A Murphy bed is slightly different than a folding bed as the bed frame and mattress do not fold up to store when not in use. Instead, the Murphy bed will fold against the wall and could be a focal piece in a room with the option to customize it.

The Murphy bed met the commonplace when William Lawrence Murphy needed more space in his small apartment in the early 1900s.

The need to utilize a small space creatively is not a complex concept, as people today choose to downsize into smaller spaces to save money but do not want to give up functionality.
Luckily William Lawrence Murphy decided a fold-down bed was the answer to his small space needs. Can you imagine what his first bed must have looked like without the luxury of a Murphy bed hardware kit? I wonder if it was safe. Luckily, our modern-day advances make it much easier – and quicker.
Why Choose a Full Murphy Bed
A full Murphy bed will allow the option to sleep two adults while taking up the least floor space. The horizontal queen Murphy bed is another fold-down bed size you could build and is seen in the YouTube video from April Wilkerson would also fit two adults but need more floor space which may not be an option in your room.
Other Uses for a Full Murphy Bed
Limited space in a Tiny House or container home.
Children share a room and need a play space.
Create a dual-purpose room with guest space and a home office.
Creating a studio rental in a bedroom to rent out.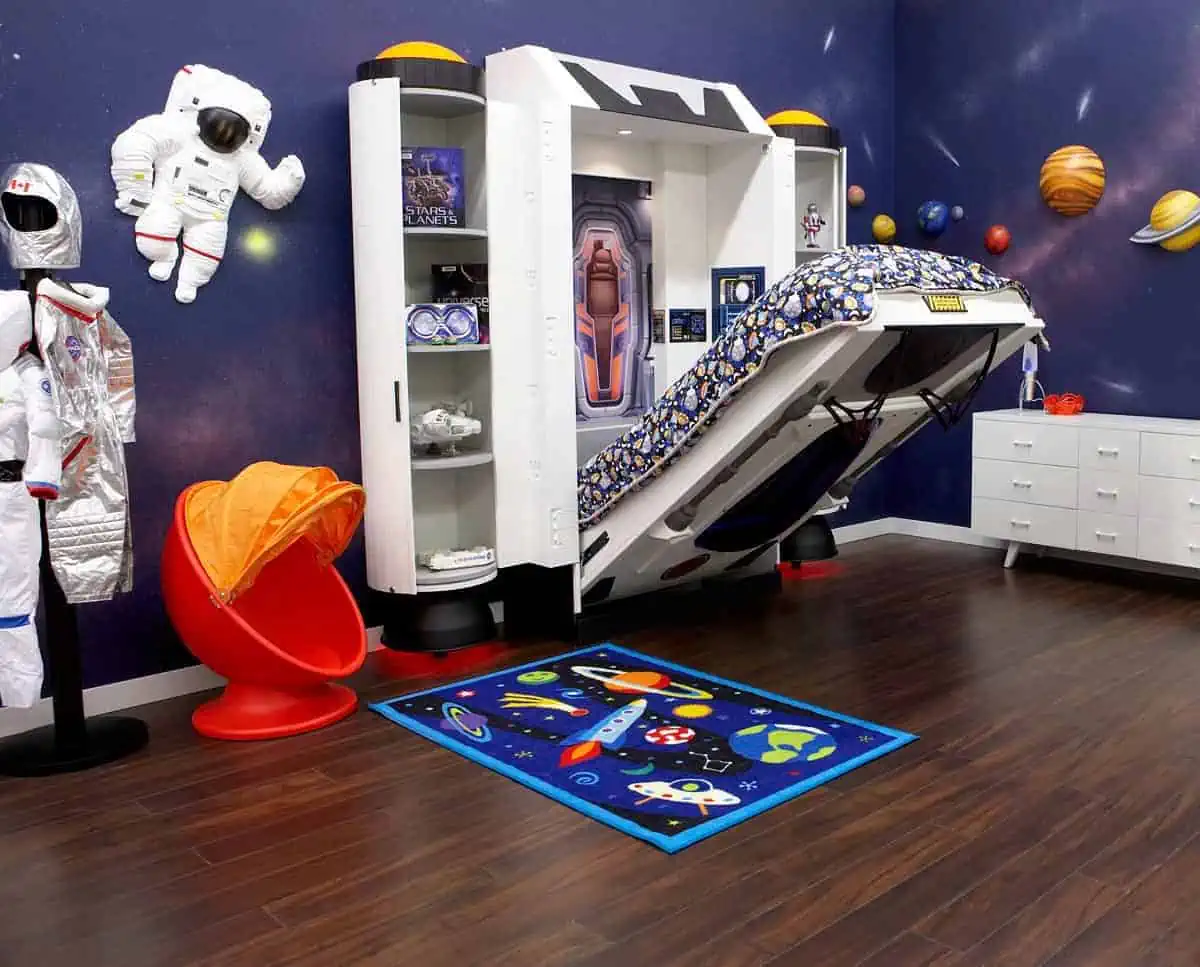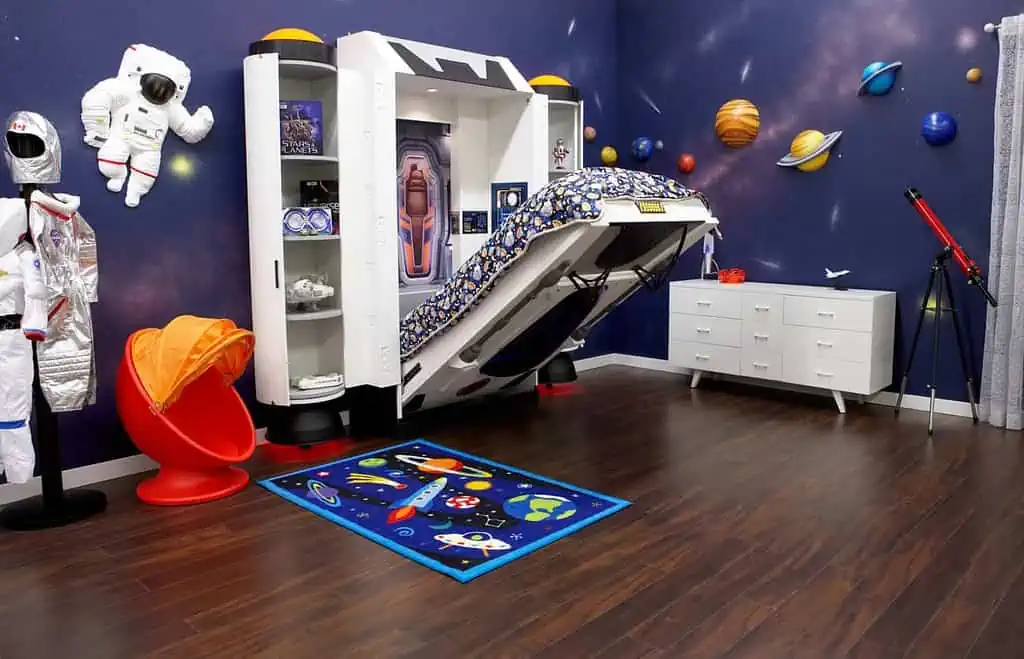 7 Steps to Build a DIY Murphy Bed
1. Choosing the Right Materials and Tools
When building a DIY Murphy bed, selecting the right materials and tools is crucial. Head down to the local hardware store with your shopping list and grab the things you don't have.
Local Hardware store shopping material list
5 Sheets – 4×8 plywood – for the cabinet sides, support pieces, and the top piece
Rockler Murphy Bed Hardware Kit (see below on item #2)
Hearing protection
Saw to cut plywood
220 & 120 sandpaper
palm sander or you can hand sand
paint of your choice
painting equipment – brush or roller
Drill and bits
tape measure
wood glue
doweling jig
mallet
clamps
Brad nailer
small saw
level
safety glasses
joint compound and putty knife
Door handle/cabinet handle
gloves
Optional: small picture frame molding to accent the doors or wood slats
The first item on your shopping list should be five sheets of quality plywood. Plywood's layered structure provides excellent resistance against bending or warping, ensuring your wall bed remains sturdy for years. It also takes paint well, allowing you to customize your Murphy bed according to your room decor.
2. How to utilize a Rockler Murphy Bed Kit
The next thing you'll need is hardware – mounting brackets, dowels, screws, etc., which can all be found in a Rockler Murphy Bed Kit. This kit simplifies the process by providing all the necessary hardware to construct a wall bed. Unpack all the pieces in the equipment from the box and layout for use.
The Rocker Murphy Bed Kit also comes in twin size, full size, and queen size.
3. Assembling the Main Structure
Ready to build your wall bed? Let's get started. The first step is to assemble the main structure or shell into which the mattress will fold. This involves cutting down pieces from a cut list according to their designated sizes and attaching them using dowels drilled in pre-marked locations with a Doweling Jig.
Pre-cutting the wood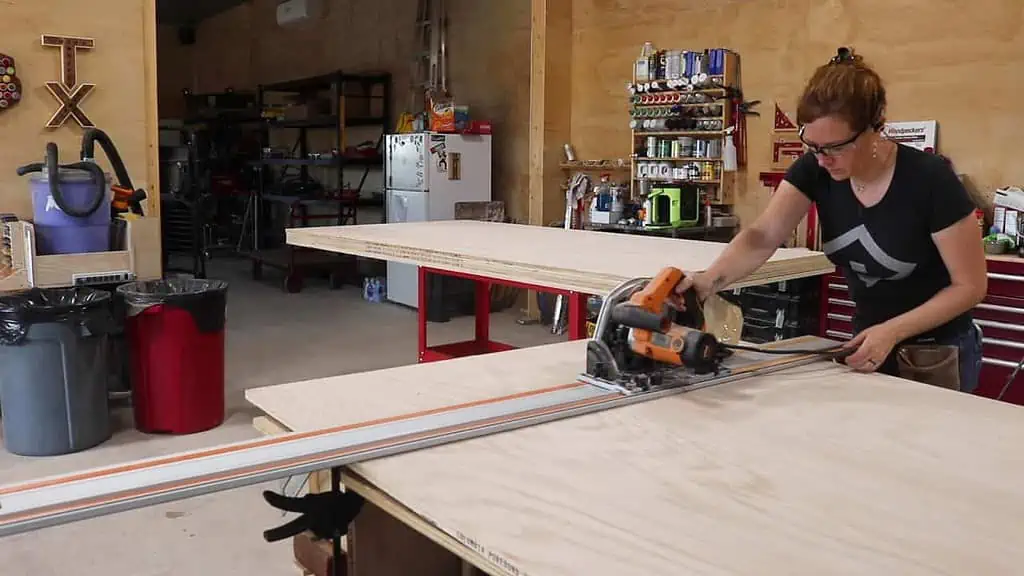 Measure twice, and cut once. Carefully measure and cut your plywood sheets according to the dimensions specified in your Murphy bed size. Precision is critical here; any inaccuracies can lead to issues during assembly or even compromise the overall stability of your finished product.
The dimensions for a full Murphy bed are down below.
2 long sides
Top frame side
Bottom frame side
2 support pieces that lay flat on the wall
Wood for the door which the mattress frame will attach to
small piece of wood for the permanent stop

Using square alignment during assembly
Get your square tool ready. Everything must align perfectly square at this stage – any misalignment could cause problems when opening or closing your Murphy bed later. Using a square tool during this process helps ensure perfect alignment every time to ensure the squareness of those cabinet sides. 
You will assemble the bed frame pieces together and the mounting brackets. Watch the video from 1:15 – 4:30 to watch how the frame goes together, and the mounting brackets are installed.
Drilling holes for dowel placement with Doweling Jig
Time to get doweling. You'll be using dowels as part of the joining method for this project. The best way to do this is by drilling holes at specific points on each piece of wood where they will connect.
Make your life easier (and more accurate) using a Doweling Jig. Line up the jig with your marked points, clamp it down securely, and drill through its guide holes. Perfectly aligned dowel placements every time.
Don't forget the glue. Apply wood glue inside these freshly-drilled holes before inserting dowels and joining corresponding pieces together. Be careful not to use too much; excess adhesive can squeeze onto visible surfaces once pressure is applied.
Key Takeaway:
The article provides a step-by-step guide on how to assemble the main structure of a DIY Murphy bed. It emphasizes the importance of precision in measuring and cutting plywood sheets, using square alignment during assembly, and drilling holes for dowel placement with Doweling Jig.
4. Finishing Touches Before Painting
Now that you've nailed the assembly of your DIY Murphy bed, it's time to focus on the aesthetics. Before applying the paint, taking care of a few details is essential for an optimal outcome.
Sanding Down the Surfaces
The first step is to sand down all surfaces of your wall bed. This will make the plywood smooth and easier for the paint to adhere to. Plus, it'll eliminate rough edges or splinters that could cause injury later.
Use a palm sander to prevent creating patterns on the wood surface that might show through after painting.
Applying Joint Compound Over Seams and Joints
The next step is to use joint compound (also known as drywall mud) over seams or joints in your Full Murphy bed structure. This will hide any visible seams or joints that could disrupt its overall look once painted over later. Applying joint compound creates an even surface by filling gaps between plywood sheets and smoothing out screw holes.
To apply joint compound, spread it evenly across each seam with a putty knife, then allow it to dry completely before proceeding. Once dried, sand lightly until a seamless finish is achieved, and it's ready for the final touch-up: painting.
Incorporating these finishing touches enhances visual appeal and increases durability, ensuring the longevity of your newly built full Murphy bed. So don't skip these steps; they're crucial to prepping a DIY project.
5. Painting Your Masterpiece
The choice of paint can significantly impact how well your wall bed blends within an existing room decor scheme.
General Finishes Milk Paint offers durability without requiring a top coat application, making it an ideal choice here since we primarily work indoors. Plus, you get to add a personal touch through custom designs marked onto panels beforehand, avoiding those areas when the painting starts.
Criteria for Choosing Paint Type and Color
Selecting the right color and type of paint is crucial in achieving the desired aesthetic appeal for your DIY Full Murphy bed. The color should complement other elements in your room while providing contrast where necessary.
In terms of types, water-based paints like General Finishes Milk Paint are recommended due to their low VOC content and easy clean-up process. Better Homes & Gardens has some great tips on choosing the right paint type for your project.
Marking Design Outlines Before Starting the Paint Job
To give your wall bed flair, consider adding some custom designs on its surface before painting begins. You could sketch out patterns or even write inspirational quotes directly onto plywood using a pencil, then avoid these areas during the actual painting process, ensuring they remain visible afterward as unique features enhancing the overall look further.
DIY Network has some great ideas for adding custom designs to your wall bed.
Note: Always test chosen colors on scrap pieces before applying them over the entire structure to ensure the final outcome meets expectations fully. Ensure safety at all times with protective gear like gloves and goggles.
Key Takeaway:
This section provides tips for painting a DIY Murphy bed, including choosing the right paint type and color to complement your room's decor. Adding custom designs before painting can give it an extra flair.
Adding Accents – taking it to the Next Level
If you want to add interest to the doors and long sides of the frame, consider adding thin panel accents. These not only enhance the aesthetic appeal but also provide additional structural support. Use Titebond Original glue to attach them.

Other options could be picture frame molding or lattice slats to give it some dimension.
6. Final Assembly & Installation
Now that you've finished painting, it's time to bring your DIY Murphy bed project to life. Follow these steps to transform your masterpiece.
Installing the full Murphy bed frame on the wall
Once your piece is painted and ready for installation, you will need to grab a friend, as the wood frame will be a little heavy. Install the L brackets on a stud and screw them into the wall to ensure the bed frame does not go anywhere.
Assembling the Murphy bed frame
The bed frame comes with instructions for installation. The air cylinders that will allow the mattress frame to lower and raise will be attached to the mattress frame and then the bed frame.

Also, watch at minute 6:57 to watch a demonstration on how to put the frame together and see the air cylinders installed.
Properly Aligning and Installing the Door Panels
Last, install the doors while ensuring they remain correctly aligned throughout usage. The doors will be installed on the frame. Take extra care during this stage to avoid operational issues later on.

A well-installed door should open smoothly without friction or obstruction and stay perfectly horizontal. Give that door a test to ensure it properly opens and closes!
7. Picking a mattress for your Murphy Bed
A mattress is the key to comfort for a good night's rest. The weight of a mattress will matter, as well as how well it will stay in place when the bed is stored.

Considering comfort, mattress weight, and budget, choose a mattress that will be durable enough for long-term use if you expect someone to be sleeping on it daily. With the number of online vendors, there is even the option to purchase online to get shipped to your home.
Key Considerations
Identifying the space the unit will need.
Having the correct equipment for the job.
Purchasing a sturdy hardware kit.
Ensuring a square frame.
Purchasing the proper mattress.
Selecting an easy-to-use paint that does not require a lot of coats.
Getting assistance to move the bedframe – it will be heavy.
Level up with these following DIY projects: Murphy Table, Murphy Bed Library, Murphy wall-mounted nightstand & Slat wood wall
To enhance functionality around newly built Murphy beds by adding elements like a Murphy table, Murphy bed library, Murphy wall-mounted nightstand, and slat wood wall (as seen in the YouTube video above).
These additions will provide extra storage and contribute towards creating aesthetically pleasing spaces around these wall beds.
Murphy Table – a table that folds like a Murphy bed that could double as a work or dining space.
Murphy bed library – add shelving to either of the long sides of the bed frame for books and other accessories.
Murphy wall-mounted nightstand – a mouth full and an added space for essentials that folds when unused.
Slat wood wall – a trending way to accent a wall.
These future enhancements will add value by making every square foot count, especially in smaller homes where maximizing available space becomes crucial.
Conclusion
Save space and add functionality to your home with a DIY Murphy Bed – it's easier than you think! This DIY Full Murphy Bed Kit: Easy to follow Step-by-Step Guide is all you need to make this project a reality.

Choose the right materials and tools, like a square alignment tool, for perfect assembly, and don't forget about safety measures.
Once assembled, add finishing touches like sanding and painting – check out our tips for selecting the perfect color and marking design outlines for a flawless finish.

Building a DIY Murphy Bed is a wise investment that will last for years – follow our comprehensive guide and get started today!
Frequently Asked Questions
Is it Cheaper to Build a Murphy Bed?
Yes, building your own Murphy bed can be significantly less expensive than buying a pre-made one.
How Hard is it to Make a Murphy Bed?
Building a Murphy bed requires some woodworking skills and tools, but with detailed instructions and patience, it's achievable.
How Much Does it Cost to Have a Murphy Bed Built?
The cost varies based on the materials used and the complexity of the design but typically ranges between $200-$600 when self-built.
Can I turn my bed into a Murphy bed?
It may not be cost efficient, but it is possible. The design will depend on what frame you are working with.
Do Murphy beds need special sheets?
Not necessarily but you do want sheets that fit well and can easily be tucked under the mattress when the bed needs to be folded.