My house has always needed more space. Space costs money. Living space is a luxury at times in the world of the increased cost of housing. But fear not, my friend! The perfect space-saving and multifunctional solution is here – Murphy Beds!
With a growing family, a need for a guest room, or a need for a home office, it takes work to balance function and space. Think of what you could do with a few free guest rooms in your house. Rent them out for extra income!
Another group taking advantage of the famous wall bed option is choosing affordable housing options like Tiny Houses and Container Homes. Sometimes in these smaller living options, your living room is your bedroom. Murphy Beds are the perfect solution.
This guide will provide comprehensive insights on buying a Murphy bed that suits your needs perfectly. Let's dive in!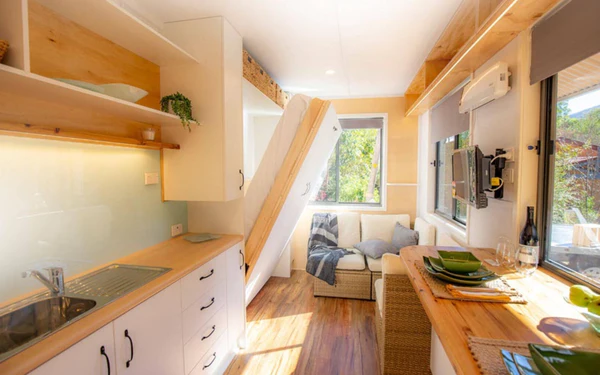 Table of Contents
Disclosure: This post may contain affiliate links, meaning I can earn commissions. If you decide to purchase through my links, it is at no cost to you.
What is a Murphy Bed?
A Murphy bed, also known as a wall bed, is a space-saving piece of furniture that can be folded up and stored against a wall or inside a cabinet. The bed uses a super fancy counterbalance spring or piston mechanism to allow the bed to glide up and down smoothly when you need to lift and lower it for use.

Murphy beds are mounted on hinges, folded down from the wall, and sometimes in custom cabinetry. Wall beds are mounted directly onto the wall and fold up. The bed can be folded and hidden away for the day when not in use. Perfect if you want to save space and appreciate less clutter.
Watch a Murphy bed in action
Scroll through to watch the Murphy Bed open and close http://Bredabeds.com
Why do I need to choose the right Murphy Bed?
When investing in specialty furniture, making the right choice is essential. Not all items can be returned easily; paying return shipping and restocking fees could be costly. Custom Murphy Beds will likely not be returnable. Spaces like studio apartments are short on space, so a Murphy Bed could be handy.
Not to mention making unnecessary holes in your walls that must be repaired later. Not the headache I want. Fortunately, you will have all the information needed to buy a Murphy bed at your fingertips.
Selection Steps: All the things to think about when you're shopping for a Murphy Bed
There is much to consider as you search for the right bed for your space. When deciding on the right one, it's essential to take into account factors such as who will be using the bed, how comfortable the mattress is, whether it's easy to open and close, whether it will be wall-mounted or contained within a cabinet, and of course, if the bed is within your budget. 
If the budget allows, consider adding-on features that the Murphy Bed offers, like an integrated sofa, built-in desk, or built-in storage. Let's go through the selection process so you can find the best Murphy bed for your space and be confident in your purchase. 
1. Identifying the Function of the Room
Before buying, consider what you require in the wall beds and how the space in the room will function. Will the bed be in a bedroom or a living room?
The original goal of the bed was to maximize small rooms or create a flex room, so knowing how the bed will function in the space has to be identified. How much space you have for the bed when it is opened and when the bed is tucked away is vital. This piece will determine which type and size bed you will choose to ensure you have enough space for the other activities you want to do in the room.
Another consideration will be whether the bed will be a single or multiple-bed design. With multiple beds, you could even get two sizes of beds to create a flexible space—a full-size or queen-size Murphy bed at the bottom and a twin-size Murphy bed at the top.
The beautiful piece on the left will open and transform into a functional bed on the right.
2. Size Matters
Before you start shopping, determine the dimensions of your designated space to ensure that your desired Murphy bed model is available in the correct size. Measure the area where you plan to install it and account for the fully extended and folded-up positions.

Murphy beds come in standard sizes like twin, full, queen, and king, but not all models are available in every size. They even make toddler sizes and options for your animal family members!
3. Type of Mattress
Before purchasing, contemplate which mattress type would be best for you. Some Murphy beds come with a specific mattress, while others allow you to choose your own within certain thickness limits. Think about factors like firmness, material, and support.
4. Your Lifestyle Needs
Finally, think about how often you plan to use your Murphy bed. Will it be your everyday sleeper or just for occasional guests? If you plan to use it daily, prioritize comfort features like a thicker mattress.

But if it's just for guests, focus more on ease-of-operation aspects since you'll set it up and take it down more frequently. Of course, if you don't want your guest to get too comfortable and overstay their welcome, go cheap. (Big joke!)
5. Wall-mounted versus Cabinet-style beds
When picking the perfect Murphy bed for your space, you have two main options: wall-mounted and cabinet-style beds. When selecting the ideal Murphy bed for your room, each has its pros and cons that can fit different requirements and tastes.
Wall-Mounted Beds
A wall-mounted Murphy bed is attached directly to your wall. This bed type is ideal if you want a more permanent solution or have limited floor space. If the bed needs to be removed later, consider the extra work it will take to patch and paint the areas you may damage in the removal process.
Cabinet-Style Beds
On the other hand, Cabinet-style Murphy beds resemble large pieces of furniture when not in use. They fold up into an attractive cabinet that can seamlessly blend with your existing decor. These beds are easier to move around than their wall-mounted counterparts and may be a better option if you anticipate needing to rearrange your living space frequently.
6. Styles And Designs To Consider
Twin vs. Full/Queen: The size will depend on how much sleeping area you need versus how much floor area you want to save.
Mattress Thickness: Some designs accommodate thicker mattresses than others, so make sure this matches the bed you plan on using. A memory foam mattress could be an option to get a lighter mattress and not sacrifice comfort.
Custom: Furniture makers or DIYers could make a custom Murphy bed if your space is tough to fit. Places like a Tiny House or Container home may have limited wall and floor space, so a custom piece could be in order.
Vertical vs. Horizontal: Vertical model wall beds take up less width but require more ceiling height, while horizontal ones need less vertical space but extend further into the room. If you are installing a unit with multiple beds or have a light fixture that hangs lower, you may only be able to select the horizontal model.
A vertical model will open up from top to bottom while the horizontal model will open on its side.
7. Evaluating Ease of Operation
When assessing wall beds, it is essential to consider the ease of their operation. You want to avoid struggling with a clunky mechanism every time you need to use the bed or have to count the opening and closing of the bed as a workout.

Look for models with user-friendly mechanisms that require minimal effort to transition from upright to sleeping position and back again. Hydraulic or spring-loaded systems can make the process smoother and more effortless.
8. Automatic versus Manual operation
Automatic Murphy beds operate at the push of a button, making them incredibly easy to use. They are ideal for people with mobility limitations. On the other hand, manual Murphy beds require physical effort to open and close. While they are more affordable and don't depend on electricity, they might be less suitable for those with physical restrictions.
9. User-Friendly Design
Look for designs with safety locks that prevent accidental openings or closings of the wall beds and ergonomic handles for easy grip during operation. Additionally, many modern Murphy beds feature safety locks to prevent accidental opening or closing, and some designs include a barrier or retaining bar to keep the mattress securely in place.
10. Mounting Considerations
Installing a Murphy bed requires careful consideration of how and where to mount it. The mounting process depends on the type of bed you choose.
Wall-Mounted Beds
Wall-mounted beds are installed directly onto your wall, so you need sturdy wall studs for secure installation. This may involve heavy lifting during assembly, but it's worth it for safety and stability.
Cabinet-Style Beds
Cabinet-style Murphy beds come with their standalone cabinet or enclosure, so they don't need to be attached directly to your walls. This makes for less intensive installation since they sit flush against your walls.
Floor-Mounted Beds
For an even more robust setup, consider floor-mounted Murphy beds. These models attach directly to your floor for extra support and stability, making them ideal if your walls aren't structurally sound enough for a traditional wall mount. This may not be an option for small rooms.
11. The Right Hardware Matters
Ensure all necessary hardware is included in your purchase or can be easily sourced separately. This includes screws, brackets, and any specific tools required for assembly. Remember: proper installation is crucial for ease of use and safety.
Hiring Professionals?
If DIY isn't your thing or this seems too daunting a task, consider hiring professionals specializing in Murphy Bed Installation. They have the expertise needed to ensure everything gets done correctly, saving you time and potential headaches.
12. Selecting the Perfect Mattress for Your Murphy Bed
Selecting the appropriate mattress for your Murphy bed is essential to achieving restful sleep. I won't get into the rant about how important a good night's sleep is here but know that the mattress's weight should comply with the manufacturer's guidelines.
Here are some tips to help you make the right decision:
Size Matters
Make sure the mattress size matches your Murphy bed frame. Most models fit twin, full-size, or queen-sized mattresses, but double-check before buying.
Comfort and Support
Consider your personal preferences for firmness and material type. Memory foam mattresses are great for contouring your body, while innerspring mattresses offer more bounce.
Durability is Key
Invest in a high-quality, durable mattress like latex or high-density memory foam. It will last longer and provide consistent support over time. You can purchase some budget-friendly options online that function for the occasional use.
Thickness Matters
Remember to check the thickness of the mattress. Murphy beds fold into walls or cabinets so that a too-thick mattress can prevent proper closure. Stick to around 8-10 inches to be safe.
Innerspring Vs. Foam Mattresses
Decide between an innerspring or foam-based model based on your personal preferences. Innerspring mattresses offer more bounce, while memory foam mattresses conform better to your body shape. Investing in a good quality mattress now pays off with improved health and productivity. Sweet dreams.
13. Cost of Murphy Beds
Prices can range from a few hundred dollars for a basic, twin-sized bed to several thousand dollars for a larger, high-end, and fancier model. On average, you can expect Murphy beds to cost between $1,500 to $3,000, which includes the bed frame, mattress, and installation.
You could save money with a DIY Murphy Bed option.
Where to Buy a Murphy Bed
A local furniture Store
Amazon
Wayfair
Custom furniture maker
Home Depot
Lowes
Pottery Barn
Ikea
Costco
Rooms To Go
California Closets
Murphy Bed Depot
Murphy Bed Direct
Take your Murphy Bed to the next level: Add-On Features
Some Murphy beds come with add-ons that can enhance convenience and optimize space. There are just a few examples of built-in lighting, storage space, USB ports, and built-in desks that transform into nightstands when the bed is lowered. These features are handy in smaller living areas like tiny houses, container homes, or 3D-printed houses where a single space serves several functions.
Check out some of the options you can get with the add-on features.
Alternatives to the Murphy Bed
If you're looking for space-saving solutions but a Murphy bed isn't quite what you had in mind, don't worry! Many alternatives can still provide extra sleeping space without taking up too much room.
Daybed with a Trundle
A daybed with a trundle bed is an excellent option if you want something that doubles as seating during the day. The trundle bed pulls out from underneath and creates two separate twin-sized beds. Many daybeds come with built-in storage drawers or shelves, making them perfect for small bedrooms or guest rooms.
Built-in desks transform into nightstands when the bed is lowered. These features are handy in smaller living areas like tiny houses, container homes, or 3D-printed houses where a single space serves several functions.
Bunk Bed
A bunk bed set can help utilize vertical space in a room and give multiple sleeping areas. The options could be wood or metal and come in various budgets.
Sofa Bed
A sofa bed is another versatile choice since it functions as a couch and a mattress. They come in all sizes, from twin to queen, and some sectionals have built-in pull-out beds. Just be sure to test how comfortable they are before making your purchase! You don't need to save money on the sofa to spend it on a chiropractor.
Big Bean Bag
There might be more traditional solutions, but hear us out! A giant bean bag can make for a surprisingly comfortable place to sleep – especially if it's filled with memory foam instead of beans.
Honestly, these are just plain fun. Likely ideal for use by children, some of the larger bean bags will fit an adult.
Convertible Chair with Bed
If you are tight on space, a convertible chair that turns into a bed might be just what you need. They come in all shapes and sizes, from armchairs to futons, and can easily fit into any room without taking up too much floor space. The bed feature is hidden, so it looks like a regular chair.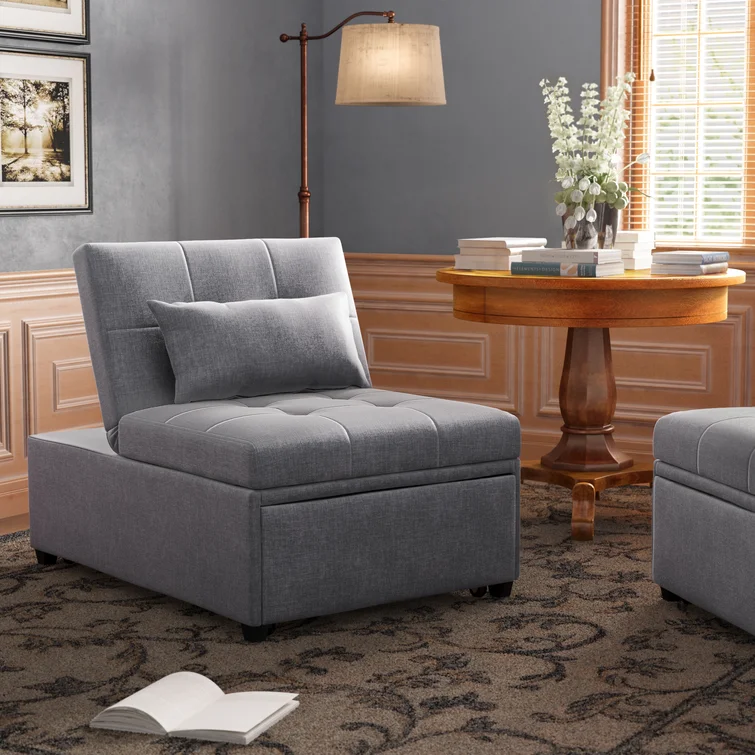 Air Mattress
An air mattress is always easy if you only need extra sleeping space occasionally. They're inexpensive but perhaps not the most comfortable for regular use.
Twin Corner Beds
If you have kids sharing a room or want to create a cozy guest room, twin corner beds are perfect! Placing two twin-sized beds perpendicular to each other in the corner of the room creates more floor space while still providing ample sleeping area without too much floor space. The bed feature is hidden, so it looks like a regular chair.
Bed Risers
If your only goal is to create Simple bed risers could be the most budget-friendly option as they increase the height of the bed to free up space under the bed for additional storage.
Folding Bed
A folding bed could be another option for a guest space used occasionally and placed in another room, like the living room. Unlike the Murphy bed, a folding bed can fold up and be stored in a closet when not in use.
Need help to decide if a Murphy Bed is for you?
Now you know how to buy a Murphy Bed, but you can't decide if a Murphy bed is for you. Here are some real-life scenarios others have had when determining if a Murphy Bed is the right choice.
Conclusion
In conclusion, purchasing a Murphy bed for small rooms can be a game-changer in optimizing space and enhancing functionality. We explored room measurements, budget, design options, and additional features.
Understanding your specific needs and preferences is crucial in selecting the perfect Murphy bed that seamlessly integrates into your small room while providing comfort and convenience.

Now you know all the information you need to select and figure out how to buy a Murphy bed.
Whether adding function to small bedrooms, creating guest rooms, or giving your living space additional functionality, choosing wall beds should be simple. With the affordable options and beautiful styles available, the next step is to decide which one will come home with you.

Make your small room a haven of functionality and comfort with a Murphy bed, and enjoy the freedom to live large, even in a limited space!
Frequently Asked Questions
What is the difference between a wall bed and a Murphy bed?
There are minimal differences but the words basically mean the same.
What is better than a Murphy bed?
A cabinet bed or elevator bed may be better than a Murphy Bed.
Can I use my own mattress with a Murphy bed?
How thick of a mattress can go in a Murphy bed?
The rule of thumb is 12 inches, but your frame will determine the maximum size.
Is a Murphy bed a good investment?
A Murphy bed is a smart investment, especially for small spaces, as it offers dual functionality and can significantly enhance your living area's efficiency. 
Has anyone ever gotten stuck inside a Murphy Bed?
Probably, but with the fancy mechanisms they have in place, it is much less likely these days. 
How long has the Murphy Bed been around?
The Murphy Bed was invented by William Lawrence Murphy in the late 19th century. Murphy, an American inventor, designed the bed as a space-saving solution for his small apartment in San Francisco. 
Can I save money by building a Murphy Bed?
There are lots of options for DYI Murphy Beds. Check out this tutorial on DIY Murphy Beds.