Are you looking to downsize and still enjoy living in a large urban city? Micro apartments, also known as "aPodments" or pocket dwellings, offer a new and exciting way to live big within a small, efficient space.
It is kinda of like living in a shoe box, as my dad would say, but this shoe box is smart! It offers everything you need in an efficient and affordable space.
I lived in a micro-apartment for a while. It was a great way to save money and a lot less to maintain. There was such a sense of community in the building.
Apodments are becoming increasingly popular among those on tight budgets seeking an economical solution for downtown living. Not only do these spaces save money, but they also incorporate advanced energy-efficient measures tailored for the eco-conscious.
Read on to learn more about how Micro-apartments quickly transform dense city skylines worldwide and are a small solution to the big problem of affordable housing.
Key Takeaways
Micro-apartments are compact spaces ranging from 150 to 400 square feet.
These units appeal to young professionals seeking affordable living options.
Features include shared communal spaces like kitchens and fitness centers.
Brands like aPodment offer units under $900 monthly.
These micro units are becoming budget-friendly options in expensive cities.
Living in such a small space comes with the need for multi-functional furniture.
Creative storage is key to maximizing the functionality of the space.
Table of Contents
Disclosure: This post may contain affiliate links, meaning I can earn commissions. If you decide to purchase through my links, it is at no cost to you.
What are micro-apartments?
Micro-apartments are small apartments with some basic living amenities. They typically are one room with a small kitchen space or small kitchenette, a private bathroom, and a sleeping/living space. There is not much different than a dorm room. They are a smaller version of a studio apartment.
Who is renting micro-apartments?
Microliving has emerged as a new urban trend, offering a compact and cost-effective alternative to a traditional apartment.
The ever-growing population of young professionals is taking advantage of such a small space in urban areas. They typically have less stuff, work with a smaller housing budget, and experience a high cost of housing in the more populated areas.
Compared to their larger traditional apartment counterparts, micro-apartments are a more affordable option for larger cities for convenience and budget-conscious living.
What are aPodments?
APodments are a modern take on micro-apartments, offering even more affordable and compact living solutions. Derived from 'apartment' and 'pod', and now a registered brand in Seattle.
This brand is advertising the most affordable apartments in the most popular neighborhoods, according to aPodment.com. The units offer all utilities and WiFi. They are advertised for under $900 a month.
I am pretty sure "aPodment" will get the reputation that Kleenex received by being described as any tissue or how a Coke describes all sodas.
I must be honest, aPodment, almost sounds like you are saying apartment with a sophisticated British accent. 😆
Here is a video tour of the aPodment micro-apartment:
Micro Unit Features
Many micro-apartment buildings offer communal kitchens, living spaces, and common outdoor spaces. They also offer amenities in communal spaces like game rooms, computer rooms, or a fitness center.
What size are micro-apartments?
Micro Apartments are typically between 150 to 400 square feet. The definition of a micro-apartment will vary by market as some consider up to 350 square feet while others will describe it as 100 – 500 square feet in size.
Either way, this space is one room with only the bathroom having any walls.
Are micro-apartments designed for one occupant?
Micro units are typically for a single occupant or a couple. You likely won't see multiple people or families living in one as there are strict limits on the number of persons occupying the micro-unit.
The perks of living in a micro-apartment
For those seeking an alternative housing option, a micro-housing unit comes with various perks, making them an attractive choice for many city dwellers.
Their compact layout makes micro-apartments cost-effective with less impact on utility resources. Micro-apartments cost less per square foot as you won't have a full kitchen, separate primary bedroom, or dining room.
Minimalist lifestyle
The minimalist lifestyle can lead to less clutter and a greater focus on what truly matters. They offer just enough space to meet one's basic needs without the extra square footage and upkeep of a standard apartment.
This makes them highly appealing, particularly to residents seeking to reduce environmental impact without sacrificing modern comforts.
All in all, micro-apartments offer a unique and exciting way to live sustainably and simply while still enjoying the amenities of urban city living.
Micro-apartment versus Studio Apartment versus Conventional Apartments
Micro-apartments, studio apartments, and traditional apartment buildings can offer minimalist living in smaller spaces, but key differences exist.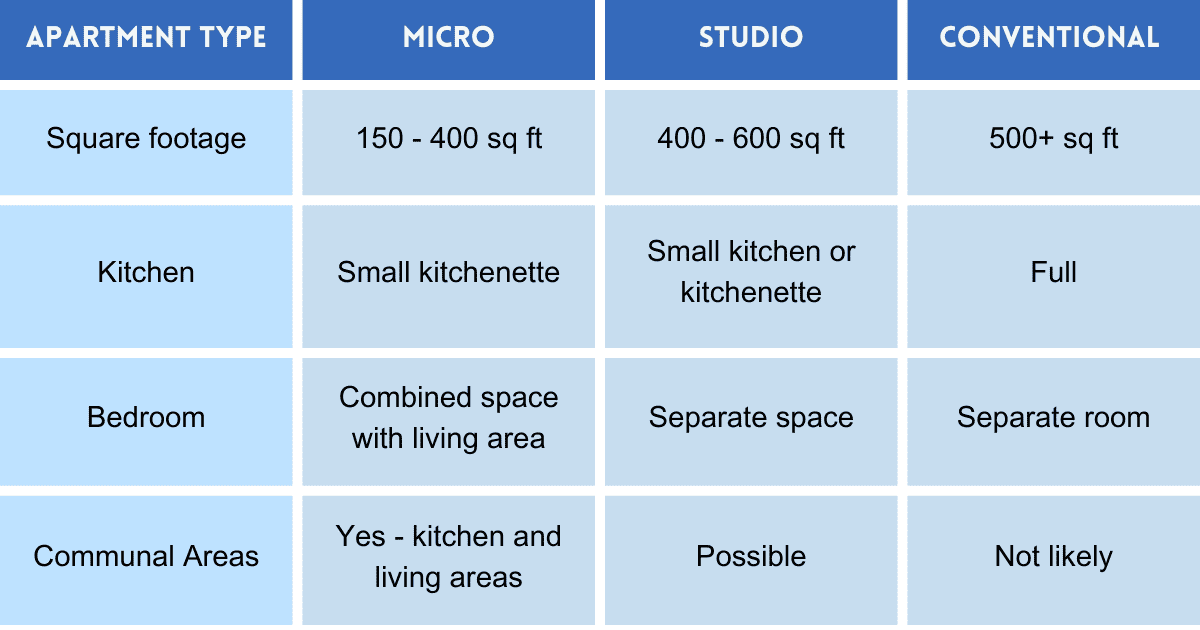 Understanding the Challenges of Micro-apartment Dwellers
People living in a micro-unit building will face challenges requiring careful consideration and planning.
Some of the challenges include:
Creating a layout that fits all your needs in the square footage you must work with. Your living space is also your sleeping area, etc.
Decorating means putting your creative thinking cap on and balancing function, style, and storage.
Selecting the right storage and furniture based on your budget and considering the likely restrictions on what you can put on or attach to the wall.
Navigating a co-living building with shared common spaces or a communal kitchen could get difficult. Some people have different standards of cleanliness or respect for shared items.
By taking a proactive approach to small-space living, anyone can transform their cramped quarters into a cozy and stylish oasis.
Features to look for that make micro-apartments feel larger
Some architectural features may also make it look bigger than it is. These game changers include:
Tall ceilings
patio spaces
large windows
Tall Ceilings
High ceilings can add a sense of spaciousness. They also offer the opportunity to incorporate more storage solutions, such as vertical shelving, Murphy beds, or lofted beds.
Patio Spaces
If your micro-apartment can access an outdoor space, use it to extend your living space. Adding outdoor furniture and potted plants can create the illusion of extra square footage. This patio space is commonly used for dining space.
North-facing Large Windows
Large windows allow natural light into your micro-apartment, making it feel open and airy. North-facing windows are ideal as they allow you to benefit from the maximum sunlight.
A look at Micro-apartments – all the right features in one space
This video does an excellent job of showcasing how amazing the right features in a micro-apartment come together to feel anything but small. You can see the tall ceilings, large windows, patio space, light colors, north-facing and monochromatic colors. The tenant even has a Murphy bed behind a curtain hung at the ceiling.
Tips for making the most out of your limited space
Living in a smaller space doesn't have to mean sacrificing comfort or style if you use creative tips and tricks.
If you're in an apartment without a living room, consider creating a multi-functional space that serves as both a bedroom and a living area by using furniture that can easily transition between the two.
Utilize every nook and cranny with hidden storage compartments, wall-mounted shelves, and dual-function furniture.
Multi-functional pieces: Utilizing the Right Bed
A queen loft bed is a perfect example of a dual-functional piece of furniture. It will give you an elevated sleeping space and leave room underneath. The space underneath can be used as an office or a cozy reading nook.
Murphy beds, also known as wall beds, are another great micro-apartment option. When not in use, these beds fold into the wall, freeing up valuable floor space. Some Murphy beds offer a desk area when folded up for daytime use.
A raising bedframe is a furniture piece that allows the mattress to sit on top of a bed frame that raises to access the built-in storage underneath. These beds have different heights, and this bed type is often a blend of a loft bed with a bed with built-in storage.
These beds blend sleeping space and creative living and storage space.
Modular Furniture
Modular furniture is a real game-changer when making the most of your space. These pieces can be easily rearranged according to your needs and often serve multiple functions.
For example, a modular sofa can be split into smaller seating areas or combined to create a large couch, depending on your needs. This flexibility allows you to adapt your space for different occasions and purposes.
A sleeper sofa or a furniture piece with a sofa and Murphy bed incorporated could be other options to have a multi-functional space.
Stacking furniture is a smart way to save space and create more storage. Think about using stackable chairs, stacking cubes, or nesting tables that can easily be stored away when unnecessary.
Utilize vertical space
Use the vertical space with tall, narrow storage units, shelves, or hooks on the walls. Also, consider installing a hanging pot rack in the kitchen or a wall-mounted coat rack in the hallway to free up floor and closet space.
Use the higher shelves for storing items you use less frequently.
You can use baskets or under-bed storage containers to store your clothes, shoes, and belongings. Stackable cube storage with baskets can greatly utilize vertical space and hide unsightly things.
With these creative storage solutions, you can keep everything organized without sacrificing style or function.
Room Dividers
Room dividers can be an effective and aesthetically pleasing solution for creating distinct areas in an open-plan or studio apartment. They can range from bookshelves, curtains, and folding screens to plants, offering a balance of privacy and openness while adding a touch of personal style to your space.
Design ideas to level up the space and make it feel bigger
Small spaces can be challenging to decorate, but you can make them feel more spacious with some creative design ideas.
Mirrors, for example, can go a long way in giving the illusion of a bigger space. They reflect light and make the room appear larger and brighter.
Another great tip is to use similar colors throughout the space. This makes it look cohesive and less cluttered, making it feel bigger.
You can also use floor-to-ceiling curtains or drapes matching the wall color to transition between the indoor and outdoor spaces seamlessly.
Light-colored furniture will do wonders to open up a space. Choose shades like whites, creams, and light greys to create a sense of airiness.
What is driving the growth of micro-apartments, and where are micro-apartments popular?
Micro-apartment buildings have become incredibly common as the housing crisis has increased. Bigger cities like Seattle, San Francisco, Boston, New York City, and Los Angeles are seeing these smaller apartments pop up.
If people want to move to these cities, they may consider these tiny spaces a good choice. In fact, according to a report by the Urban Land Institute Multifamily Housing Councils, one in four renters would be open to renting a micro-unit.
Do this before you decide to move to a micro-apartment
Visit a few options and take measurements. Know what you must have to fit into the space before you commit to micro-living.
Talk to others in micro apartments for their experience. What were their challenges, or do they have words of wisdom to share?
Final Thoughts
Living the micro life is becoming increasingly popular among new renters and current apartment dwellers due to its affordability and freedom from long-term commitments.
Although small living spaces can be challenging, there are ways to make the most of the space. To maximize the limited space, it's essential to use suitable furniture solutions, design techniques, and creative storage options tailored to the area.
Multi-functional furniture pieces and stacking can create extra space. Decluttering regularly and using neutral tones for decor can create an open and light atmosphere.
These tips can help make living in a micro-apartment unit a truly enjoyable experience.
Frequently Asked Questions
How small are micro apartments?
Tiny space-saving units are generally between 100 and 400 sq. ft. smaller than a studio apartment.
What is the meaning of micro-apartment?
Micro apartments are small versions of studio apartments but also include shared amenities and communal living areas such as pool bars, fitness facilities, roof terraces, etc.
What are the disadvantages of micro-housing?
Micro-apartments can accommodate just one person or a couple. These are not suited to pets. The confines of the house can seem claustrophobic. Furniture layout is often a challenge.
What is the difference between a studio and a micro-apartment?
Micro-apartments are smaller than apartments and are usually cheaper than studios. Micro apartments offer great flexibility for new renters with little belongings.